Hydration project to install water-bottle refilling stations on campus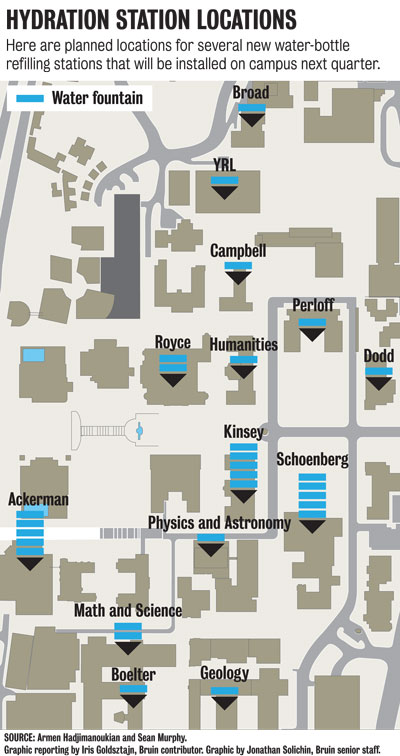 February 14, 2013 1:15 am
New water-bottle refilling stations will pop up around campus next quarter, as the undergraduate student government recently received funds to pay for the project.
The Undergraduate Students Association Council Facilities Commission received about $38,000 last week from The Green Initiative Fund, which funds sustainability projects, to install three motion sensor-operated stations and add water-bottle refillers to 25 existing water fountains.
The grant is the largest the fund gave out this quarter, according to its website.
Currently, there are two motion sensor-operated stations – one in the John Wooden Center and one in the Student Activities Center. The three new stations will be located in Kerckhoff Hall, Ackerman Student Union and the Charles E. Young Research Library, said Armen Hadjimanoukian, a second-year economics and international development studies student and co-leader of the project.
"The overall goal is to give the opportunity to students to shift from disposable to reusable water bottles," Hadjimanoukian said.
Second-year neuroscience student A.J. Smith said he already carries a reusable bottle and likes that new refilling stations are going to be added.
"It's been kind of a hassle to find (a water-bottle refilling station on campus)," he said.
Hadjimanoukian and fellow project leader Sean Murphy, a second-year environmental studies and geography student, started on the project last quarter. They reached out to Elkay, a stainless steel sink company, and flexible "anti-bottle" designer Vapur for help with installing and
modifying the new water stations.
The two companies are helping USAC through the Vapur Refill Station Program, a collaboration that aims "to promote and encourage the use of reusable bottles, as well as the importance of staying hydrated," according to Vapur's website.
The program works mainly with national parks and universities to install water filling stations.
Several students, like fourth-year physiological science student Alissa Ruiz, said they supported the project.
"It's hard to fill taller water bottles under (the current) water spouts."
Ruiz said she is excited to be able to use the soon-to-be-installed motion sensor-operated stations.
As a part of the program with UCLA, Elkay and Vapur plan to pass out 500 Vapur reusable water pouches to students on Bruin Walk once the stations are installed, Hadjimanoukian said. The goal is to complete the project by Earth Day on April 22, he said.
Email Goldsztajn at [email protected].