UCLA students protest Walmart construction in historic Chinatown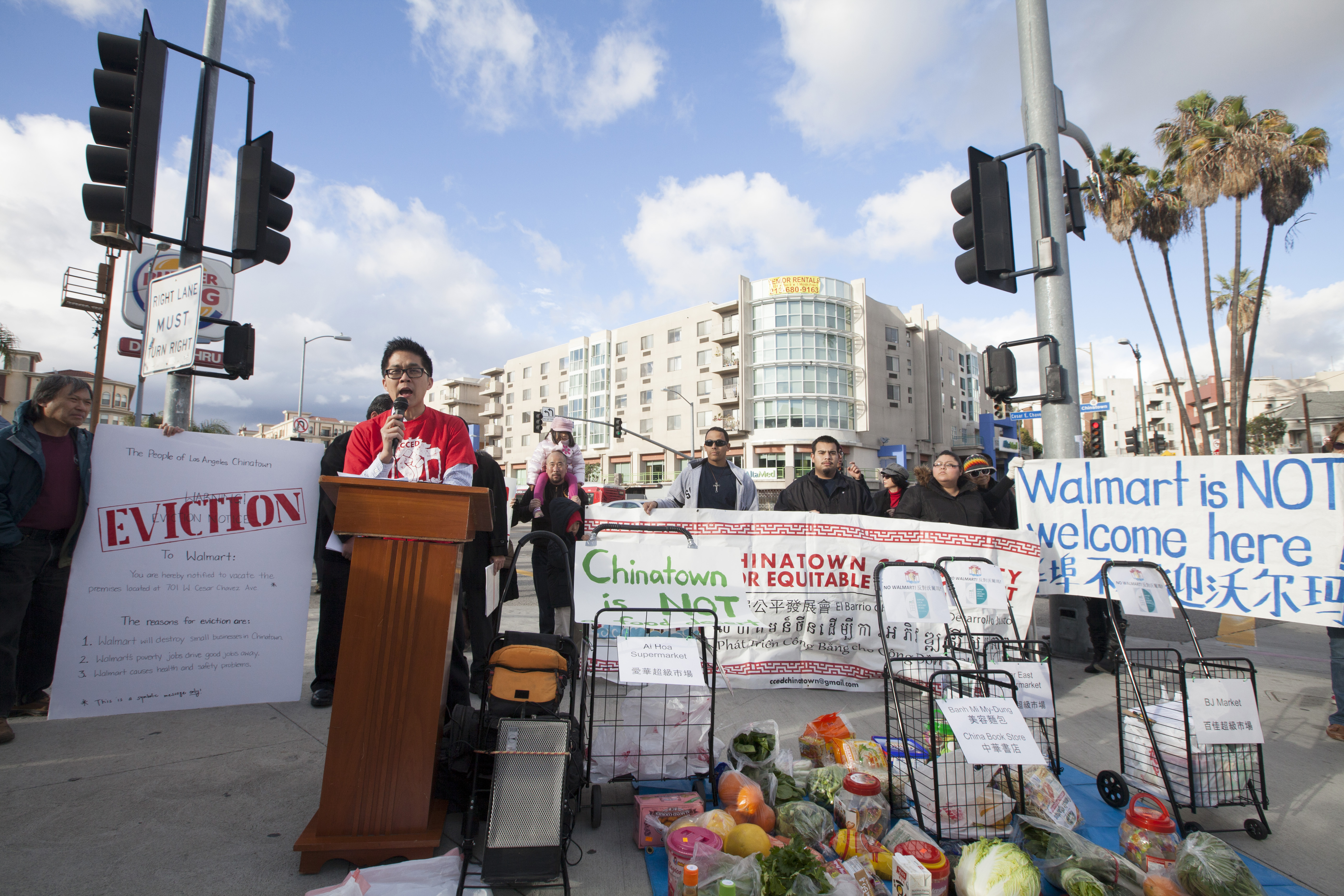 Students in an Asian American studies class at UCLA gathered in Chinatown on Friday to oppose the construction of a Walmart Neighborhood Market. The Chinatown Community for Equitable Development held a press conference while protesters chanted and held signs.
More than 50 UCLA students donned red clothing to join about 100 other protesters in Chinatown on Friday, as they gathered on Cesar Chavez Avenue to rally against the development of a Walmart Neighborhood Market in the neighborhood.
They held up posters and signs, cheering as drivers passing by honked in solidarity and heartily chanting, "We are Chinatown! Mighty, mighty Chinatown!"
---
Photo gallery
By Ken Huang, Bruin senior staff
img_0170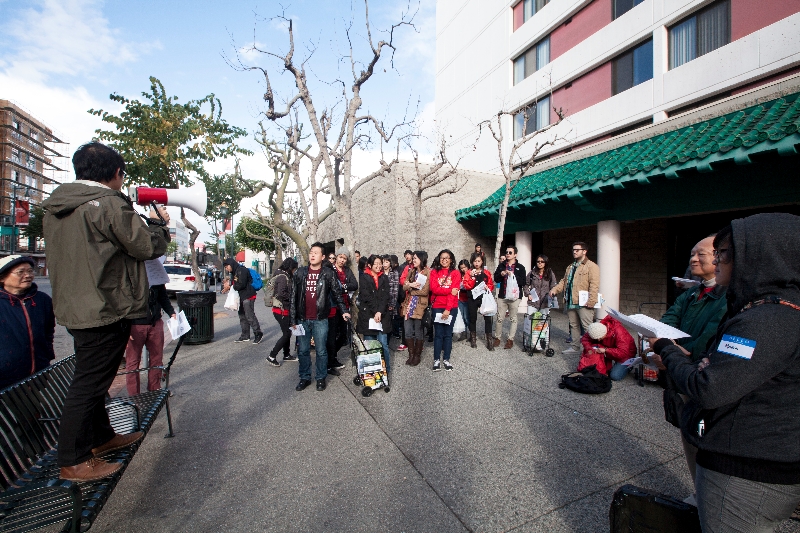 ---
Many of the protesters are students in the UCLA class Asian American Studies M119 or Labor and Workplace Studies M119, which examines historical and contemporary labor issues for Asian Americans.
The Walmart market, once opened, will be the first corporate or mainstream grocery store in Chinatown in decades, said Glenn Omatsu, a professor in the Asian American studies department who teaches the course.
Standing near a display of various greens, fruits and other produce bought from local grocery stores, the protesters voiced concerns about the effect a corporate retail chain like Walmart would have on local small businesses and residents in the area.
Once the Walmart opens later this year, property values in Chinatown are expected to go up, Omatsu said. This would cause an increase in rent and would be followed by land speculation in Chinatown, which will likely lead to more corporate businesses coming into Chinatown.
"It would really change Chinatown as we know it," Omatsu said.
Still, George Yu, executive director of the Chinatown Business Council, told the New York Times in September that many Chinatown residents welcome Walmart in their neighborhood.
Omatsu, who has taught the course for about 15 years, said his students participate in similar community movements that involve Asian American labor struggles each year. Last year, the class worked with the Pilipino Workers' Center, focusing on labor rights for domestic workers.
"Students have a lot of power so it's very effective when you get them engaged in community struggles," Omatsu said. "If you introduce yourself as a UCLA student, people in the community respect you, and they listen to what you have to say."
Chinatown Community for Equitable Development, a grassroots organization founded in March 2012 to challenge Walmart's opening in the neighborhood, collaborated with the class to host the protest.
Labor unions have long criticized Walmart for its labor practices, which include having a non-unionized work force and not offering benefits to many of its employees.
In addition, Walmart can use its corporate structure to offer substantially lower prices, which will put small businesses at a huge disadvantage, said Sarah Tseng, a UCLA alumna and a member of Chinatown Community for Equitable Development.
Protesters also claimed building a Walmart store may change the dynamics of Chinatown, which remains an important cultural base where many immigrants start their lives.
"The activists understand the historical significance of this site – there is a rich history of Asian American immigrants gaining rights in Chinatown," Omatsu said.
Some residents, however, said they would enjoy having an extra option for groceries.
"It'd be really convenient to have a Walmart here," said Kelvin Le, 30, who has lived in Chinatown for the last 10 years. "What's wrong with low prices?"
Walmart currently faces several lawsuits, but Walmart can continue developing the store until the cases are heard. The store is expected to open later this year.
Andrea Hester, a student in the class and internal vice president of the Undergraduate Students Association Council, said she valued how the class made her think about the role college students could play in supporting labor rights.
Students in the class are required to complete a final project, making comics about the movement against Walmart's move into Chinatown, Omatsu said.
The comics, designed mostly for children and young teens, will be distributed to the community to educate residents about Chinatown Community for Equitable Development's movement.
"It's important and extremely valuable to create coalitions between students and workers," Hester said. "We (students) don't have to be uninvolved and just get lost in our UCLA bubble."