Local cyclists ride for more bike lanes in Westwood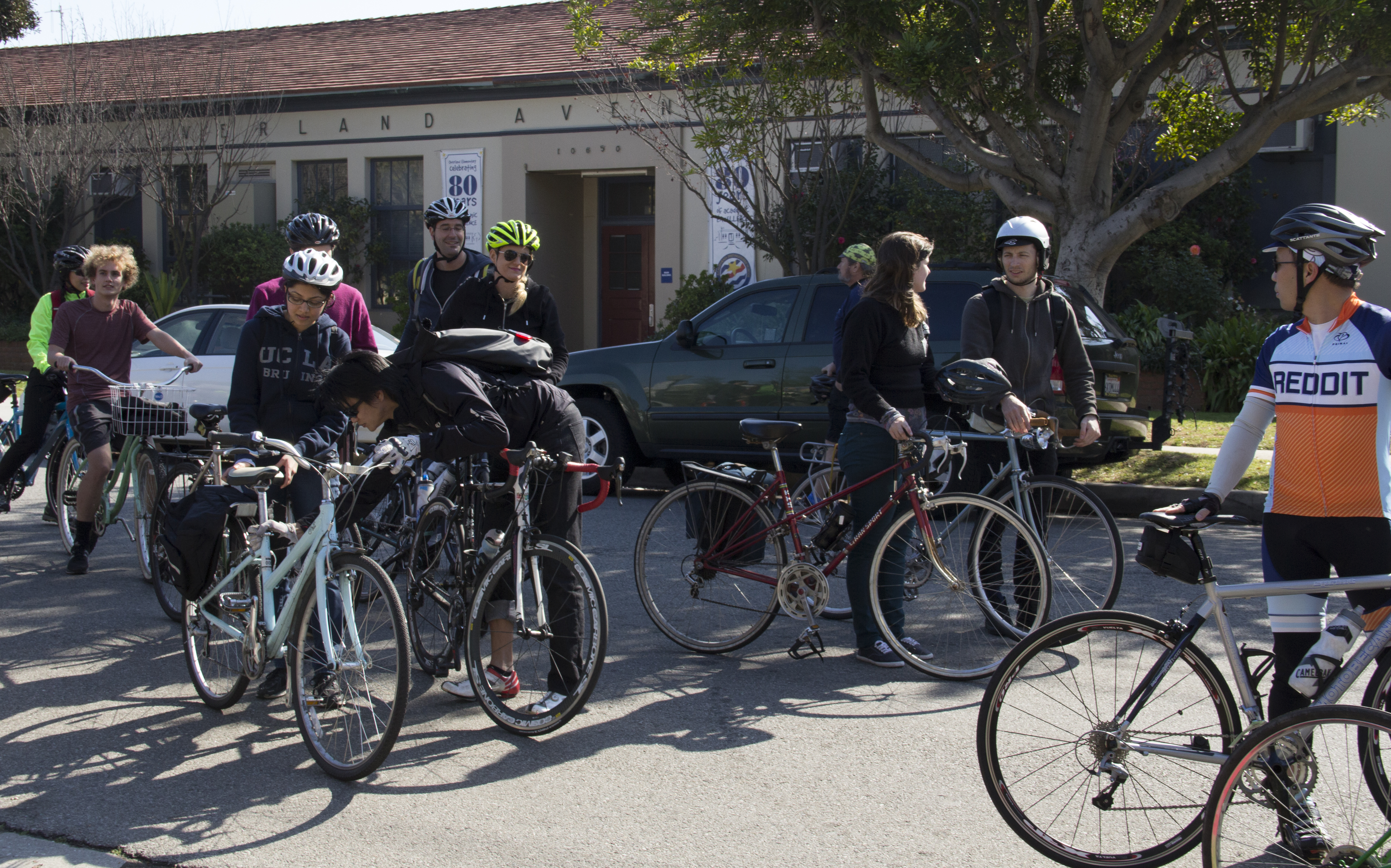 Students and locals participate in a bike ride Saturday in support of more bike lanes in Los Angeles, as part of the "Ride Westwood" campaign.
Sitting on a two-seat tandem bike painted in UCLA blue and gold, Jim and B.J. Pike, both UCLA alumni who met on campus in 1964, rode alongside a swarm of cyclists down Westwood Boulevard on Saturday.
The married couple pedaled together with a group of more than 100 locals to support a plan to increase the number of bike lanes in West Los Angeles.
The group rode through heavy traffic in an organized effort by the Los Angeles County Bicycle Coalition to encourage lawmakers to extend the Westwood Boulevard bicycle lane, for reasons of both safety and convenience, according to the event's website.
Westwood Boulevard's current bike lane, which goes from Wellworth Avenue to Santa Monica Boulevard, could be extended as far south as National Boulevard if a proposal from the City of Los Angeles Planning Department is approved, said Alek Bartrosouf, the policy and campaigns manager for the Los Angeles County Bicycle Coalition and a UCLA alumnus.
Area residents and UCLA students and staff participated in the ride, which began at Ackerman Turnaround. Much of the ride took place on Westwood Boulevard, including the site of the bicycle lane's proposed expansion.
Bicycle commuting to UCLA has grown dramatically in recent years, said David Karwaski, the senior associate director of UCLA Transportation. About 1,700 students and 600 staff members commute to UCLA by bicycle on any given day, Karwaski said.
The figure is a 20 percent increase from three years ago, and is expected to keep increasing, he added.
Although they have not taken an official stance, UCLA Transportation officials are interested in the bike lanes because most commuters to UCLA ride from the south and west of campus, Karwaski said.
The lanes would also enable students using the Expo rail line to ride their bikes directly from the train station to campus, he added.
"The City has to determine how they use the right of way, how to delineate the bike lane and where bikes and cars go," Karwaski said. "That's relatively tricky and politically sensitive because there could be community resistance if parking is removed."
Jay Greenstein, the chief field deputy for the Fifth Council District of the city of Los Angeles, which includes UCLA, attended the bicycle rally to hear from constituents about their opinions on the planned bicycle lane.
Council members are aware of the benefits of the potential bicycle lane and are considering their options, Greenstein said.
Groups with doubts about the proposal expressed concerns that the lane might negatively affect traffic patterns or that its location might displace parking spots, Greenstein said.
Greenstein said the cost of the project, while unknown at this time, will be minimal.
Most participants in Saturday's event said they were excited about the possibility of new bike lanes in their neighborhood.
Oliver Hankinson, a professor in the department of pathology and lab medicine at UCLA's medical school, said he participated in the ride because he commutes to work by bicycle.
"I live in Rancho Park, about two miles from campus, and want to discover alternative routes to ride on each day," Hankinson said.
He added that he plans to use the new bike lane if the plan is approved.
Swee Woo, a 59-year-old retired nurse from Torrance who worked at the West Los Angeles Veterans Affairs Medical Center, which is about one mile southwest of UCLA, participated in the event.
"I got here about an hour early, so you can see how excited I am," said Woo before the ride. "I want to live like people do in Amsterdam and Copenhagen, because riding bikes everywhere is part of their daily ritual. I wish Angelenos would be like that, which is why I'm out here."
Woo said she saw an example of one of the downsides of relying on motor vehicles firsthand on her way to the event. After deciding to ride her bicycle instead of taking public transportation, Woo said she passed a bus that had broken down on the road, leaving passengers on the street waiting for another bus to pick them up.
In this case, bicycle riding proved to be quicker than the bus, Woo said. At the bicycle ride's conclusion, riders were encouraged to voice their support for the proposed lane extension to local officials.
A public community meeting will be held Feb. 19 at 6 p.m., at the Los Angeles Department of Transportation building at 11214 West Exposition Boulevard, regarding the proposed lane extension.