Taking the plunge: Bruins turn to sport of spearfishing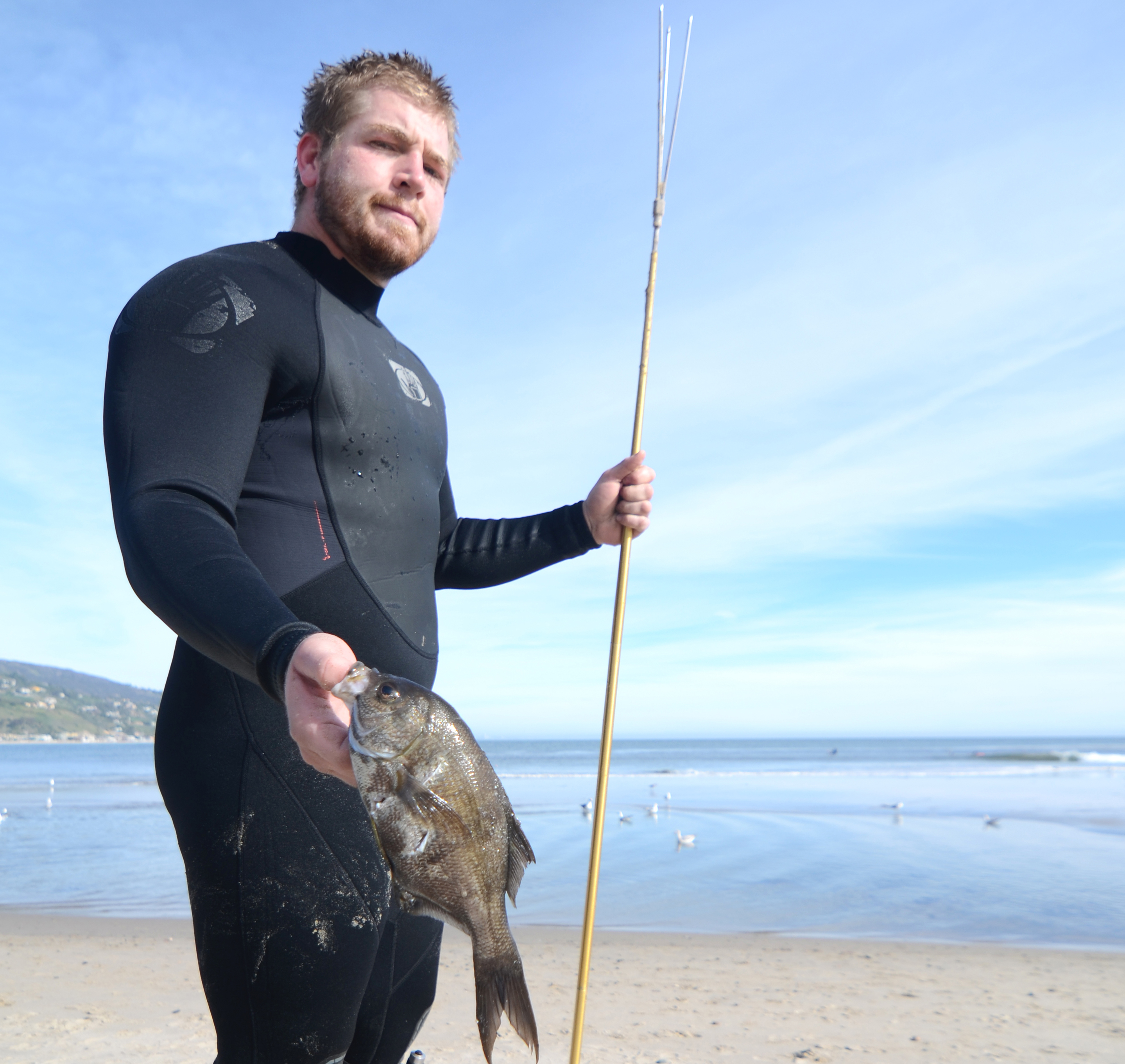 Freshman Carl Hulick of the UCLA football team has been spearfishing since he was a child, and he would often go with friends. Now, he uses his trips as an escape from the stresses of everyday life, and recently went with a fellow Bruin athlete, sophomore water polo player Daniel Lenhart.
The football player and the water polo player marched side by side, in synchronized, fin-flopping step, from the sand to the ocean.
They ambled in unison through the chest-high water, but as they reached a kelp forest, the pair split.
Suddenly, freshman offensive lineman Carl Hulick and sophomore water polo player Daniel Lenhart sprang into action, with deep breaths followed by downward plunges into the water.
Sixty seconds of stillness later, a spear flashed. Hulick came to the surface, proudly raising the small catch above the water.
It's this combination of underwater tranquility and action that has made Hulick a longtime spearfishing enthusiast.
"It's a big old adrenaline rush. I really love it just because it's so peaceful. My favorite place in the whole world to be is in the ocean, spearing or even diving alone," Hulick said. "It's just tranquil and peaceful and you're just really focused."
Hulick's attachment to the ocean stems from years of diving, which he learned from his father at a young age.
Early on, he learned to pay close attention to the water around him, looking for the smallest signs that can indicate a hidden fish.
"You're constantly playing 'Where's Waldo,' trying to find fish, looking in the kelp and in the rocks for something that's abnormal or movement that's out of place," he said. "Mentally, you just have to be sharp and focused and know what to look for."
Once he started high school, Hulick said the sport quickly became a regular activity for him and his friends.
He added he doesn't have the same extensive diving network here at UCLA, but that he now enjoys the peace associated with diving alone.
"When I'm down there spearing it's just peaceful, I'm just there with my thoughts," Hulick said. "I'm praying, and I'm just enjoying life."
Paul Romanowski, a member of the prominent spearfishing club the Los Angeles Fathomiers, said the solitude offered by spearfishing can be part of its appeal.
"Spearfishing inherently is a very individualistic sport … (it's) the most absolute solitude you can find, especially in a crowded place like Los Angeles," Romanowski said.
Hulick said that one of the best parts of this individualistic mindset is the catch one brings home at the end of the dive, which often ends up as fish tacos later that night.
"I just love the feeling of being self-dependent, going out diving and spearing your own food, (then) coming back and preparing this big old dinner with your buddies," he said.
Although Hulick often dives alone, he was joined on a recent weekend trip by Lenhart, who has also been spearfishing since high school.
Both athletes agreed the peace of the underwater environment is a welcome change.
Lenhart, in particular, finds the slower pace a healthy counterbalance to the faster pace of water polo.
"Diving helps me more with water polo in the sense that it can kind of clear my mind," Lenhart said.
"It's fun playing water polo, but I think being outside in the ocean and at the beach … refreshes me. I'm able to get motivated to go back and get in the pool and grind out a hard practice."
While the two enjoy the escape spearfishing offers, Hulick also said the discipline required to free dive, without oxygen, for minutes at a time, has helped him improve on the football field as well.
"(In) football you're basically running full speed at someone, saying, 'I'm going to keep going full speed,' and running right into this guy," he said.
"A lot of times when you're spearfishing you've got to say, 'Hey my body's saying that I need air,' but your mind knows you can keep going. So it kind of lets you understand yourself and your limits."
Email Zureiqat at [email protected].