Rube Goldberg competition thrives on complexity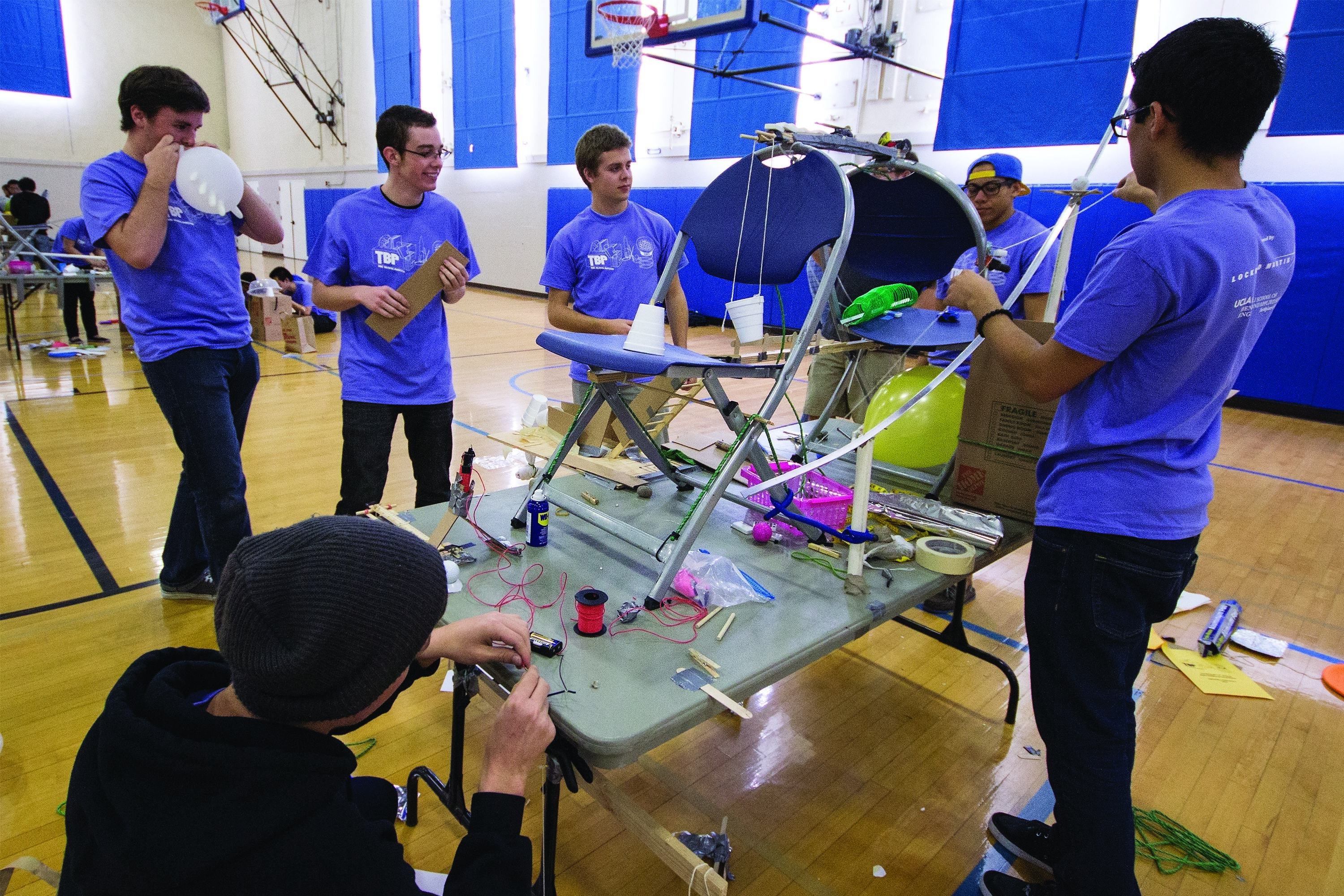 UCLA students participate in a Rube Goldberg competition Saturday, making complicated machines to complete simple tasks.
The original credit for the photo accompanying this article contained an error. See the bottom of the article for additional information.
With 20 seconds left on the clock, a system of pulleys, balloons, ramps and dominos failed its final test run. A team of seven graduate students reluctantly stepped away from the machine as an announcer called time. Although the 17-step contraption failed once again in front of the judges, it successfully completed its goal during its second trial: delivering a high-five.
The team, named WaterWorld, won the $200 first prize in the third annual Rube Goldberg competition hosted by the UCLA engineering honors society Tau Beta Pi and sponsored by the UCLA Engineering Alumni Association and Lockheed Martin, an aerospace and defense company.
Seventeen teams packed into the Student Activities Center from 10 a.m. to 3 p.m. to build Rube Goldberg machines, contraptions that perform simple tasks in over-complicated ways, said Amanda Fujii, a graduate student in the school of mechanical engineering and project chair of Tau Beta Pi.
The competition started in 2011 and has attracted more student participation each year, with the number of teams doubling since its inaugural year, Fujii said.
From the materials provided them, such as wood, motors and toy-car launchers, students constructed machines designed to show creativity and accuracy. Each machine had to deliver a high-five at its finale.
This year the event organizers tried to add another complication to the competition.
Halfway through the competition, one of the organizers announced that the teams could incorporate a surprise material – a plunger – for bonus points, Fujii said. Teams also had to reference a memorable event from 2012.
A group of judges composed of seven UCLA professors and one representative from an event sponsor evaluated the machines based on complexity and execution.
William Goodin, associate director of alumni relations at the UCLA Henry Samueli School of Engineering and Applied Science, was one of the judges.
"You need a very complex machine, but it needs to work," Goodwin said.
The majority of machines failed to work on their first runs. Clad in a T-shirt with "Trust me, I'm an engineer" written across his chest, Sean Munter, former Tau Beta Pi project chair and third-year civil engineering student, did not seem surprised. Munter said that competitors know to expect failure during their runs.
The majority of Rube Goldberg machines don't work all the way through, Fujii said. She added that she acknowledged the difficulty of constructing a perfect machine after watching the crew of Mythbusters, a science-themed reality television show, repeatedly fail to perfect their own Rube Goldberg machine.
Team Apes, a group of students from the Alpha Epsilon Pi fraternity, built a machine that spanned the length of their table and the surrounding floor.
"These things are so precarious. Literally if someone walked by right now, this balloon could rise and ruin it," said Leo Golod, a third-year sociology student and team member, as he reset the machine for another test run.
At the two-minute mark, Team Apes members rushed to reposition a ramp so it would hit a PVC pipe without disturbing the rest of the machine.
"We've got no time guys, we're not running (another trial) again," Jared Rechnitz, a third-year mechanical engineering student, said to his team members.
Members of Team Apes had to step in to fix their machine during its first run for the judges, but successfully popped a balloon with a nail, which led to a series of reactions to inflate a glove to high-five a judge's hand.
Team Eclectic Electrons, another group of engineering graduate students, took the $100 second place award, and Team Kitten Cannon, who won second prize last year, took the $50 for third.
Beast Mode III: the Dark Beast Rises, returned for its third year of competition and won the $50 creativity award. Previously known as Beast Mode and Beast Mode II, the team built a machine that worked on its first attempt and incorporated the movement of golf balls, marbles and pingpong balls.
"In previous years the steps we thought of were inherently unreliable because they were so complicated," said Joey Cox, a third-year computer science and engineering student and member of the team. "This year we worked on concepts that we knew we could actually make work."
Though his team did not place, Rechnitz said he didn't regret taking risks and enjoyed building a complicated machine for the competition.
"If you're not going to go for something big to happen, it's not worth it," Rechnitz said.
Correction: The photo is an image taken from a video.