The Hill's first Sustainival event encourages green living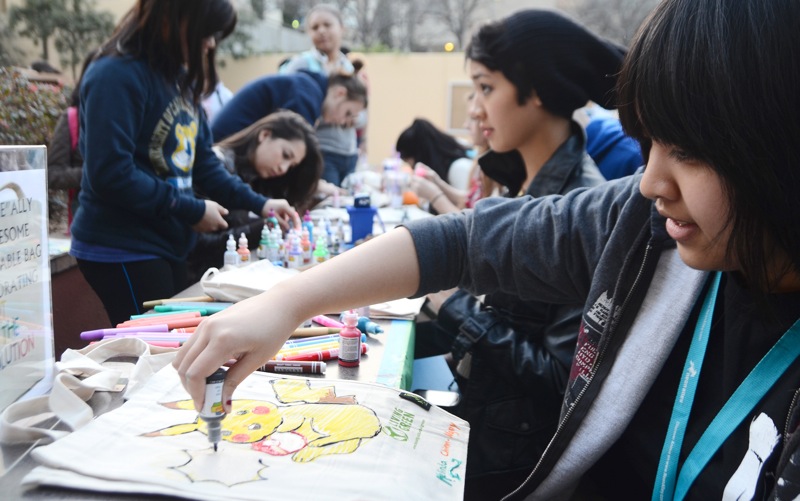 Students at Sustainival, the Hill's sustainability fair, use puffy paint to decorate burlap bags. The event, which attracted about 100 students, was a kick-off to the "Do it in the Dark" campaign, where Hill residents pledge to be more sustainable by turning off their lights when they can and unplugging unused chargers.
A small recycling bin, trash can and compost bin were lined up next to each other as music blasted in the background. Above them, a game wheel, decorated with green cardboard, listed different kinds of trash.
The wheel landed on the word "cardboard" and Jonathan Umanzor, a participant in the Hill's Tuesday evening sustainability fair, had a decision to make.
The third-year political science student correctly guessed that students should recycle cardboard on campus, tossing a yellow ball that landed it in the recycling bin. He was quickly rewarded with cheers from students running the booth, all clad in green t-shirts, and took his prize – a reusable plastic water cup and a recycle bin-shaped pencil holder – to the next booth.
More than 100 students participated in the Hill's first Sustainival, a carnival event that aimed to encourage Hill residents to be more sustainable in their daily lives, said Harrison Levy, the sustainability initiatives coordinator for the Office of Residential Life.
Organized in part by Team Green, a group of Hill resident representatives from each building who focus on sustainability efforts, the event was a kick-off for the Hill's fifth annual "Do it in the Dark" campaign. During the campaign, residents can pledge to be more sustainable by turning off their lights when they can and unplugging unused chargers.
The buildings that conserve the most or have the most residents who pledge in the month of February will win several hundred dollars to have a party as part of an effort to decrease energy savings on the Hill and increase savings, said Aliana Lungo-Shapiro, the sustainability manager for UCLA Housing and Hospitality Services.
To get students more engaged in the sustainability effort, the fair featured several interactive activities including a bounce house, henna tattoos and samples of organic tea.
Waiting in line to get a henna tattoo Ilora Tarnavski, a first-year undeclared student said she appreciated the study break.
"I don't really think about (sustainability), but I heard about the fair and came," Tarnavski said while holding a new tote bag that she decorated with a puffy-paint leaf drawing. "I think I will try more to participate."
Last year, 34 percent of Hill residents – more than 3,000 students – pledged to make an effort to have a more sustainable lifestyle, according to UCLA's sustainability web site.
The Hill saved about 200,000 kilowatt hours of electricity, which added up to $17,689. The savings has more than quadrupled from when campaign first began in 2009.
Levy said organizers plan to go beyond the traditional flyering and give-aways and give students tangible ideas and programs that will help them reduce how much energy they use.
A "Lorax" movie night and a glow-in-the-dark party are some low energy programs already in the works, Levy said.
"It isn't just about competing for prizes," Lungo-Shapiro said. "Its getting residents to care about the environment."