Gymnastics upgrades to newer practice facilities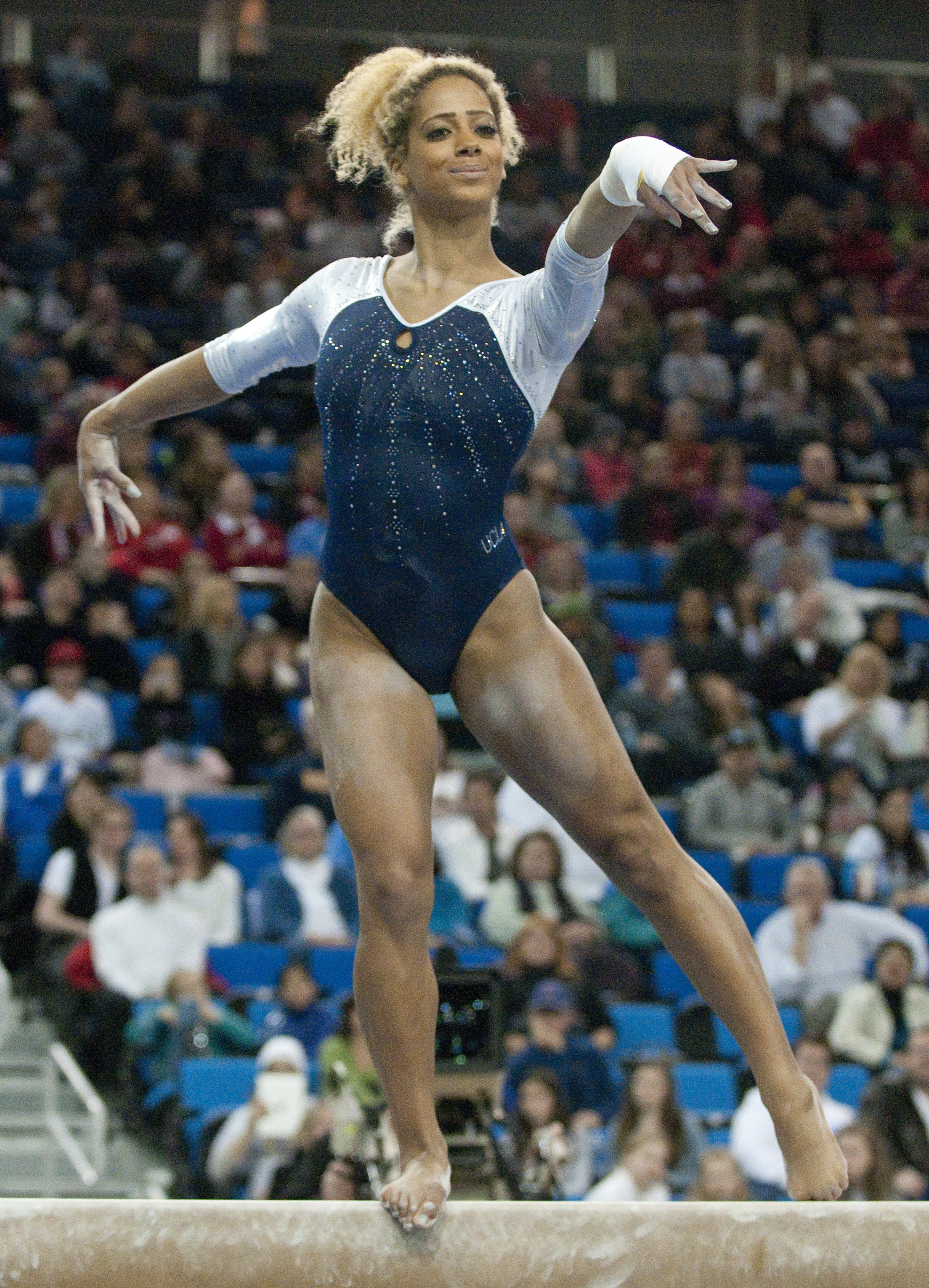 Danusia Francis served as UCLA's beam rotation anchor against Utah. Using her unorthodox mount, the freshman scored a team-high 9.925.
January 24, 2013 12:17 am
Wednesday was moving day for the UCLA gymnastics team. The gymnasts and coaches were busy moving the furniture from their old team room to their new one, right above the Yates Gymnasium.
A brand new staircase paneled with frosted glass connects this gym and the team's new space. Construction on the stairs as well as the room was done during the summer.
"I'm so excited. It's so nice," said sophomore Sadiqua Bynum, who broke into a wide smile at the mention of the upgrades to the gym. "We were just up there looking. We feel so blessed because not many teams have something that looks like this."
The team space upstairs includes a locker room, showers, as well as a lounge area with leather sofas and a kitchenette.
"We have always felt like we are a first-class program and yet we have been very diligent to not spoil (the team) with things that are unnecessary. … Still, it was really important that we develop this space up here to give them a place where they can study, shower, and just relax," said coach Valorie Kondos Field.
Despite all the perks, the one thing that isn't in the team area is a TV.
"If you are going to relax, relax. Take a nap. Don't watch mindless television," Kondos Field said. "I think they appreciate all that and they know that they have earned it."
Eye-catching anchor
As the anchor for the Bruin's beam rotation against Utah, freshman Danusia Francis was honored but also a little intimidated.
"Luckily all my teammates had done really well so there was a little less pressure but I still want to finish on a high note," Francis said. "Being a freshman, I was so honored and I'm so glad I pulled it off."
The freshman, who is from Great Britain, tied for a team-best 9.925. Her beam routine is clearly capable of impressing the judges and is also likely to become a fan favorite thanks to her unusual mount.
"I strive to do different stuff. I'm flexible rather than strong so it suits me," Francis said. "A lot of people have come up to me about (the mount)."
The mount is named after Romanian Olympic gymnast Daniela Silivas and includes a shoulder stand-pirouette. It is the same one Francis used when competing for Great Britain. She makes it look effortless but that is far from the truth.
"It's very difficult. … There are a few people in the world who do it but not many," Kondos Field said. "It takes a while to break in because you literally get bruised all over your shoulders. So it's not a fun mount to learn. But once you get it … it's an eye-catching mount."
Quiet before the storm
UCLA will be coming off of a bye week when it faces Arizona State on Friday. After the Sun Devils, the Bruins will face a brutal stretch of travel, including trips to Oklahoma and Alabama. The team will then return home to face the current top team in the nation, Michigan. In the coming weeks, including Friday, Kondos Field plans to continue tinkering with the lineup so her gymnasts do not burn out midway through the season.
"We are going seven weeks straight and it just gets harder. … (Redshirt senior Vanessa Zamarripa's) body is not going to hold up going seven weeks straight. Neither is junior Olivia Courtney," she said. "We have got to be smart in making sure that they are peaking at the right time."
Email Sheth at [email protected]