Walk-on UCLA gymnast sidelined for season due to torn tendon in finger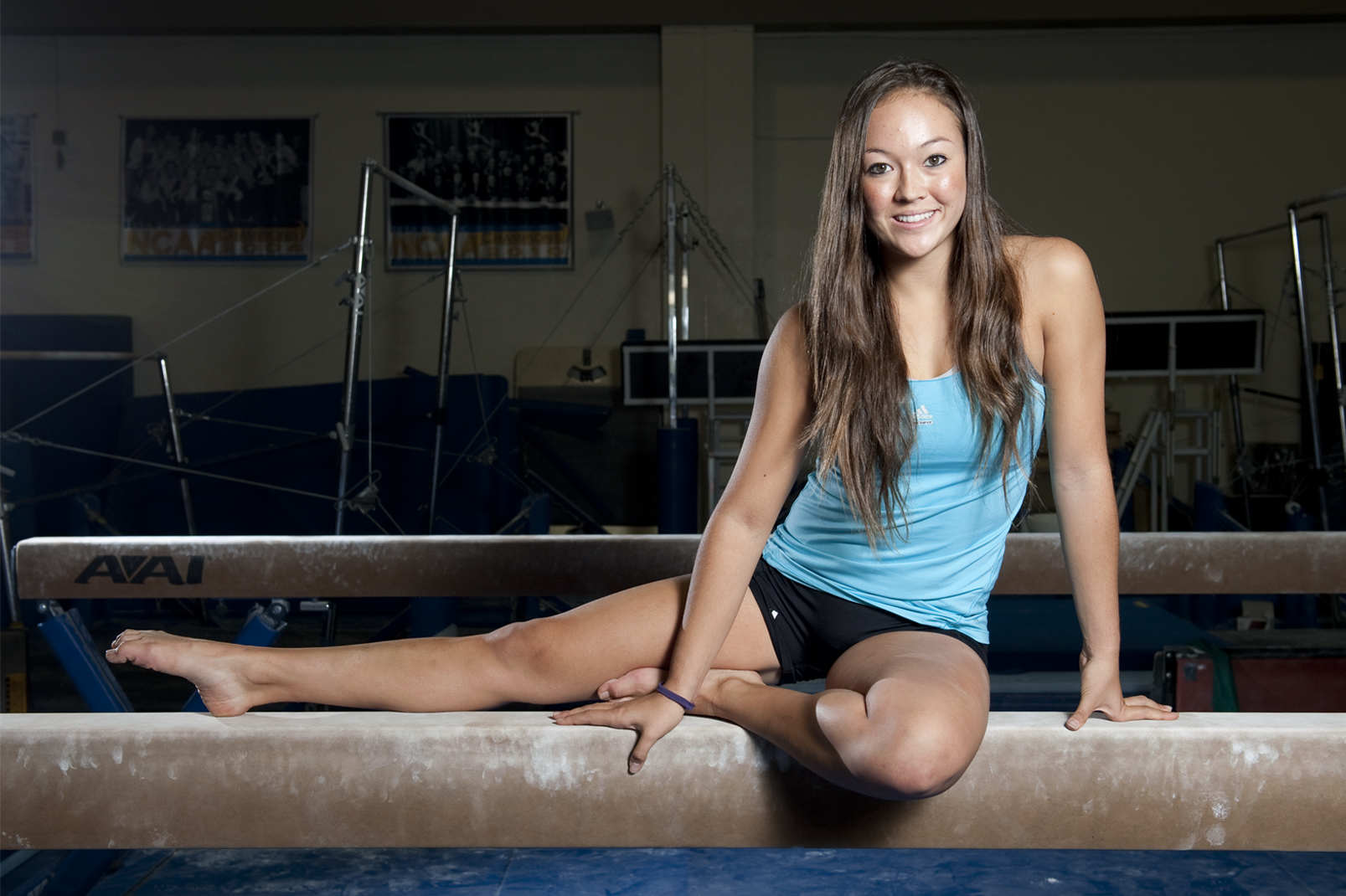 Sophomore gymnast Ellette Craddock was looking forward to competing as a second-year, but a severed tendon in her finger ended her season. UCLA was counting on strong performances from Craddock at uneven bars. The injury has forced her to take a different approach to her role on the team.
Walk-on Wednesday
This year, Daily Bruin Sports is following four walk-ons throughout the year to track the unusual journeys of non-scholarship athletes. We'll keep tabs on Nick Kazemi of basketball, golfer Jacquie LeMarr, gymnast Ellette Craddock and Roosevelt Davis of football. Check back every Wednesday to learn more about these athletes.
January 23, 2013 12:06 am
Although she didn't know it right away, Ellette Craddock's season was over before it had even begun.
On the day of UCLA gymnastics' first meet of the year, the sophomore cut her finger washing a vase. No stranger to clumsy injuries, Craddock said she did not give the cut a second thought, and neither did her teammates.
"I actually didn't even think it was that bad," third-year undergraduate assistant coach Kassidy Kozai said. "I thought it was something silly. I just thought, 'Ok it's a cut. Put some tape on it and go to bars.'"
Soon thereafter, however, Craddock realized she could no longer move part of her finger. Just a few days later, she was undergoing surgery to repair a torn tendon.
The procedure's 12-week recovery time means the walk-on is unlikely to compete this season.
With the team already missing members – junior and former Olympian Sam Peszek is out with a torn Achilles tendon – Craddock's high scoring potential on bars would have been helpful for the team.
In her only non-exhibition performance last year, a meet against Oregon State and California, Craddock scored a 9.8 on bars.
Earlier in the season, coach Valorie Kondos Field said she expected to compete reguarly on both bars and beam, but competition of any kind this year is now looking all but impossible.
"My heart just broke," Craddock said. "Everything I did over summer and during preseason, all the hard work I put in – it wasn't for nothing, but I had such high expectations of this year."
When Craddock first broke the news to Kondos Field, she described herself as an "emotional mess."
"I really just sat there for a long time crying, not really speaking English," she said with a laugh. "(Kondos Field) came and sat down with me and put her arm around me and was there for me."
Kondos Field said her calm reaction to the news was a product of her decades of experience coaching such an injury-heavy sport.
What she has realized in that time, she said, is that injuries can offer athletes even greater opportunities to grow.
"(Gymnastics) is an amazing venue to learn really tough life lessons," Kondos Field said. "She can pout and have a pity party … or she can say this is just a little bump in the road."
While Craddock has come to agree that she will grow from this experience as a person and not just an athlete, she said the past few weeks' challenges have extended beyond the realm of athletics.
After missing a significant amount of class time due to doctor's appointments and the surgery, she suffered significant side effects from her painkillers. For the first few days, the symptoms were so strong that she joked they "made (her) think she was only going to be able to watch TV for the rest of (her) life."
A few days later, however, Craddock was back in the gym with her teammates. Her new practice regimen is comprised of modified routines, including a beam routine they refer to as "the Bluetooth routine" because it is hands-free.
Kozai said, since the injury, she has noticed an increase in Craddock's motivation.
"The way she's acting now is amazing," Kozai said. "She's definitely matured. She's doing all her floor conditioning, she's staying in shape, and no one's telling her to do everything – it's all on her own."
Kondos Field said this sort of improvement is just what she hopes athletes get from injuries. She has encouraged Craddock to look at this year as an opportunity to be honest with herself about how she can improve – not only as a competitor, but also as a teammate.
Among the skills Craddock will look to work on are becoming more ballistic, or explosive, on floor and becoming mentally tougher. But when it comes to improving her attitude, which she struggled with last year, Kondos Field said the difference is already notable.
"(Craddock) can say, 'one of my weaknesses is I'm not that great of a teammate, I'm in too much of my 'me' bubble," Kondos Field said. "And because she's done such a good job at (becoming a better teammate), I'm still traveling her. She's a great part of the team."
Kozai, who admitted she and Craddock were not very close at first, agreed. All the gymnasts, she said, have benefitted from Craddock's optimism after her injury – an outlook that is much needed to the already injury-laden team.
"Her being in the gym and supporting, whether she's on the bike or doing music or whatever, her cheering and her energy in the gym really helps the team stay together," Kozai said. "As long as everybody stays within here, (the team) stays just as strong as if they weren't hurt."