No. 21 Oregon sinks No. 24 UCLA's 10-game win streak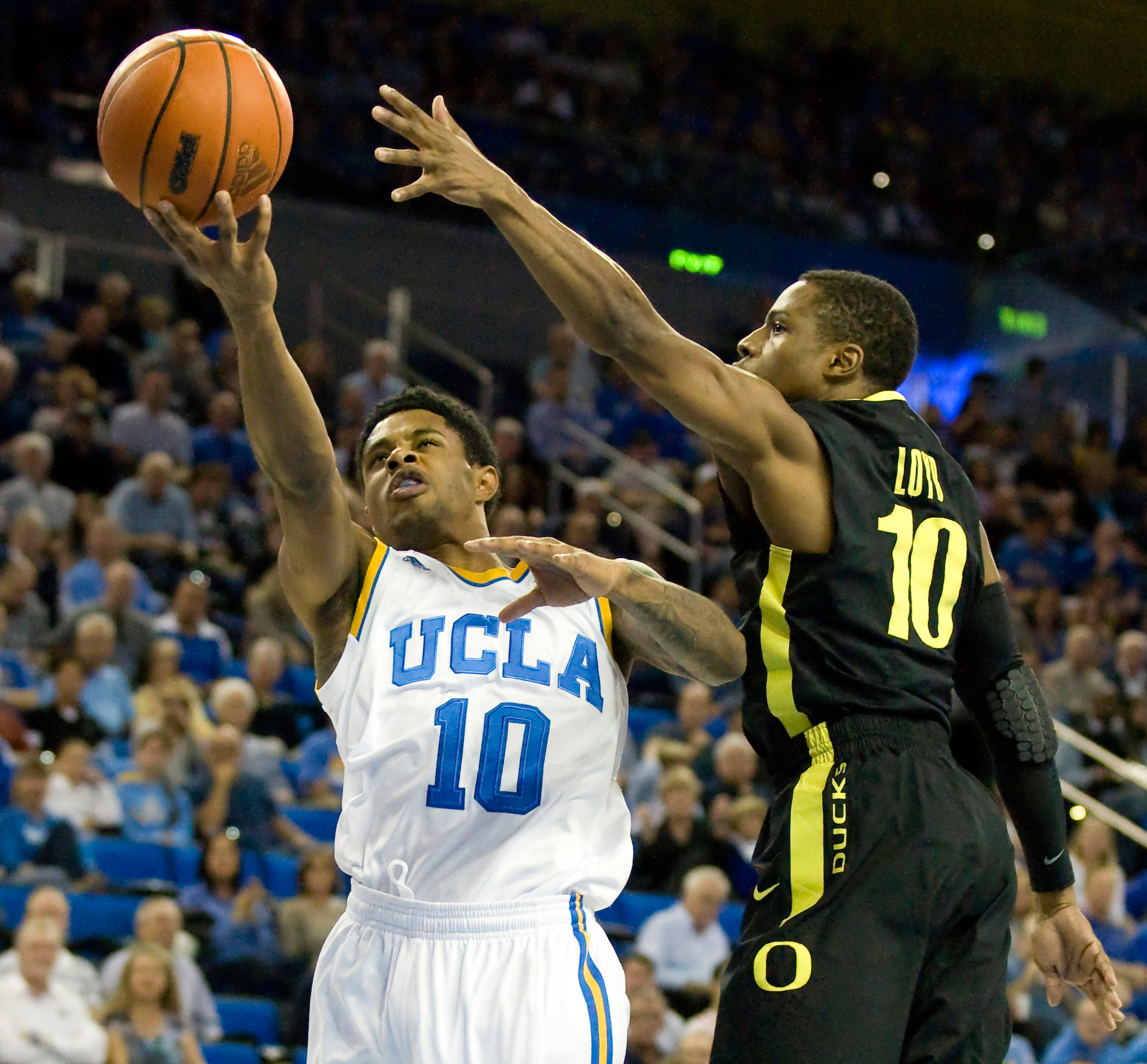 Redshirt senior guard Larry Drew II tallied eight points against the Ducks and racked up a game-high 8 assists.
Pauley Pavilion was practically shaking as the UCLA men's basketball team scored to go up by six points, as time ran down in the first half against Oregon.
The Ducks struggled to find their final shot of the half, but senior forward E.J. Singler was able to get off a three-point shot as time expired. As the ball went through the net, the crowd was humbled, and so were the Bruins.
No. 21 Oregon (16-2, 5-0 Pac-12) came out in the second half energized and rode a strong defensive effort to a 76-67 win over No. 24 UCLA (15-4, 5-1) in the first Pac-12 conference game between two ranked teams since 2009.
"That was a disappointing loss," UCLA coach Ben Howland said. "They did a great job slowing down the tempo in the second half and we took some quick shots in our press offense. I thought that Oregon, going into this game, was really good, and I was really impressed with them today. Give them credit."
While the Ducks were particularly strong in the second half of the contest, they were able to control the Bruins on the boards from the initial jump.
Oregon totaled 40 rebounds on the day, 11 of which came on the offensive glass. The game was the 10th time this season that UCLA surrendered double-digit offensive rebounds to its opponent.
"They're a really, really good rebounding team and that's something we're going to have to get better at," said redshirt junior forward Travis Wear, who led the team in scoring with 17 points. "We're definitely going to have to come back and work on that."
UCLA was able to survive poor rebounding in the first half of the game because of a 55.2 percent field goal percentage, but the Bruins were only able to shoot 37.9 percent from the field in the second half, which eventually sealed their fate.
"We just have to do a better job at putting two halves together," said sophomore guard Norman Powell, who scored 11 points in 22 minutes. "We knew it was going to be a big game, with two ranked teams going at it, but we couldn't finish today."
Powell started in place of freshman guard and UCLA's leading scorer Shabazz Muhammad, who was late to a practice on Friday and started the game on the bench because of it.
Muhammad was never able to get going, as he scored only 10 points on 4 of 9 shooting, well below his season average of 18.4 points per game on 47 percent shooting.
"The first half it didn't affect him and he started in the second half," Howland said. "I don't think not starting had a big effect on him at all."
The loss ended a 10-game winning streak for UCLA and the team will now head on arguably its toughest road trip of the season this week against Arizona and Arizona State.
The Bruins, though, are more driven than discouraged by the loss.
"We're motivated to get back to practice because we hate this feeling," Wear said. "We're going to have to bring it this week and practice and prepare to get two wins."