Long Beach stomps all over flat UCLA men's volleyball team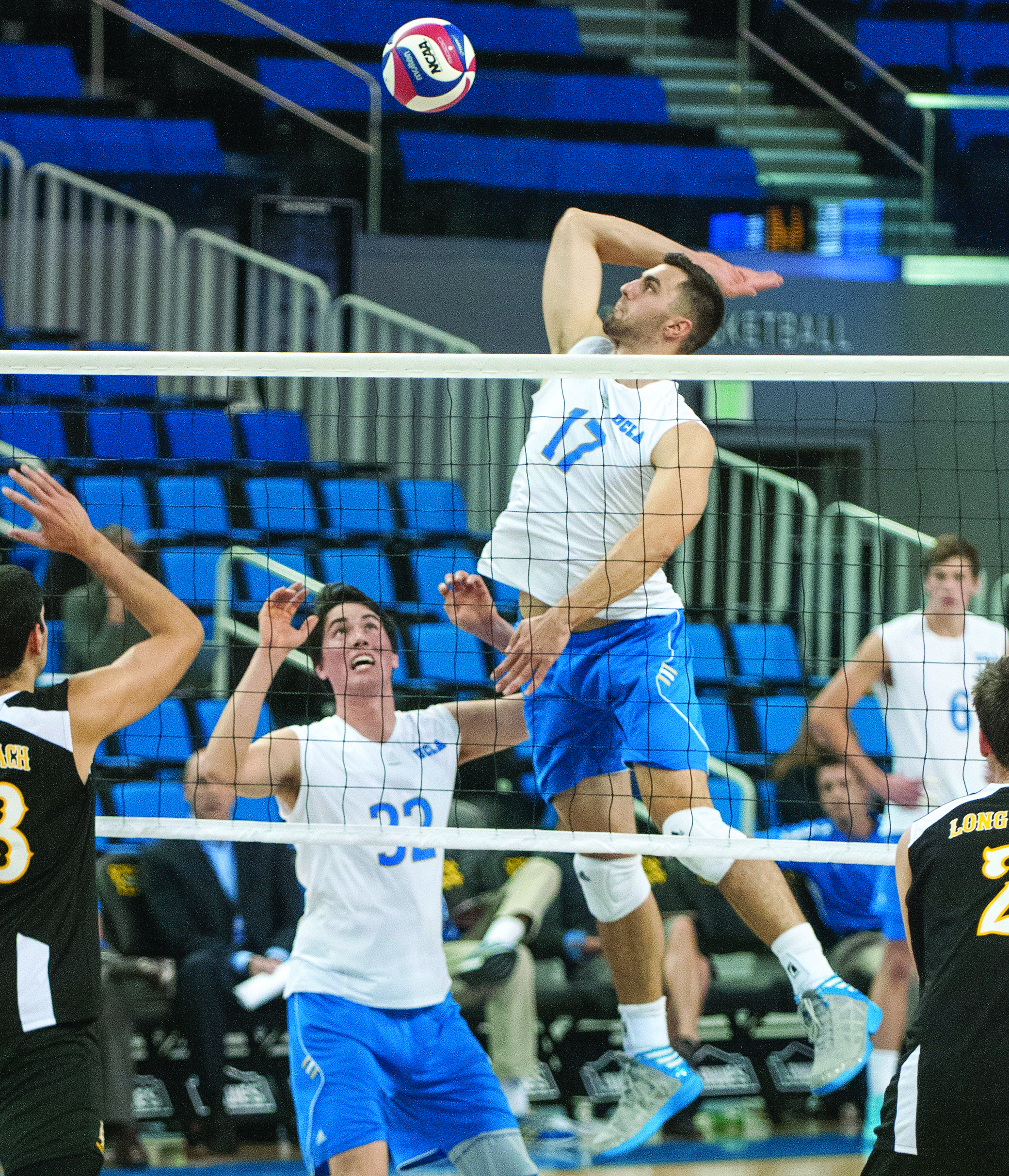 Junior middle blocker Spencer Rowe and the UCLA men's volleyball team dropped a home game in four sets against Long Beach on Thursday night.
Men's Volleyball
Long Beach State 3
UCLA 1
Many of the UCLA volleyball players' minds weren't on the game at hand.
It was evident when the Bruins were called for two positional violations before a serve even took place within a matter of minutes.
It was evident when two Bruins bumped each other and allowed a seemingly harmless ball to hit the floor on the last point of the second set.
And it was evident when their opponents were able to run away easily with the deciding set.
The No. 5 Bruins (5-3, 1-1) fell in four sets to the No. 9 Long Beach State 49ers (3-2, 1-1) on Tuesday night. The lack of mental wherewithal was not the only issue for UCLA.
"I don't know if it was all focus, I think it was more enthusiasm," coach John Speraw said.
"It was a cornerstone of John Wooden's pyramid, and it's incredibly important for any athletic endeavor that you do, and we didn't have it tonight for some reason."
UCLA sported an altered line-up, but failed to take advantage of a golden opportunity for some of the fresh faces on the floor.
"My biggest surprise is that we came out with a different lineup with guys who had nothing to lose and it didn't look like we had nothing to lose," Speraw said.
"I didn't see the competitive energy that I think we talk a lot about and we need to start seeing it if we're going to get some wins."
The lineup changes included redshirt sophomore Michael Beals at setter and redshirt sophomore Kene Izuchukwu starting at outside hitter.
Many regular Bruin starters were not even present on the bench during the game, but Speraw did not provide specifics on the matter, choosing instead to keep the issue private.
"We put a new lineup out there tonight because everybody in this program needs to make decisions in the best interest of this program," Speraw said.
"If they don't, then they won't be a part of this program."
UCLA started out slowly and were never able to speed up their game. They won the third set comfortably, and while fans may have hoped for another five set victory, Long Beach State came back and closed out the match in the fourth set.
The Bruins not have broken their streak of playing to five sets, but going forward they will look to stop any new trend of starting flat.
"As a team we need to come out with more fire and more energy," junior middle blocker Spencer Rowe said.
"I can't pinpoint exactly why it wasn't there tonight but I expect it to be there every game."
The disappointing loss may serve to humble the highly ranked Bruins before their next match on Friday night.
"For the past few years our culture has kind of been like put your jersey on and expect to win, and we're trying to work on changing that," junior outside hitter Robart Page said.
He recorded 21 kills in one of the few solid performances from the Bruins.
"You have to earn wins, you have to come out and compete," Page said.
"We weren't going to beat that team tonight with any lineup."
Email Villalobos [email protected].