Midwives provide alternative care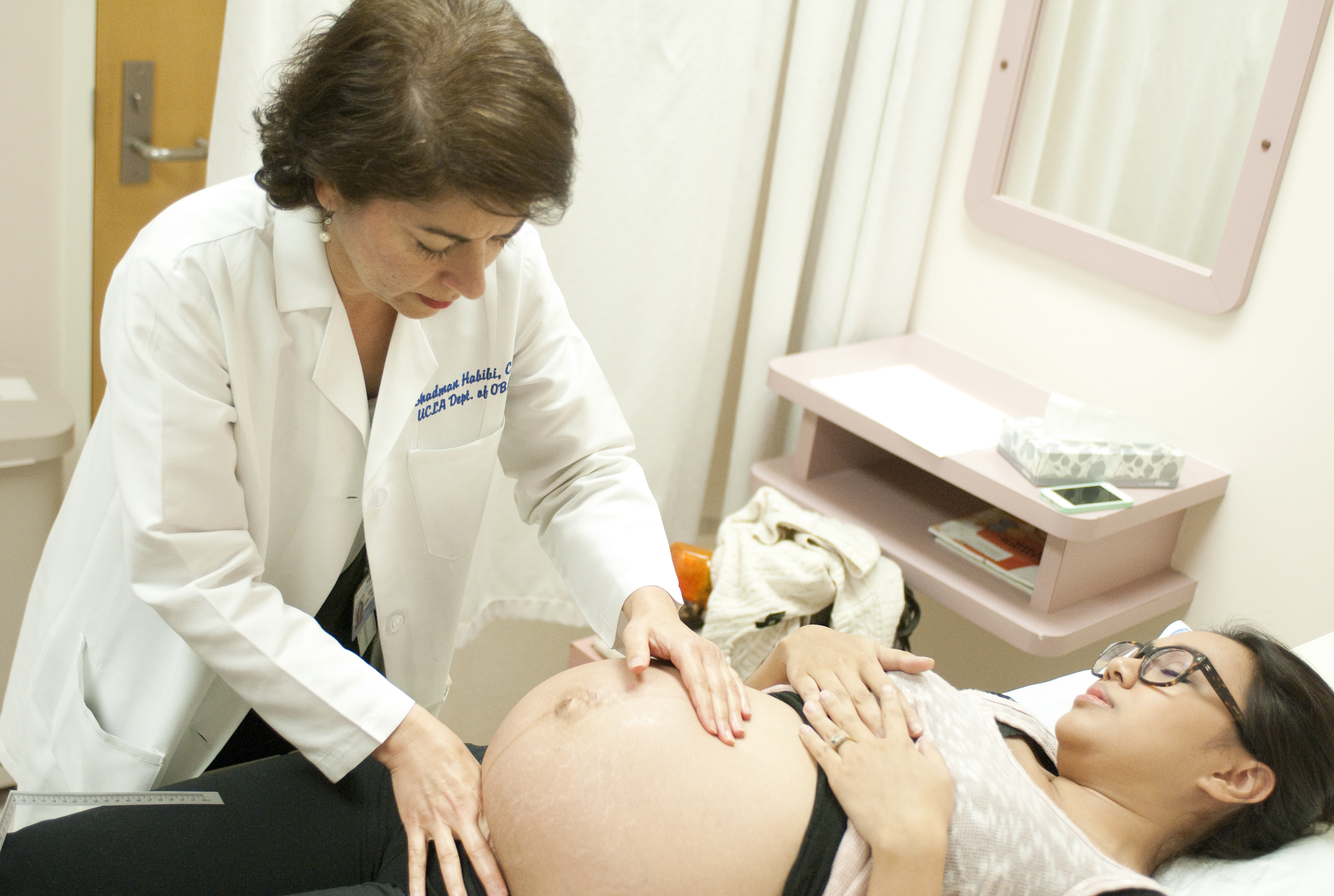 Certified nurse midwife Shadman Habibi applies pressure on Grace Jimenez's belly to locate the head of her baby. Through the UCLA Midwifery Associates, a division of the UCLA Department of Obstetrics and Gynecology, some expecting mothers can opt for midwife prenatal care and delivery.
Numerous doctors told Grace Jimenez she would need a Caesarean section in order to give birth to her second child, citing risks and liabilities.
She had already given birth to her first child with the procedure, commonly known as a C-section.
But the soon-to-be mother of two from Granada Hills didn't want to go through another one, and instead opted to give birth naturally with the help of the UCLA Midwifery Associates.
Now, nearly three years later, she's back for her third child.
Midwife-mediated births require minimal medical intervention and are known to provide a more personal caregiving experience, said Dr. Daniel Kahn, assistant professor of maternal fetal medicine in the David Geffen School of Medicine Department of Obstetrics and Gynecology.
The UCLA Midwifery Associates are a division of the UCLA Department of Obstetrics and Gynecology. Since the program was established nearly 10 years ago, its certified nurse midwives have provided an alternative to obstetrician and physician-mediated care. In addition to having nursing licenses from the state, the midwives hold a master's degree in nursing with a specialty in midwifery, said Katie Simms, a certified nurse midwife.
"A lot of people just don't really understand what we do," Simms said.
"Some people think midwives only deliver babies in homes."
One common misconception is that patients cannot see just a midwife but also need to see a physician, she added.
In some cases, expecting mothers see midwives for prenatal care before they see their obstetrician during labor, said Shadman Habibi, a certified nurse midwife.
Physicians like himself focus more on understanding the science of the birth and manipulating conditions for the best outcome, Kahn added.
The majority of births are not complicated, and so most major medical centers have a midwifery program, Kahn said, who is a physician who specializes in births with high risk of complication.
"What (pregnant women without complications) really need is tenderness and compassion throughout the birthing process," Kahn said.
There are six midwives at UCLA, Habibi said.
The clinic can see about 40 mothers at a time, so each midwife sees about 20 to 25 patients a day.
For Jimenez, the program's small size means she has met almost all of the midwives over the course of her three pregnancies and gotten to know them on a personal level.
The very first meeting with the midwives is usually when the mother is about nine to 10 weeks pregnant.
"We talk (to mothers) about their expectations for the pregnancy and how their lives will change," Habibi said with a smile.
"Everybody likes talking about babies."
Along the way, the midwives and the patients talk about preparing for the baby and the emotional aspects of birth.
It's a more holistic approach compared to physician-led care, Habibi said.
Compared to physician-led care, midwifery focuses more on the mother and her expectations for the birth.
In the event that the midwives experience or foresee a complication in caring for a patient, the physicians of the UCLA Obstetrics and Gynecology department can step in to provide a second opinion, Kahn said.
Sometimes, the physicians ask the midwives for advice when they need help motivating a patient during labor, he said.
"They always have some really creative ways of approaching patients," he said.
Jimenez said the UCLA midwives made her comfortable by giving her the opportunity to try a vaginal birth after her first son was delivered by C-section.
"(The UCLA midwives) are more laid back and willing to work with you (than obstetricians)," she said.
"(The UCLA midwives) are exactly what I was looking for," said Katrina Holland, 29, of Redondo Beach. "Prenatal care with women that would be knowledgeable of all my options."
Holland said she did not know she had many options as a mother until her friend recommended she consider midwives.
After some searching online she discovered the UCLA Midwifery Associates.
Initially her mother and physician were skeptical of her choice to see midwives, but Holland said she felt comfortable knowing the program was affiliated with UCLA.
As Habibi places a fetal stethoscope and some gel above Holland's pelvic bone a loud, whooshing rhythm echoes in the small room.
"He's laughing," Habibi says to a smiling Holland.
The sound is actually the baby's heartbeat.
Holland said she doesn't know the gender for sure, but she said she's getting "boy vibes."
This is Holland's second child with the UCLA Midwives.
She came back because she had a positive experience the first time and did not feel any pressure to do screenings she did not think were necessary, she said.
Kahn has seen an increasing number of women choosing midwifery care.
He said the trend is understandable since people are increasingly looking for complementary health care in a system that has more nurses than in the past.
"Having other partners in care has expanded the ability to provide high-level care," he said.
Simms said she decided to be a midwife after volunteering in Planned Parenthood in college and finding an interest in women's reproductive health.
"It's incredibly rewarding," she said.
"People open up their lives to you and put a lot of faith and trust into your care."