Moving forward: Zakiya Bywaters tides injuries, dominates new position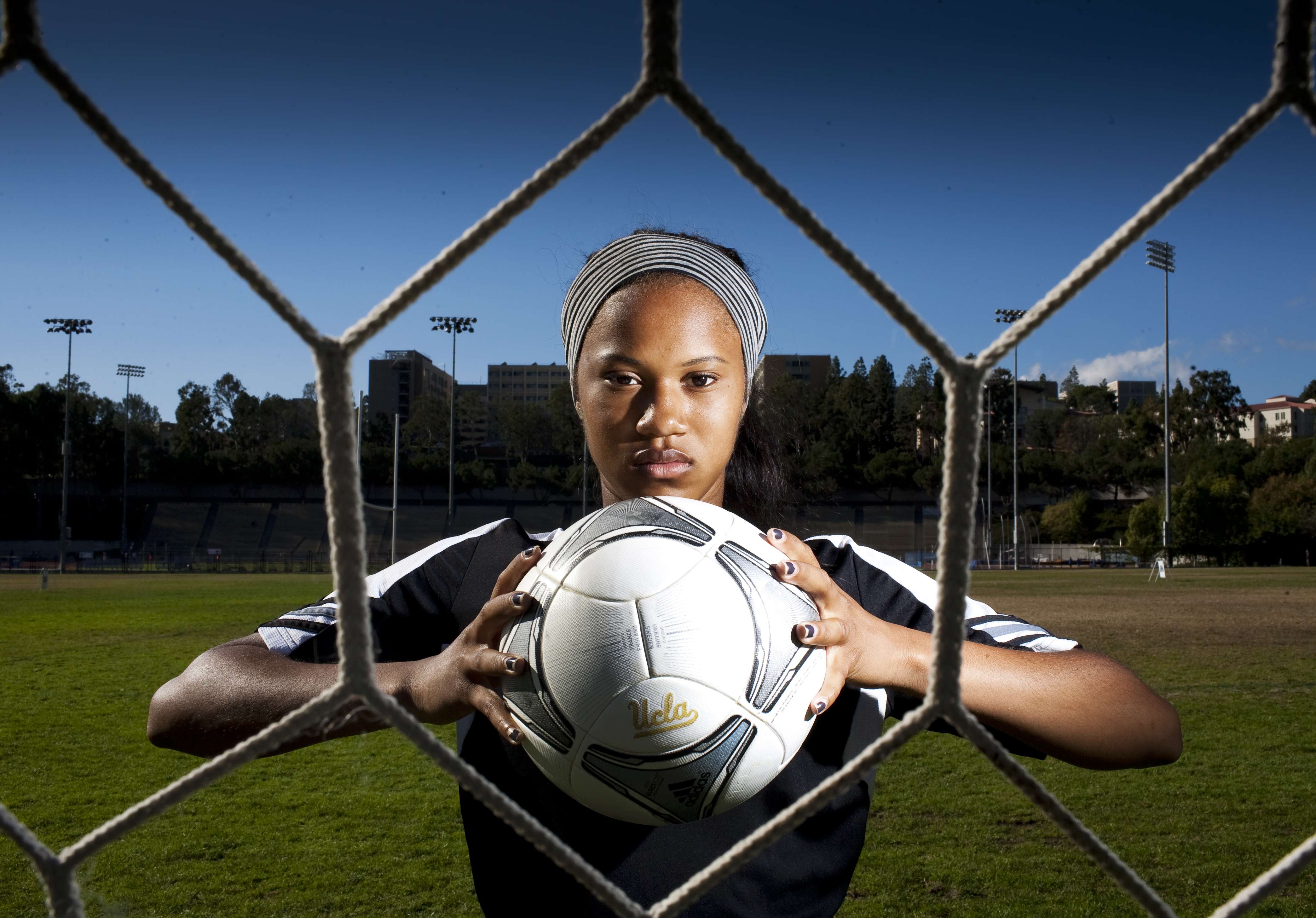 Senior Zakiya Bywaters of UCLA women's soccer has experienced a career renaissance of sorts since moving to the forward position on the team. The position change allowed her to become a prime goal-scorer. Bywaters has scored 15 goals over this season, which has earned her an honor as a Pac-12 Player of the Year and a MAC Hermann Trophy finalist.
By
Daily Bruin Staff
Nov. 19, 2012 11:32 p.m.
College athletes arrive at school with raw potential, ready to develop and improve at their craft while striving to make a splash onto the national scene.
In her senior year, women's soccer midfielder/forward Zakiya Bywaters is finally making her name heard. She earned Pac-12 Player of the Year honors by demolishing her career numbers, despite battling injuries all season.
"I'm just really blessed to finally be recognized for some of the things that I've been working hard for," Bywaters said.
In her first three seasons in a Bruin uniform, Bywaters' role was as a playmaker, distributing the ball to other players and putting them into spaces where they could score goals.
As a result, she had more than twice as many assists (17) as goals scored (8) during her first three years.
But that all changed this year.
"I knew that going into the season I was going to be a strong, strong factor in our offense," Bywaters said.
Her role, which has expanded as she moved into the forward position, is to put balls in the back of the net.
"Her confidence has grown this year to know that she can be a goal scorer, that she's always had it in her," coach B.J. Snow said.
In 22 games this season, she has scored 15 goals to go along with four assists.
"She's so determined this year," said senior midfielder Chelsea Cline. "There's this fire in her eyes and every time she steps on the field, it's like her last time and she just leaves it all out there every time."
Bywaters now leads the Pac-12 in goals scored, goals per game, points, points per game and game-winning goals. Along the way, she took home two Pac-12 Player of the Week honors, was named Soccer America's National Player of the Week, and is on the MAC Hermann Trophy Watch List.
"She's a great asset to this university," Snow said. "I wasn't surprised in any manner (by Bywaters winning the award), because of certainly my feedback from other coaches, but more importantly, what I saw out of her this season."
Her career year is made all the more impressive by the impediments she has had to face.
Bywaters has played through injuries to her groin, hip flexor and hamstring for most of the season.
If the coaching staff had not managed her minutes "" including bringing her in off the bench for two games "" and made sure that she got the proper treatment and rest, these injuries could have ended her season before it even got started.
"(The injuries) have hindered me a little bit, because I didn't get as many minutes as I would like to towards the beginning of the season, but I'm pretty satisfied with where I'm at," Bywaters said. "(I am) just blessed to have this opportunity, because it could have been that I couldn't have played at all."
The treatments were successful in getting her healthier for the postseason, but she admits that she is still at about 70 percent because of the wear and tear from the season. Most of the pain from her injuries has subsided, but they linger at times.
Although her season has been impressive, especially given the injuries she fought through, Bywaters still seeks to improve.
"I've always seen myself as a player who has room to grow, so I'm just satisfied that I haven't peaked too soon and just (continue) to grow," Bywaters said.
Her game on the field is not the only thing that has developed. She has also blossomed into a leader and is one of the team's two captains.
"She has a unique perspective of how the program is run and should be run and the way that she communicates that she's very competitive. She's learned along in the process that you can hone your leadership skills and she's taken accountability for that for the most part," Snow said. "I think that when it's your senior year and you're pushing towards those last final games of your college career, it changes your perspective a little bit."
Bywaters has taken this role to heart and strives to set the standards that she thinks others should follow.
"I'm not always a selfish person, I'm always going to put the team before my own needs, especially on the field," she said.
"Off the field, I think it's helped me to build a better relationship with some of the girls. I know that some of the girls really look up to me so I have to be aware of everything that I'm doing on and off the field."
Her effort and maturity of being a leader have not gone unnoticed by her teammates.
"Even when we need someone stern there, she's there to get us back to where we need to be," said senior defender Lucretia Lee.
With her final season on the women's soccer team winding to a close, Bywaters has definitely left her mark at UCLA.
"I just want to make a lasting impression here for the girls that are going to come ahead," Bywaters said. "(I) just really (want to) make a name for myself as I'm stepping out into the future and then just trying to pursue other things in soccer and in life."