UCLA veterans reflect on service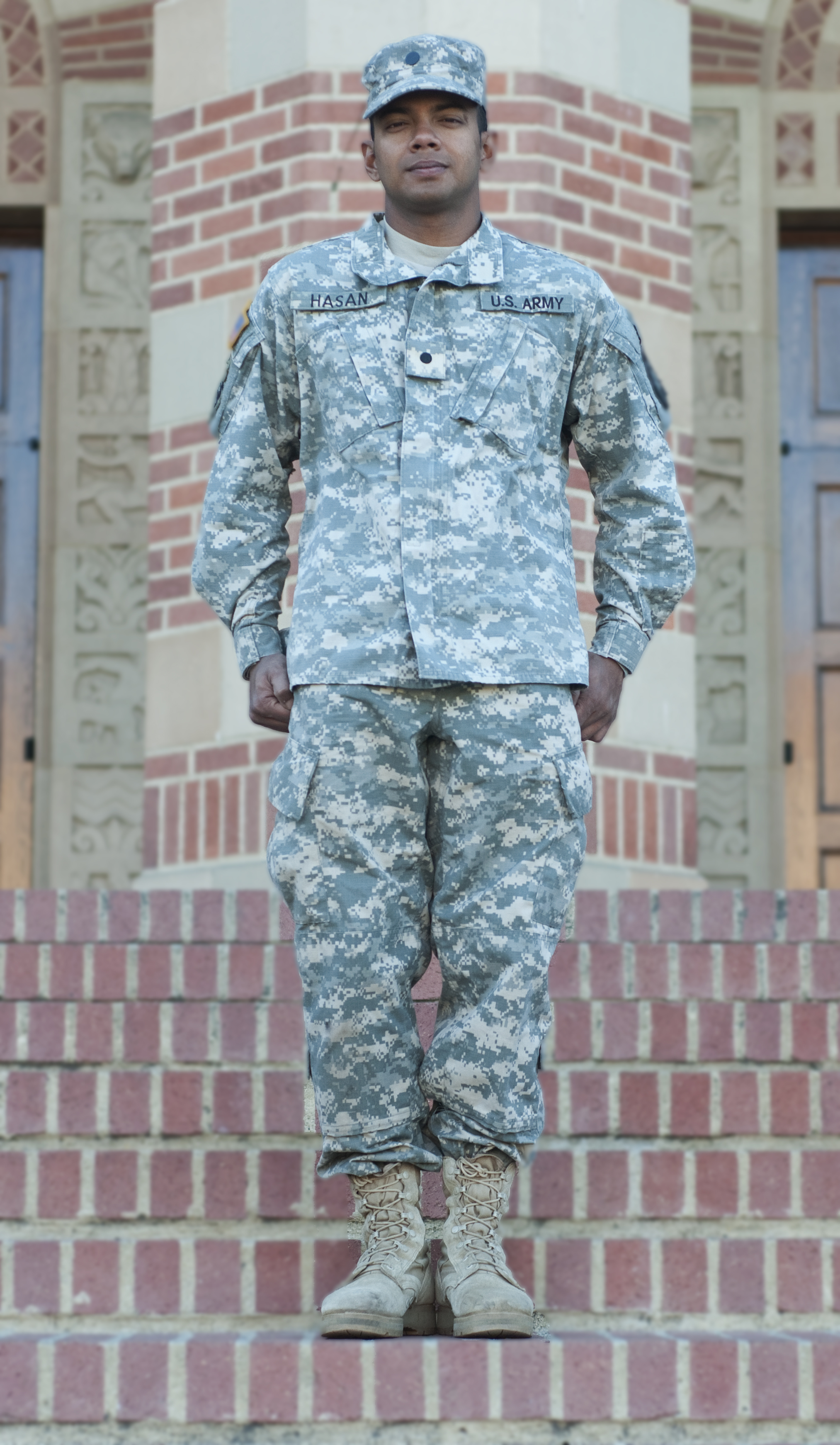 Third year applied mathematics student Mohammed Hasan served in Afghanistan this year.
Dani Molina headed to the Los Angeles National Cemetery this weekend to visit the grave of a high school friend who died while serving in Iraq.
Molina, an Iraq War veteran, goes to the same grave every year.
"Having survived, I feel I owe a debt of gratitude to him," said Molina, a doctoral student in the Graduate School of Education and Information Studies.
On Sunday, the nation celebrated Veterans Day, a national holiday originally established to commemorate the end of World War I, but now memorializes all veterans, including Molina and other Bruins who served in the armed forces prior to enrolling at UCLA.
Dani Molina "" Helping fellow Bruins
Molina was one of the first soldiers on the ground when Operation Iraqi Freedom began in March, 2003.
His company was stationed in Kuwait, and he was responsible for maintaining communication equipment and training soldiers on how to use it.
During the six months Molina was stationed in Kuwait, Iraqi troops launched 23 scuds, a type of missile, at his camp.
Sirens would go off nearby, and everyone would scramble for their protective gear, Molina said.
He and his friends would keep track of the number of scuds that were launched on a calendar.
"We didn't know if (these missiles) contained biological agents," he said. "That was my biggest fear, that these scud agents would hit nearby and it would get on me."
Now, as the external vice president for the Graduate Student Association at UCLA, Molina wants to increase the resources available to student veterans on campus.
His goal is to work with the UCLA administration to identify the demographics and needs of student veterans in order to help them, he said. He intends to organize a study to identify the needs of veterans on campus.
"We want veterans to succeed," Molina said. "Are they in financial need? Do they need tutoring? We don't know."
Seira Kuzmin "" A second chance
Seira Kuzmin spent Veterans Day with her husband and four-year-old daughter volunteering in Van Nuys at Operation Gratitude, a volunteer organization that sends care packages to soldiers.
For Kuzmin, a third-year Russian Studies student, Operation Gratitude is close to her heart.
She served in the U.S. Navy from 2004 to 2011 and would receive care packages from time to time, she said.
One package she received contained pajama shorts and other apparel.
"It was so sweet," Kuzmin said. "On a ship, you lose your femininity and little things that remind you that you're a girl."
When she graduated high school, Kuzmin was hesitant to go to college and instead joined the Navy.
Kuzmin found herself stationed in Japan soon after joining. There, she served as an information assistant technician and helped troubleshoot computers among other duties.
Twice a year, she was deployed to areas in the Pacific, such as Australia.
After giving birth to her daughter in 2007, Kuzmin was rebased in San Diego.
She later applied to UCLA through the Seaman to Admiral-21 Program, which allows her to go to college with a Naval ROTC program while still being paid.
"UCLA, was one of my dream schools growing up, although one of my chiefs was a USC fan," she said, laughing.
Once she finishes her degree, Kuzmin will return to the Navy as an officer. She hopes to eventually pursue a career in intelligence, possibly even the CIA, she said.
Mohammed Hasan "" There and back again
Mohammed Hasan went camping with several friends from UC Irvine on Veterans Day. To the third-year applied mathematics student, the day means taking time to remember those who have served in the armed forces, such as himself.
"We're in the longest war in our nation's history and we need to remember what people have sacrificed," Hasan said. "There should be one day where people make remembrance of that."
Hasan moved to the U.S. in 2007 from Bangladesh, where he attended a college in Oklahoma before transferring to UCLA in 2009.
Tuition at UCLA proved too steep, motivating him to join the army after one quarter.
Hasan served in the Third Special Forces Group in Afghanistan for almost seven months, from January to July of this year, where he was part of a convoy team.
One time, his convoy was stalled in the middle of a valley.
"We had 11 trucks in our convoy, and it was a very great opportunity for the enemy to attack us," Hasan said. "But luckily we weren't attacked "" I was stressed."
While in Afghanistan, Hasan was accepted into the Green to Gold Program, an army program that allowed Hasan to return to UCLA to finish his degree.
Here at UCLA, Hasan is one of several veterans in the Army ROTC program.
"Being a veteran, I can help the new kids," he said. "I can show them the small tricks, (like) how you're supposed to cut off your belt, or how you're supposed to hold and treat your weapon."
Between his first quarter at UCLA three years ago and now, Hasan has noticed changes within himself.
"I can manage stress a lot better and prioritize work a lot better," he said.
"That's what being in the army changed about me "" being disciplined."