The balancing act: Walk-on gymnast hopes to make an impact in sophomore season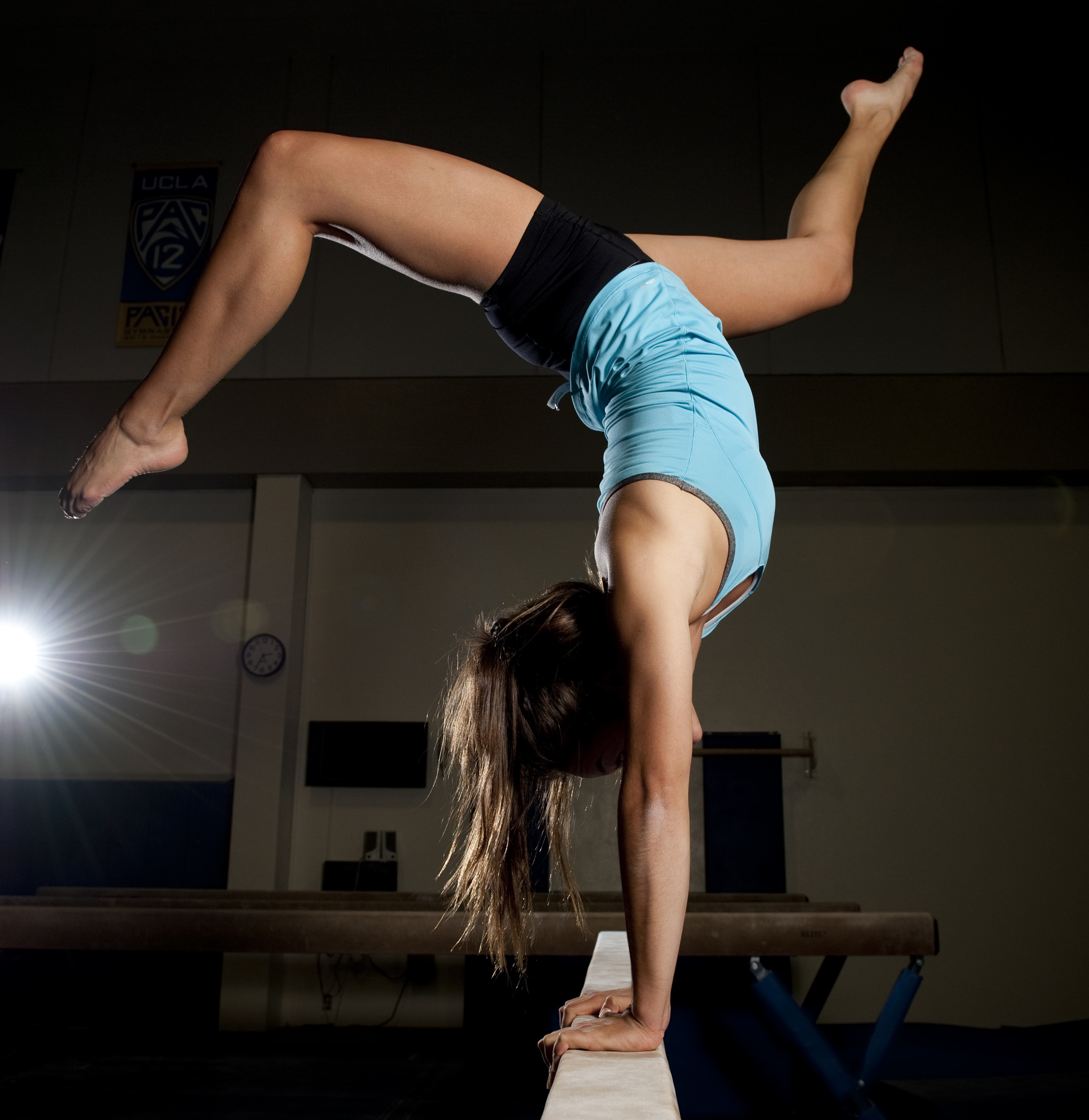 After scoring a 9.8 on uneven bars in one non-exhibition event last year, sophomore walk-on gymnast Ellette Craddock is expected to be a consistent performer on both bars and beam this season for the Bruins.
Walk-ON Wednesday
This year, Daily Bruin Sports is following four walk-ons throughout the year to track the unusual journeys of non-scholarship athletes. We'll keep tabs on Nick Kazemi of basketball, golfer Jacquie LeMarr, gymnast Ellette Craddock, and Roosevelt Davis of football. Check back every Wednesday to learn more about these athletes.
Ellette Craddock has always had a talent for movement.
As a gymnast, her extensive background in dance has made it easier, she said, to "move around and make things look fluid," a skill that helped earn her a walk-on spot on the UCLA gymnastics team.
"(Ellette) is just the most beautiful dancer on floor," said Tiffany Hyland, a former UCLA gymnast. "I don't know how she does it, but it's amazing to watch. She has perfect form."
But it was a different kind of movement that led the always-energetic Craddock to gymnastics in the first place.
"I was a very active child," Craddock said. "My mom says I was always crawling on the refrigerator, crawling all over everything. I was all over the place and my parents didn't know what to do with me, so they put me in gymnastics."
For Craddock, whose mother is a professional dancer, the choice was natural. She continued to pursue both dance and gymnastics throughout her childhood, struggling as the demands for both grew.
By high school, Craddock was balancing an arts high school curriculum that included two hours of dance daily, four hours of gymnastics practice after school and Level 10 competitions "" the highest level before a gymnast becomes elite "" throughout the year. To make matters worse, her two passions didn't always reinforce each other.
"In high school, all my dance teachers hated that I did gymnastics," she said. "It changes your technique a lot and you're bulkier and stiffer and more firm with your movements."
Part of the problem, she said, was that club gymnastics focuses more on challenging skills than on perfect performance.
She found success in club competition "" winning the California Level 10 State title in all-around, bars and beam "" but knew the more form-oriented approach of college gymnastics could suit her skills. Soon, she began to consider the prospect of competing in college.
After an unofficial visit to Westwood, Craddock was offered a walk-on spot by UCLA coach Valorie Kondos Field, also a former dancer and one of the most respected choreographers in college gymnastics.
Even with this possibility, Craddock found it difficult to choose a school. Having been offered scholarships to other schools, she struggled with the decision of where, and even if, she should continue her career.
"I went home and thought about it for a really long time; I talked to my parents a million times about everything," she said. "I was just scared of saying yes and committing and having to settle down. But I was determined and I wanted to come here and I just felt so happy that things were working out."
Craddock ultimately accepted UCLA's offer. But despite the seemingly perfect match, she quickly realized the transition to college competition would be more difficult than expected. The challenges of a new school and team were compounded by the fact that she was recovering from a broken foot and elbow surgery.
"I went from not doing anything to doing everything, with a whole new set of people," she said. "I was "˜the' freshman, the one always making "˜those' mistakes. It was really hard; it was rough. I learned a lot, that's for sure."
Through her growing pains, though, Craddock was determined not to bring the team down.
"She would never let on that she was struggling," Hyland said. "She puts the team first, and she wouldn't want to jeopardize the other girls."
Slowly but surely, her quirky personality and offbeat sense of humor helped her find her place. And when she finally got called to compete on bars against Oregon State and Cal, her lighthearted nature kept competition jitters out of sight.
"I went over to talk to her and had a whole speech, a whole pep talk, prepared in my head, and then she just started talking about how no one thinks her dogs are cute and how she didn't know what to do," Hyland said with a laugh.
Shortly after that conversation, Craddock posted a score of 9.8. And although that was the only non-exhibition performance of her freshman season, she spent the past summer training at her home gym to ensure that will not be the case again.
With the start of the season just a month away, Craddock has set a wide range of goals for the year.
"I just want to get good grades, actually learn things in class, figure out my major, keep my (gymnastics) skills up and not create any drama," she said.
It is this determined effort that Kondos Field said will ultimately bring Craddock success. The coach said she expects Craddock to be a consistent performer on bars and beam.
"It's fun to coach someone who enjoys the challenge," Kondos Field said. "(At another school), she would have thought that her ability is tapped out, her full potential (reached). She doesn't realize how great she can be."