Attorney's passion for Sherlock Holmes inspires award-winning annotation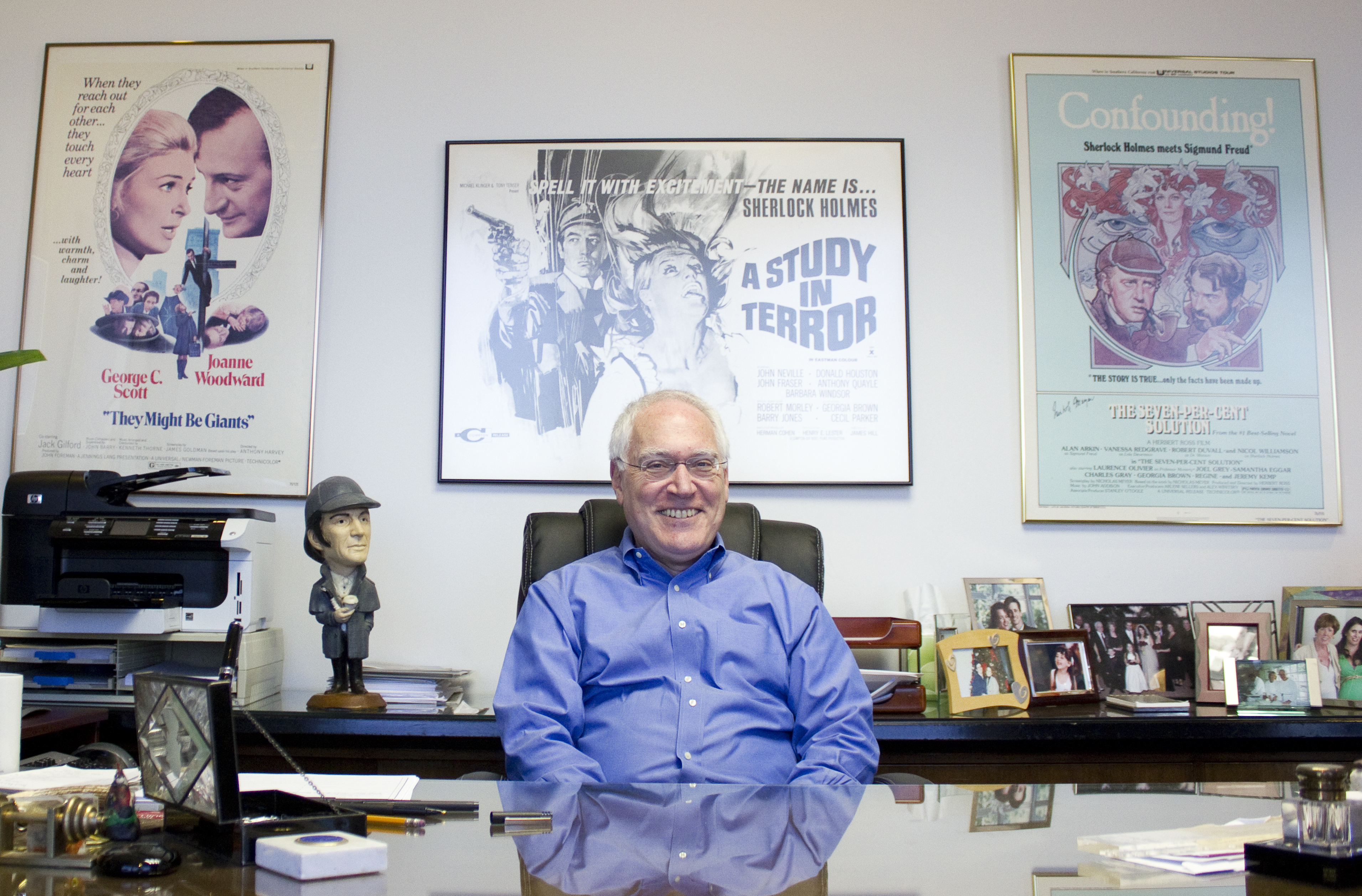 Leslie Klinger sits at his desk at his Wilshire Boulevard law firm. He occasionally teaches a UCLA Extension class about Sherlock Holmes.
A signpost in an office of the law firm Kopple and Klinger, L.L.P. reads, "221B Baker Street."
The office, located on Wilshire Boulevard, is not the home of Sherlock Holmes, the analytical detective made popular by the series of the same name "" it's where Leslie Klinger, attorney and editor, comes to work every day.
Klinger, who practices entertainment and tax law in Westwood, considers himself a man well-versed in Sherlock Holmes.
He won the 2005 Edgar Award, the highest award for mystery writers in the United States, for editing "The New Annotated Sherlock Holmes."
He occasionally teaches a UCLA Extension course called "Sherlock Holmes and His World."
Klinger first discovered his interest in Holmes while he was in law school at UC Berkeley.
His girlfriend at the time bought him "The Annotated Sherlock Holmes" edited by William Baring-Gould, and he found himself unable to put it down.
Klinger described himself as someone who could only take so much studying at one time.
Every night he would allow himself one hour to read and study Holmes, and in that time his knowledge of all things Sherlock Holmes grew, he said.
As he read more and more Sherlock Holmes, he said the idea of writing footnotes caught his attention.
Footnotes, the small explanations about words or culture at the bottom of the pages of books offer editors the opportunity to expand on the material in novels and enhance the reading experience.
"When I read the Gould (annotations), I thought to myself, "˜gee, wouldn't it be cool if I could do a book like this?'" Klinger said.
He started to work on his own annotated version of Sherlock Holmes, which he later published through W. W. Norton and Company in 2005.
Since then Klinger has traveled the country to give talks on the subject.
He frequently writes and gives commentary for the Baker Street Journal, a scholarly publication of Sherlock Holmes analysis that has been published since 1946.
Zoe Jordan, a fourth-year English student, said she grew up reading Sherlock Holmes.
The new British Broadcasting Corporation television show, "Sherlock," revived her interest in the series.
She said she would be interested in taking the UCLA Extension class if it was offered again because the television show makes her want to go back and reread all the works.
"(In detective fiction) there's always some kind of mystery, and I think readers get caught up trying to figure it out," said Richard Yarborough, a professor of English who has taught a detective fiction course at UCLA in the past.
Readers often identify with the detective and try to piece together the clues to solve the mystery, he said.
"It's like watching a (television) show that you may know how it ends, but it's still satisfying to watch," he said.
Sherlock Holmes is special because he was someone who used his mind as a weapon, Yarborough said. He was unique in that he did not use guns.
"(Sherlock) is an outsider, but very valuable and driven," Klinger said. "I think (fans) admire that."
He is driven by the pursuit of justice, he added.
Klinger said although he is not the kind of lawyer who works in court, there is always a sense of determination and attention to detail that he and others can take away from Holmes's approach to situations.
Dr. John Watson, Holmes' sidekick and roommate, is less socially isolated but still part of all the mysteries "" he gets to be around Sherlock all the time, Klinger said.
"I'm not sure that any of us would want to be Sherlock," he added with a laugh. "I'd like to be Watson."
Watson gets all the perks of solving mysteries and being around Sherlock without actually having to be him, Klinger said.
And being around Sherlock is not rare or difficult for Klinger.
A walk around his office includes only part of his extensive collection and publications. Movie posters and a Sherlock Holmes bust adorn the walls and desk of the office.
He said he's proof that fans can take out time from their work schedule to pursue their personal interests, just as he has. All fans need to do is find the time, he said.
But one thing Klinger won't do?
Dress up as Sherlock Holmes for Halloween.
"I don't do dress-up," he said.