Seoul Sausage Co. brings Korean flavor to West LA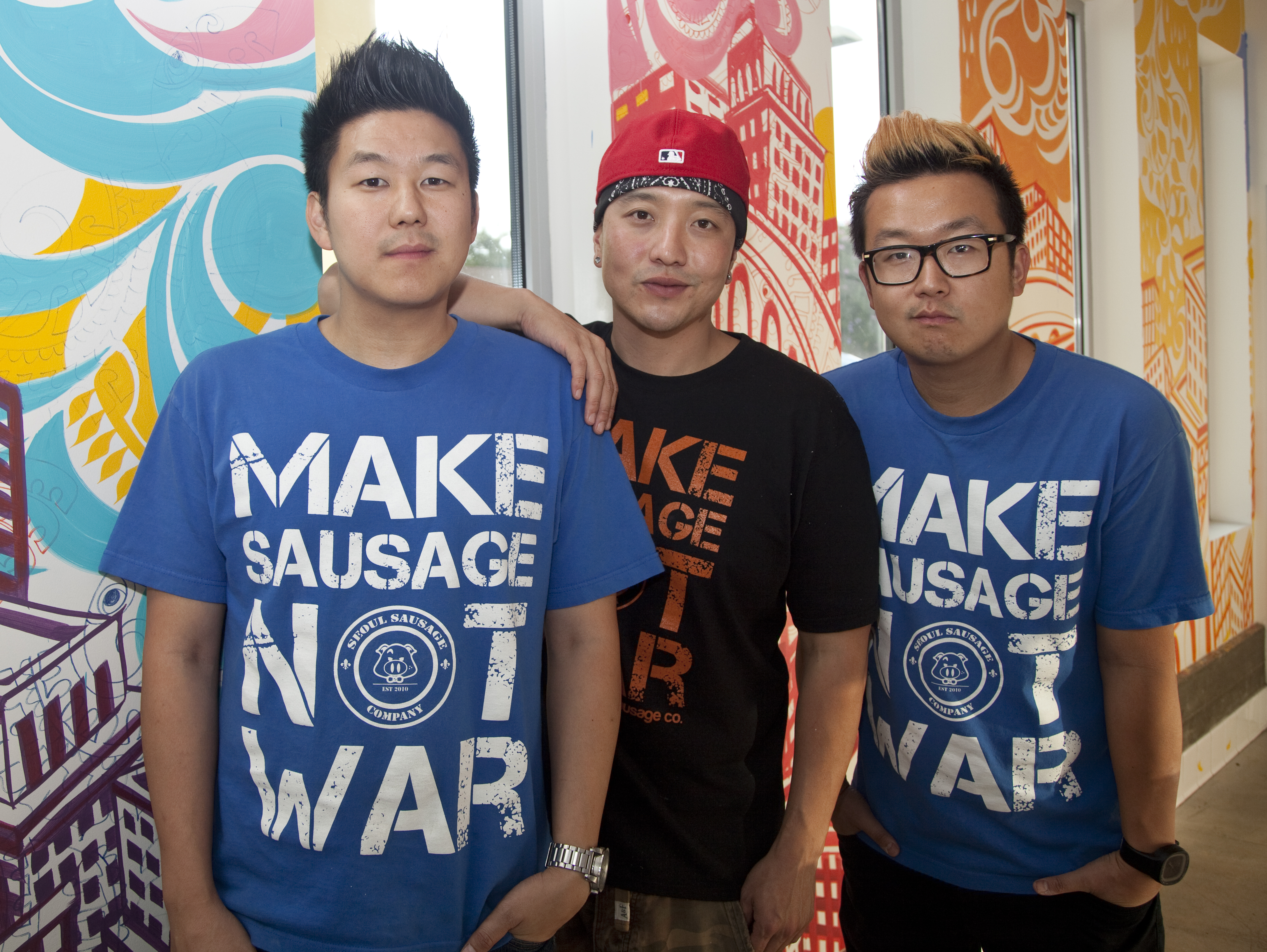 From right to left, Ted Kim, Chris Oh and Yong Kim, season three winners of Food Network's "The Great Food Truck Race," recently opened up their new restaurant on Mississippi Avenue.
Restaurant info
11313 Mississippi Avenue
Open Tuesday-Sunday
12 p.m.-9:30 p.m.
Yong Kim, Ted Kim and Chris Oh, co-owners and creators of the recently opened restaurant Seoul Sausage Co., invest in four valuable words: "Make sausage not war."
Their T-shirts and the storefront walls sport the motto, but these three are more competitive than this slogan lets on. In the process of opening their new storefront, they also snagged the winning title for Food Network's reality television show "The Great Food Truck Race."
Competing with other food trucks to generate the most revenue from their product, the three traveled 3,500 miles from one tip of the country to the other, turning the traditional feel of kimchi and Korean barbecue into something a little more familiar, such as "Lip-Smacking Korean Barbecue Burgers" in Texas.
"In Cleveland, Polish boys are really popular, so we gave the people something familiar and easy to digest "" a "˜Seoulish boi,'" Ted Kim said. "That way, people know exactly what they're getting, but we create a new experience with Korean barbecue flavors."
Seoul Sausage successfully catered to cities across the country, but now it has focused its sights a bit closer to home: Mississippi Avenue, just off Sawtelle Boulevard.
Whether their food comes from a food truck or a storefront, Seoul Sausage still intends to take the tradition of Korean BBQ and put it in the hands of customers in a more portable way, such as their spicy pork sausage with apple-cabbage coleslaw, Yong Kim's personal favorite.
"Korean barbecue itself is a very communal experience, it's like a treat," Yong Kim said. "But now with Seoul Sausage, if you want your Korean fix, you don't have to go to K-town and spend 20 or 30 dollars. All the food we make is very popular in Korea, we just put some American flavor into it."
That includes different sausages ranging from beef to pork to chicken, infused with different flavors such as kalbi, Korean spices and sides of kimchi-relish and garlic jalapeno aioli.
Second-year physiological sciences student Raymar Baesa said Korean barbecue has acquired much popularity among the UCLA community.
"Going out for Korean barbecue is a much different experience than other restaurants; you get to interact with the cooking process and that's always a fun way to eat with friends," Baesa said. "But the idea of similar types of food in a less sit-down way would be really appealing to students."
And that's the goal of Sawtelle's newest commodity "" taking a novel food that's gaining popularity and delivering it in a quicker form. Yong Kim describes the history of Seoul Sausage as very organic.
Once they started taking their Korean-inspired food to farmers markets and festivals, their products were well-received with long lines to prove it.
Within a year's time, all three co-owners quit their previous jobs, including 9-to-5 advertising jobs and for chef Oh, other restaurant positions. The team wrote a business plan, met with investors and locked down a spot.
The inside has a modern yet vibrant feel which includes a wall covered entirely with a bold mural of bright yellows, reds, oranges and blues by artist John Park. Ted Kim had been a huge fan of Park's work for about three years prior to the wall mural, which amazingly took roughly 13 hours to create in total.
But even before the opening of the storefront, Seoul Sausage Co. garnered interest and praise on Yelp.com, including a current spot on the "Best of Yelp."
"Yelp was a big factor in the success of our company. I think in this day and age, if you put out a quality product and have personable people selling it, it goes a long way," Kim said. "There have been so many times when we've put the wrong sauce on a sausage, but it was the service that built the Seoul Sausage brand."
That's not to say the menu hasn't played a major part in giving Seoul Sausage the dimension that's made it successful so far. Yong Kim said the small menu that they've created consists of purely quality food.
"The prices may seem high, but it's actually pretty cheap if you consider the quality of the food that we're using. Everything's from scratch and we braise things overnight," Ted Kim said.
Take Seoul Sausage's short rib poutine, for example. They braise the cut for five to six hours, until it falls off the bone, and then put it on double-fried french fries made from scratch.
"This is all heavy food. When I was in college, I was really into burritos and In-N-Out. Students are always running after quick food that's heavy," Kim said. "In that sense, Seoul Sausage is like street food with some chef love."
Email Maffucci at [email protected]