Gov. Jerry Brown speaks at Proposition 30 rally in Bruin Plaza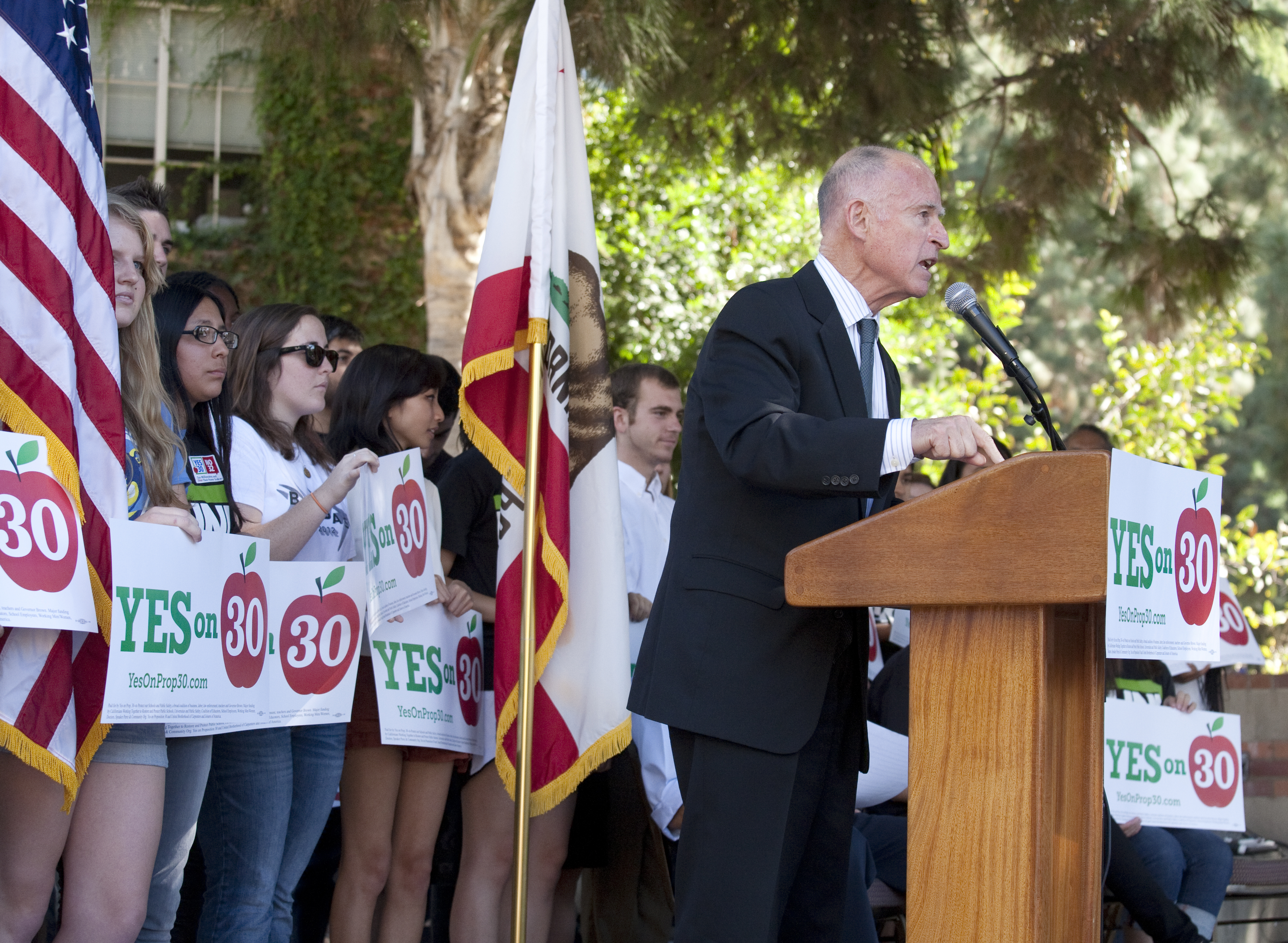 Governor Jerry Brown spoke on campus Tuesday as a part of a rally in support of Proposition 30 hosted by Bruin Democrats and UCLA faculty.
About 200 UCLA students, some holding signs that read "Yes on 30," gathered near the stage in Bruin Plaza as the song "Ain't No Mountain High Enough" played in the background.
The song ended, and Gov. Jerry Brown stepped out of a door in the Student Activities Center and walked onto the stage.
Brown's visit to campus Tuesday was part of a rally hosted by Bruin Democrats and UCLA faculty for the University of California Day of Action in support of Proposition 30, said Mike Roth from the Yes on Proposition 30 campaign.
During a six-minute speech, Brown urged students to educate themselves about and vote for the measure in November.
"Proposition 30 is an opportunity for the people themselves not only to fix California, but to send a message to the rest of the country that we as a people can invest together in our schools and our community colleges and the University of California," Brown said to the crowd. "A lot is riding on this election."
California voters will determine the fate of Proposition 30, which would raise the California sales tax by a quarter of a cent for four years, as well as income taxes on households that earn $250,000 or more annually for seven years.
If the governor's tax measure fails to pass, the UC will lose $250 million of state funding, likely prompting a mid-year tuition increase of 20 percent or more, officials have said. The UC would also lose $125 million in additional state funds for the 2013-2014 academic year if the measure fails and if the university increases tuition during the year.
"I'm here (at the rally) because (proposition) 30 affects everyone. … Even though I'm graduating, my little sister is coming and I want school to be affordable for her," said Michelle Parsons, internal vice president of Bruin Democrats and a fourth-year history student.
At intervals during the event, chants of "Yes on 30," were countered by "No on 30."
Opponents of the proposition, which include some Bruin Republicans, contend that the measure's tax increase could hurt small businesses.
While the rally was aimed at drawing UC student support for the measure, it garnered mixed reactions from students.
Some students felt the governor's remarks helped shaped their views in support of Proposition 30.
Bill Faught, a third-year civil engineering student who identifies as liberal, said he was not aware of Proposition 30 before the rally, but is now leaning in favor of it.
"It was good (Brown) went after the student vote because those are the people who will be most affected by this," Faught said.
Others thought the governor did not spend enough time talking and interacting with students on campus. Following his speech, Brown spoke to a small group of reporters behind the stage for several minutes and then left Bruin Plaza.
"Did you come to talk to students or to cameras, Brown?" one student yelled out.
Fifth-year history student Luis Rojas, who said he is not opposed to Proposition 30, came to the rally with the plan to talk to Brown about legislation the governor recently vetoed.
The vetoed pieces of legislation "" a set of bills that would keep local law enforcement authorities from working with federal officers to detain undocumented individuals who have not been convicted of violent crimes, and a bill of rights for domestic workers "" could have benefitted Rojas' mother, who is an undocumented domestic worker.
"I have nothing against (Brown) coming on campus, but it would have been nice to see him speak to students more," Rojas said.
Organizers of the rally felt there was a strong student turnout, said Holly Craig-Wehrle, a UCLA alumna who helped organize the rally. The University Council "" American Federation of Teachers also sponsored activities at UC Santa Barbara and other UC campuses throughout the day to draw in the student vote, Craig-Wehrle said.
The organization plans to reach out to more California voters in the coming weeks to educate them about Proposition 30, she said.
With contributing reports from Kristen Taketa, Antonio Gonzalez and Alessandra Daskalakis, Bruin senior staff.