Kasih Co-op sells Indonesian jewelry while raising money for elementary schools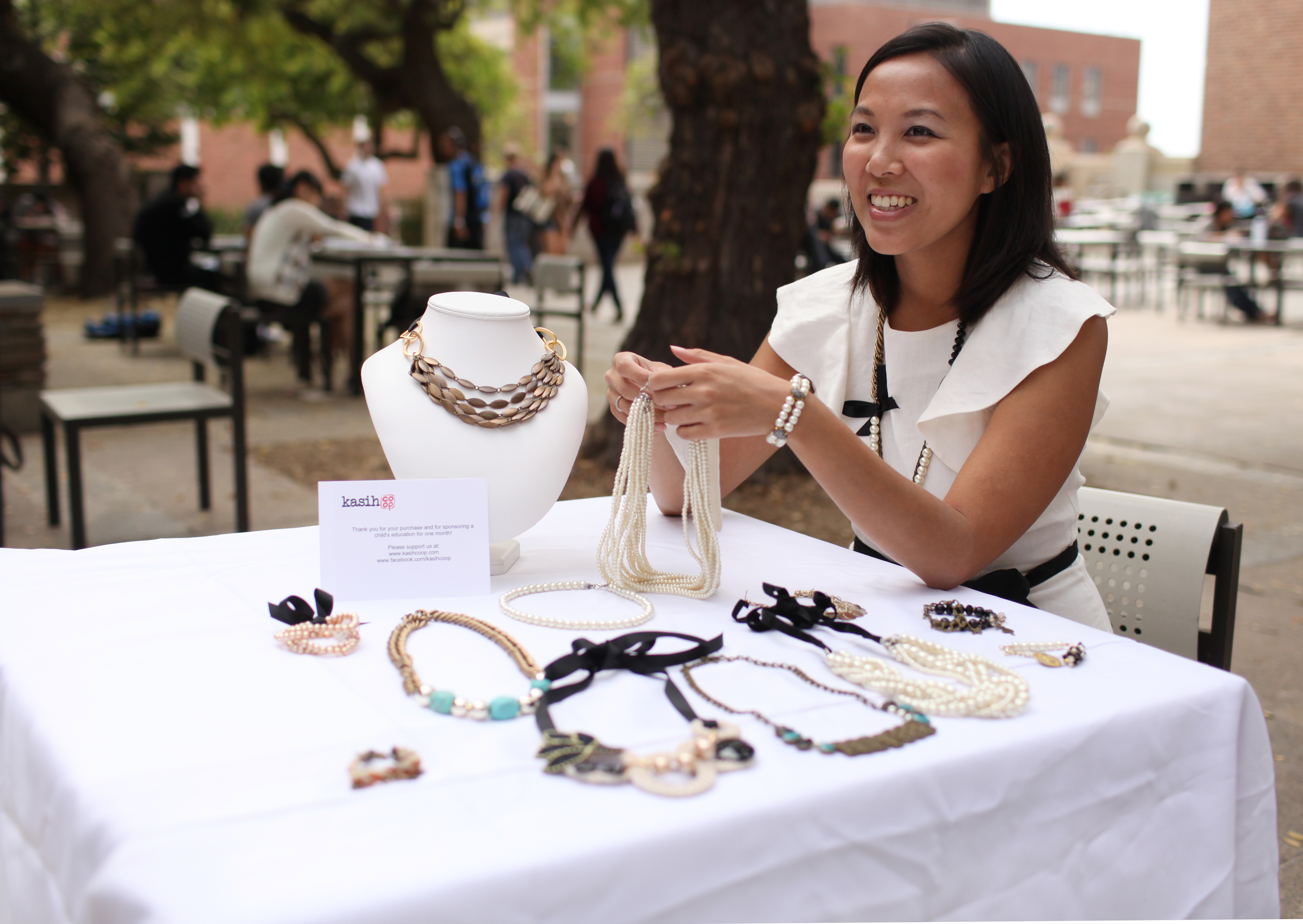 Ivana Darmawan graduated from UCLA with a degree in business economics and an MBA from Anderson. She started Kasih Co-op, a brand that sponsors education for children in need by sourcing hand-made products made by womens entrepreneurs in developing countries.
The sale of a single piece of pearl-and-charm-adorned jewelry handcrafted in Indonesia can provide a child in Laos, Nicaragua or Guatemala education for one month.
UCLA alumna Ivana Darmawan recently launched Kasih Co-op, a company that sells the jewelry in the U.S. and raises money to sponsor children's education in developing countries.
"Kasih" is understood to have two meanings in the Indonesian language: "to give" and "to care," said Darmawan, who graduated UCLA with a bachelor's degree in business economics and a graduate degree in financial entrepreneurship.
Darmawan's business is for-profit, meaning money made from sales goes to an outside sponsor to pay for the education of elementary-aged children. The rest of the money goes back to Kasih Co-op in order to continue business operations, she said.
Darmawan meets with Indonesian women, who create the jewelry, during her once-a-year visits to her home country, Darmawan said. She then brings back the products to sell to American consumers from her website.
"I want to be able to do this for others "" give them the opportunities that I was lucky enough to have," she said.
Kasih Co-op's focus on childhood education in developing countries stems from Darmawan's experiences in high school in Indonesia and college, she said.
She said she attributes her own success to her experiences attending high school on a scholarship in Singapore and the opportunities that have arisen because of it.
"Getting a full scholarship for high school in Singapore exposed me for the first time to competition outside of Indonesia and the idea of education as a way to escape poverty," Darmawan said.
Her experience at school in Singapore left a lasting impression.
"I still keep in touch with my (high school) friends "" a lot of them are researchers now," Darmawan said. "It's weird to think that had it not been for their scholarships, they would never be where they are now, and neither would I."
Growing up in Indonesia, then 16-year-old Darmawan watched as her mother struggled to start her own business since women typically could not own their own businesses in Indonesia.
Knowing that her mother had encountered numerous challenges because of her gender, Darmawan also decided to focus on women entrepreneurs, Darmawan said.
Darmawan left Indonesia in 2003 to attend UCLA. She said she came to UCLA to have opportunities she would not have had otherwise if she stayed in Indonesia.
After graduating from the UCLA Anderson School of Management in 2009 and a brief stint at Yahoo!, Darmawan started Kasih Co-op. Darmawan said while attending UCLA she was inspired to use social entrepreneurship to make money to help others.
"I was her sounding board, but this was entirely Ivana's vision," said her husband Arthur Wang, who is an entrepreneur in internet marketing. "She's always had the drive to use entrepreneurship to work for women's rights and (to work for) her own country."
Wang said he gave Darmawan advice about how to start a business and market it.
Although Darmawan currently resides in and manages her business from Los Angeles, she still visits Indonesia and her family once a year, she said.
Though the Darmawan family in Indonesia was not used to the idea of social entrepreneurship at first, she said her family and friends are fully supportive of her doing something she finds meaningful.
"(Darmawan) is always motivating others and probably the most generous person I know," Mayinda said. "She's sincere in her giving, and this is great for her company," said Natasha Mayinda, Darmawan's friend since junior high school. Mayinda, who likened Darmawan to a sister, also gives ideas and advice to her about Kasih Co-op.
Business for Darmawan's company, which is only a little older than a month, is currently slow but promising, said Mayinda.
Darmawan hopes the business will continue to grow and even provide jobs for local communities in developing countries, she said.
Wang said Darmawan's life experiences bring ideas that others who grew up in a developed country would not necessarily have.
"She had a lot of other options in life, but she chose to pursue something more than just for economic profits," he said. "It's great that she's found something that can give a greater return than just financial rewards."