Maintenance cost for Royce Quad lawn increases due to excessive student use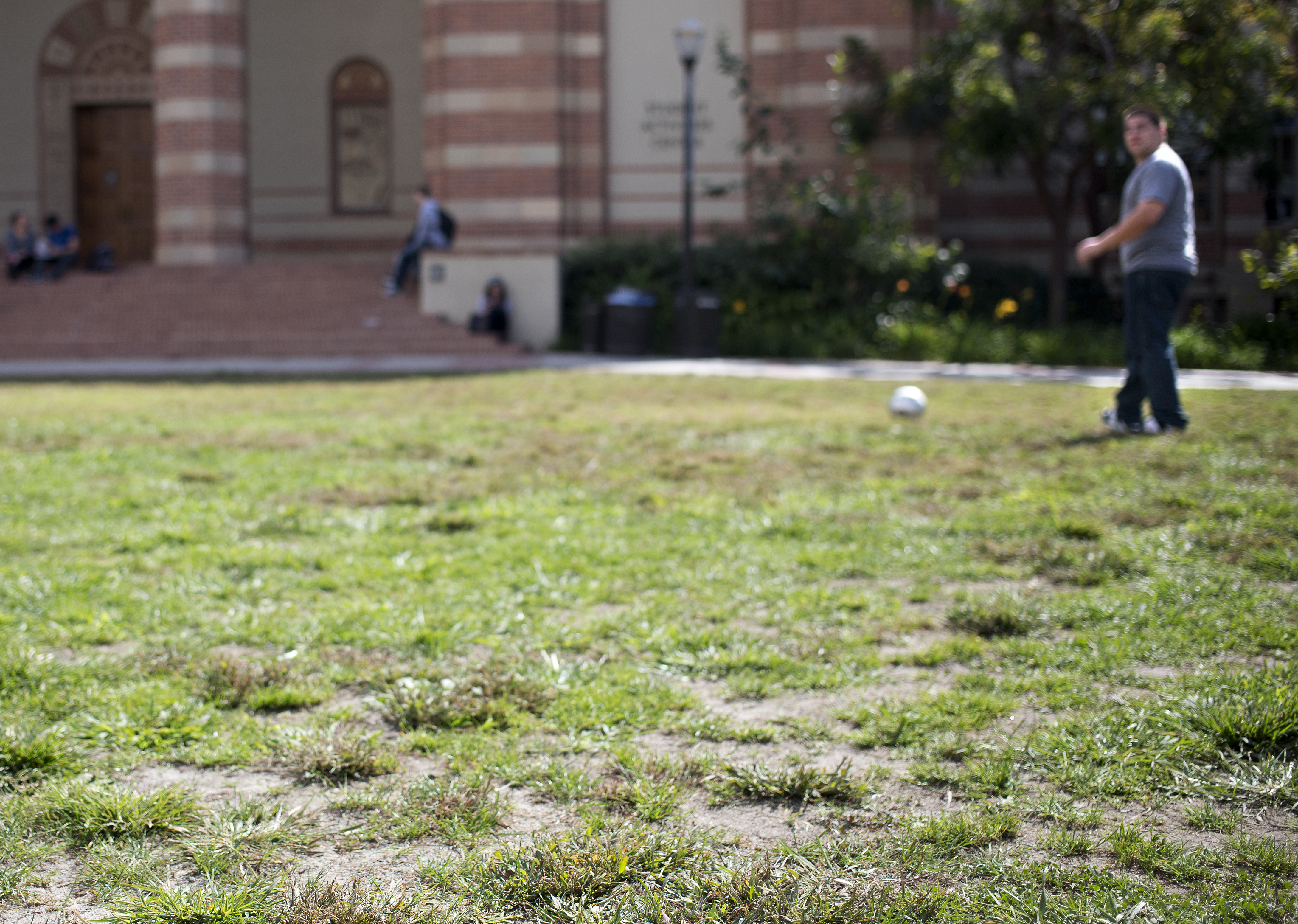 The excessive use of cleats on campus fields such as Wilson Plaza creates divets in the grass and prevents seeds from growing
Upkeep of portions of Royce Quad's lawn have proven costly for UCLA facilities staff in recent months because of an increase in student use.
The lawn between Royce Hall and Powell Library "" a central area of campus "" is usually reseeded once during fall quarter, said K. Yoshino, UCLA facilities management grounds supervisor for all areas of campus north of Bruin Walk.
But cleat-wearing pick-up soccer players and football players who use the lawn extensively create divets in the grass and prevent seeds from growing, Yoshino said.
While annual events such as the Enormous Activities Fair also wear down the grass, such use is expected, and the repairs are paid for by the event organizers, said UCLA spokeswoman Alison Hewitt.
"We have enough seed to do a couple of minor returns to the area to refurbish it," Yoshino said.
If those seeds fail, then facilities will have to make do with the seed they still have, Yoshino said.
In the past several months, UCLA Facilities Management staff have had to reseed the grass area around the flagpole and the middle section of the lawn three times, Yoshino said. The additional repairs cost the university between $6,000 and $9,000 state funds allocated for operations and maintenance, Hewitt said in a statement.
For many students, Royce Quad is a last-resort soccer field.
A majority of the campus fields, including the North Athletic Field and the Intramural Field, were undergoing renovation over the summer or were being used by teams to practice, Yoshino said.
The temporary closures forced some students to find alternate places to play "" including Royce Quad.
David Mao, a third-year computer science student, played soccer with his friends on Royce Quad about three times a week toward the end of summer, while wearing cleats.
The group of friends only decided to play on Royce Quad's lawn after the IM Field, Drake Stadium and the North Athletic Field were unavailable, Mao said.
"I honestly don't like playing on Royce (Quad) … the grass is nice, but there's not much space to play because there is concrete on both sides, and people slip and easily get hurt," Mao said.
Even though the campus practice spaces are now open, pick-up soccer games on the Royce lawn still occur.
Bruce Jones, a fourth-year psychology student only plays on the quad's lawn when other field space is closed or in use.
If the IM Field were kept open later than its current 10 p.m. closing time, Jones said he feels fewer students would play on the grass up by Royce Hall.
"I know that a lot of the time they turn off the lights at 10 p.m. and, in a college environment, that's not very late at all," he said.
The facilities management staff ends their work day at 3:30 p.m, and are unable to ask people to not play on the grass after hours, Yoshino said.
Facilities has placed a cord around the perimeter of the grass to keep people off the lawn.
Second-year materials science student Din Catic said he played on Royce Quad anyway because there were no signs forbidding use of the grass.
In addition to placing knee-high plastic cords to line the grass, facilities has asked university police to increase patrols after-hours and to ask any players to not play on the area, Yoshino said.
University police Sergeant Harry Standberry said while UCPD patrols have patrolled Royce Quad more often, no reports of encounters between officers or students have been reported.
Facilities is currently looking for alternate measures to discourage students from playing on Royce Quad and hopes to have them in place soon, Hewitt said in the statement.
With contributing reports by Jillian Beck, Bruin senior staff.