Gov. Brown speaks at Prop. 30 rally in Bruin Plaza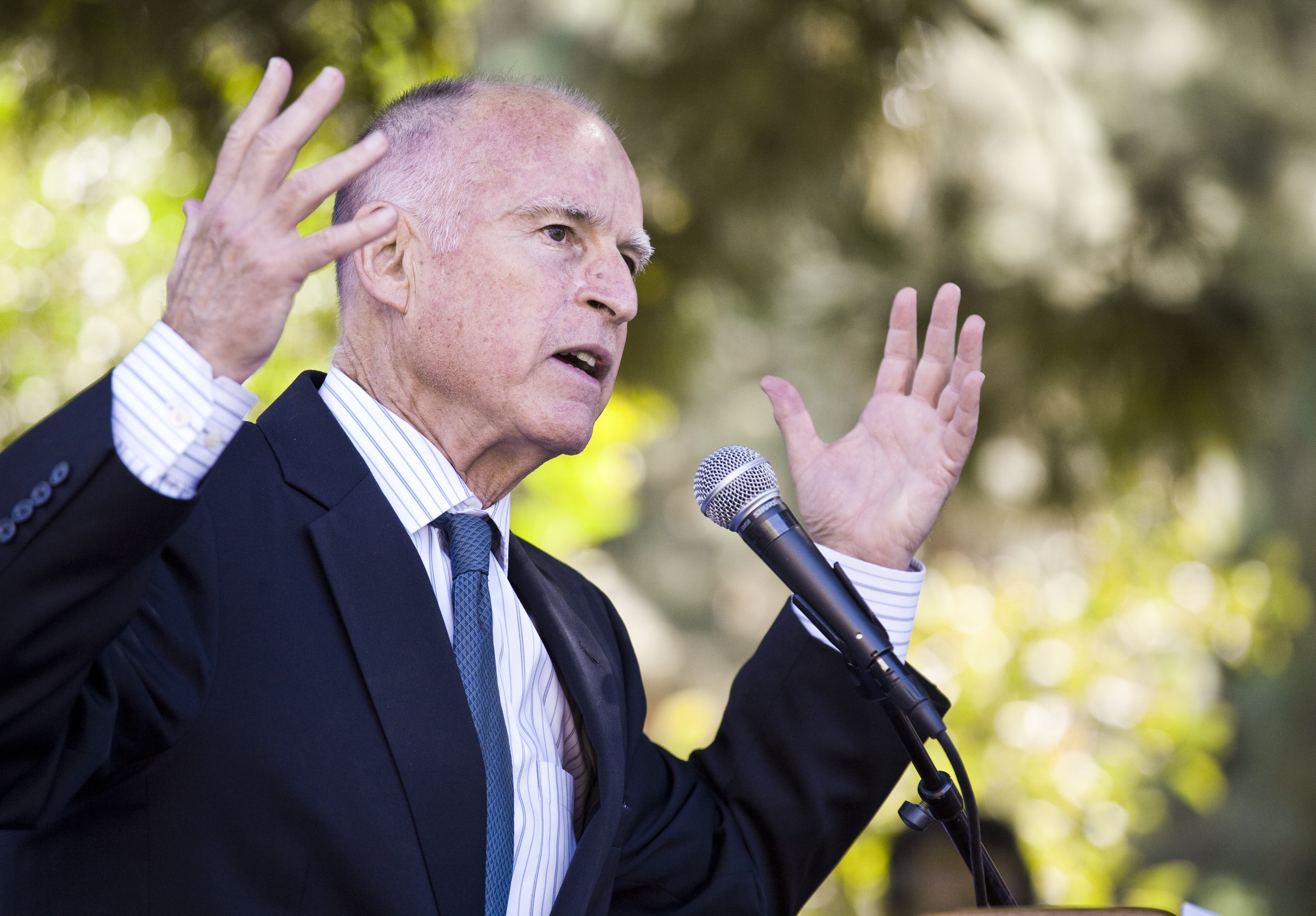 Gov. Jerry Brown speaks about the importance of registering to vote at a rally held Tuesday in Bruin Plaza.
Speaking at a rally held at UCLA this afternoon, Gov. Jerry Brown encouraged students to register to vote and to educate themselves about Proposition 30, a ballot initiative that has garnered mixed reactions from California voters in recent months.
"We've cut schools too long," Brown said to a crowd of a couple hundred critics and supporters that gathered near the stage in Bruin Plaza. "Proposition 30 is an opportunity for the people themselves not only to fix California, but to send a message to the rest of the country that we as people can invest in our schools."
The UCLA rally, hosted by Bruin Democrats and faculty, was part of a University of California Day of Action in support of Proposition 30, said Mike Roth from the Yes on Proposition 30 campaign.
Voters in next month's state election will determine the fate of Proposition 30 "" a measure that would raise the sales tax in the state by a quarter of a cent for four years, as well as income taxes on households that earn $250,000 or more annually for seven years.
Other students, including external vice president for the Undergraduate Students Association Council Lana El-Farra and Bruin Democrats president Liz Friedman also spoke at the rally.
"This is not a single party effort "" this is a student effort, this is a Bruin effort," said Friedman, a fourth-year physics student. "Proposition 30 is going to affect every single student who calls himself or herself a Bruin."
If the governor's tax measure fails to pass, the UC will lose $250 million of state funding, likely prompting a mid-year tuition increase of 20 or more percent, officials have said. The UC would also lose $125 million in additional state funds for the 2013-2014 academic year if it opts for a tuition increase this year.
At intervals during the rally, some spectators "" many of them students "" chanted "Yes on Prop. 30," while others countered with chants of "No on Prop. 30."
"While we very much appreciate the governor's central role in this measure, let me assure you that Prop. 30 is our measure "" the measure of students the measure of seniors the measure of teachers, school bus drivers "¦ and many other communities throughout the state," said Joshua Pechthalt, president of the California Federation of Teachers, at the UCLA rally.
Opponents of the proposition, which include the Howard Jarvis Taxpayers Association, argue that the measure's tax increase will hurt small businesses.
A rally is also being held at UC Santa Barbara today, and informational activities will take place at other UC campuses, said Bill Quirk, director of communications and education for the University Council – American Federation of Teachers, which is sponsoring the Day of Action.