As a part of UC Day of Action, Gov. Jerry Brown will speak at UCLA to promote Proposition 30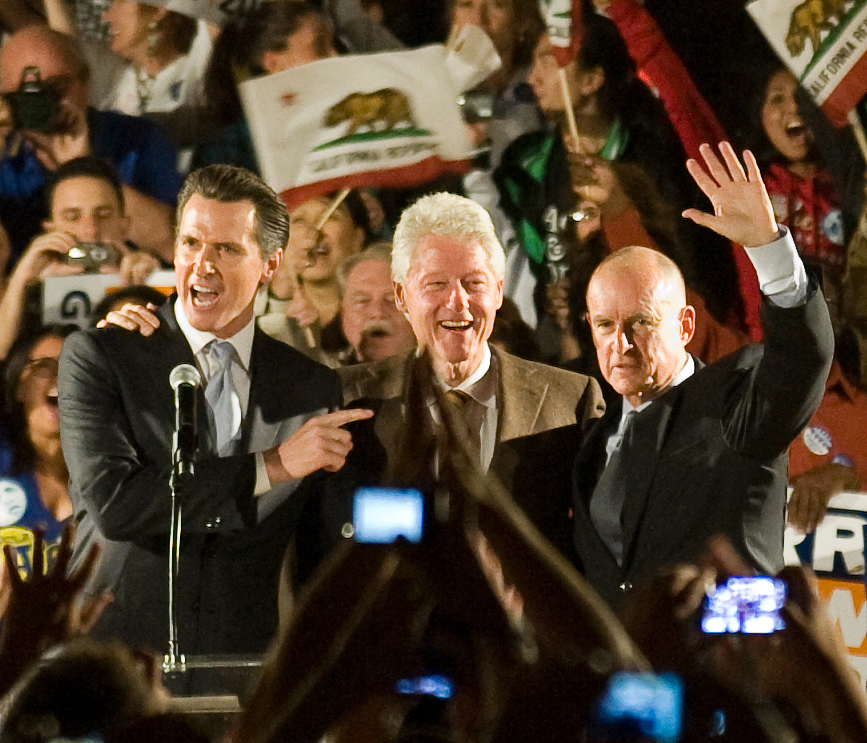 Gov. Jerry Brown (on right), who spoke at UCLA in October 2010 during his election campaign, is returning to the campus today for a rally.
Gov. Jerry Brown rally
Today at noon
Bruin Plaza
Gov. Jerry Brown will speak at a rally in Bruin Plaza today for his proposed tax increase initiative, which is tied to the University of California's finances.
The UCLA rally, which is being hosted by Bruin Democrats and faculty, is part of a University of California Day of Action in support of Proposition 30, said Mike Roth from the Yes on Proposition 30 campaign.
A rally will also be held at UC Santa Barbara and informational activities will take place at other UC campuses, said Bill Quirk, director of communications and education for the University Council – American Federation of Teachers, which is sponsoring the Day of Action.
Voters in the November state election will determine the fate of Proposition 30 "" a measure that would raise the sales tax in the state by a quarter of a cent for four years as well as income taxes on households that earn $250,000 or more annually for seven years.
If the governor's tax measure fails to pass, the UC will lose $250 million of state funding, likely prompting a mid-year tuition increase of 20 or more percent, officials have said. The UC would also lose $125 million "" in the form of a tuition buyout "" for the following year of 2013-14.
Opponents of the proposition, which include the Howard Jarvis Taxpayers Association, argue that the measure's tax increase will hurt small businesses.
Other speakers at the rally will include Lana El-Farra, the external vice president of the Undergraduate Students Association Council, Liz Friedman, the president of Bruin Democrats, and speakers from the California Federation of Teachers.
"The angle (of my speech) is centered around higher education. … We need legislators to prioritize education and the UC system … and I want to center the conversation around that," El-Farra said.
Proposition 38, another tax increase measure on the November ballot, that would fund K-12 education, is seen as competition for Proposition 30.
Brown came to UCLA in October 2010, for a Democratic rally where he spoke alongside Lt. Gov. Gavin Newsom and former President Bill Clinton. He was running for governor at the time.
Compiled by Katherine Hafner and Andra Lim, Bruin senior staff.