UCLA alumna rides in the Tour de Pink to support breast cancer research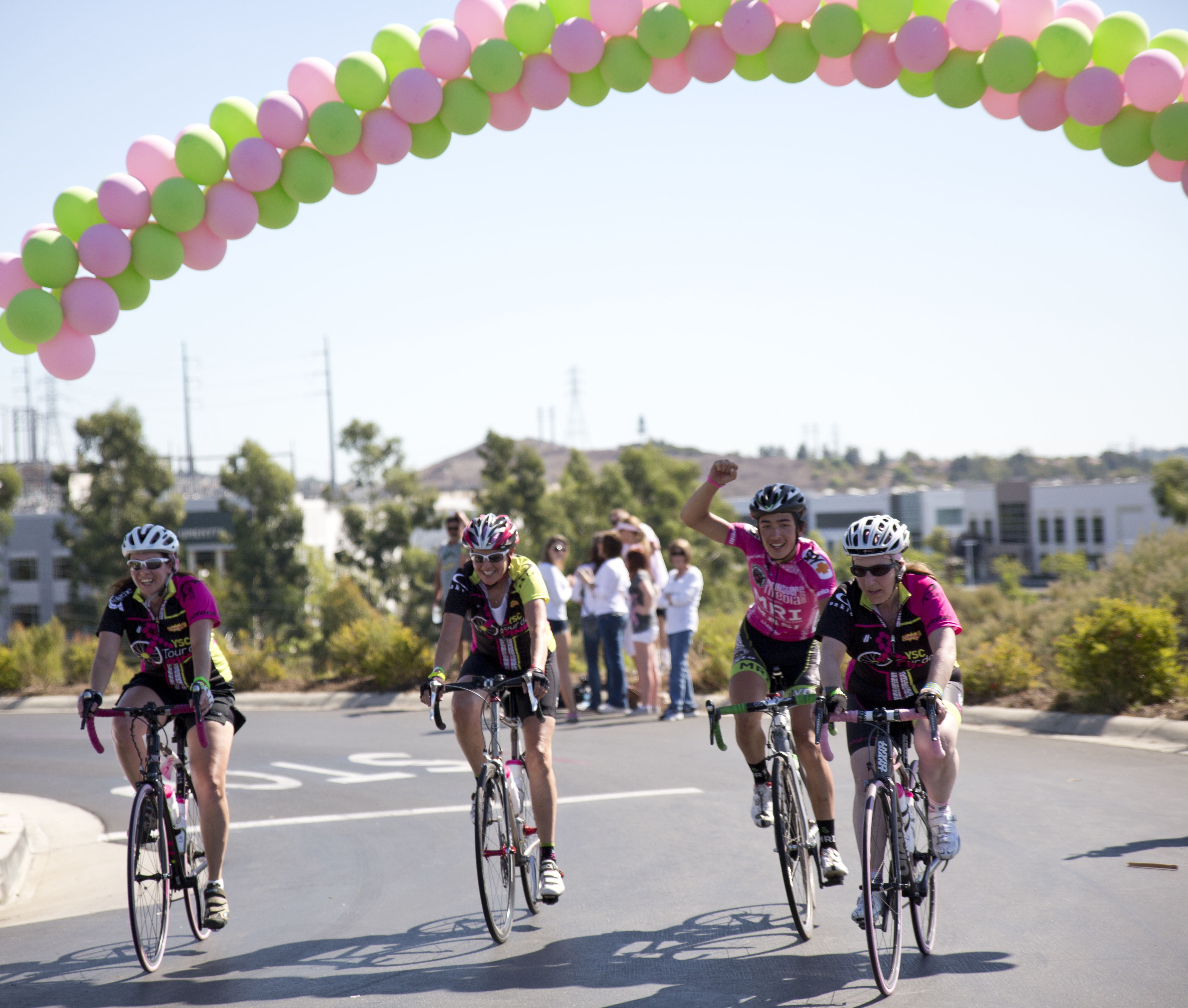 Bike riders in the West Coast ride of the eighth annual Young Survival Coalition Tour de Pink coast across the finish line Sunday afternoon. Lisa Mittleman, a breast cancer survivor and an alumna of the UCLA Anderson School of Management, participated in the three-day event.
A pink and green arch "" formed by balloons "" fluttered in the wind.
The sun beating down on their helmets, bicyclists came trickling past the makeshift finish line.
The bikers had just completed a 55-mile bike ride for the eighth annual Tour de Pink event, which raises money to help young women with breast cancer.
Among the bikers was Lisa Mittleman, a 49-year-old breast cancer survivor and an alumna of the UCLA Anderson School Management.
It was Mittleman's second time participating in the event, which was inaugurated in 2004 by UCLA alumnus Matt Purdue, who used to be an amateur bike racer.
He created the ride to put his cycling knowledge to use for young breast cancer survivors and their supporters, he said.
The ride requires three-day riders to raise a minimum of $2,500, Purdue said. Most donations come through riders' grassroots efforts like garage sales, bake sales and happy hours, he added.
Since its inception, the event has brought in more than $5 million, Purdue said.
The event is put on by the Young Survival Coalition, an organization that aims to educate young women about breast cancer. The coalition puts on three bike rides around the United States each year: one each on the East Coast, Atlanta and West Coast, said Jennifer Merschdorf, chief executive officer of the coalition.
Mittleman, who participated in the West Coast ride, was diagnosed with stage three breast cancer in 2008 at the Ronald Reagan UCLA Medical Center.
The cancer treatment left her physically and emotionally drained, Mittleman said.
Mittleman went through eight surgeries, along with chemotherapy and a mastectomy "" a surgical procedure in which a patient's breasts are removed in an attempt to eradicate cancerous cells.
The changes brought on by the treatment were particularly difficult for her daughter, Lauren, she said.
Both Mittleman and her daughter had long hair, and when she lost hers to chemotherapy, it was difficult to explain to the 5-year-old.
"When I lost my hair and she could not even stand to look at me, that was truly one of the most heartbreaking moments of my life," she said.
After about a year of recovery, Mittleman was ready to reclaim her body, she said.
She decided to participate in her first Tour de Pink in 2010.
"I wanted to prove physically that I could do something again," she said.
Training for the intensive three-day bike ride gave Mittleman the motivation she needed to regain her strength. She started training 6 months before the race "" riding every day and going to a physical trainer 6 times a week.
"(Doing the ride) makes you feel strong, and it makes you feel capable," she said.
This time, Mittleman did not train as hard. She trained alone without someone pushing her, she said.
When Mittleman began fundraising for the ride in June, she sent out an email to other Anderson alumni.
Overnight, she surpassed the $2,500 minimum.
Mittleman and 85 other pink-sleeved riders completed all three days of the bike ride, which started in Thousand Oaks "" about 200 miles away from the finish line in Foothill Ranch, Orange County.
During the final day of the ride she rode in a group that she said supported each other during the ride.
"If someone stopped, we all stopped," she said.
Mittleman said the camaraderie among the riders made up for the complete exhaustion she felt after the weekend ride, during which the riders stopped to rest each night in various hotels along the route.
"We all help each other," Mittleman said. "You try to rally your sisters."
When Mittleman was two miles away from finishing the final leg, the constant hills and beating sun took their toll on the 49-year-old breast cancer survivor,
She couldn't get herself across the finish line.
"I just couldn't get it together," she said.
Still, the experience was worthwhile.
As she walked around the ending point in Foothill Ranch, Mittleman greeted other survivors, many of whom she had just met during the ride.
"There's always a few people you meet along the way," she said with a smile.
Breast cancer reminded Mittleman of her mortality and the importance of making every day count, she said. She hopes the ride will help further breast cancer research so her daughter and other young girls do not have to go through what she did.
"I've been working on a bucket list, I've been traveling a lot. It was definitely an awakening in that way," Mittleman said.
While Mittleman didn't finish the entire three-day race, she said she is looking forward to training harder and finishing next year.
"You swallow a little pride, but next year I'll be five years in remission. I'm going to train and I'm going to finish it," she said.