Nursing students interested in gerontology speak to residents of senior center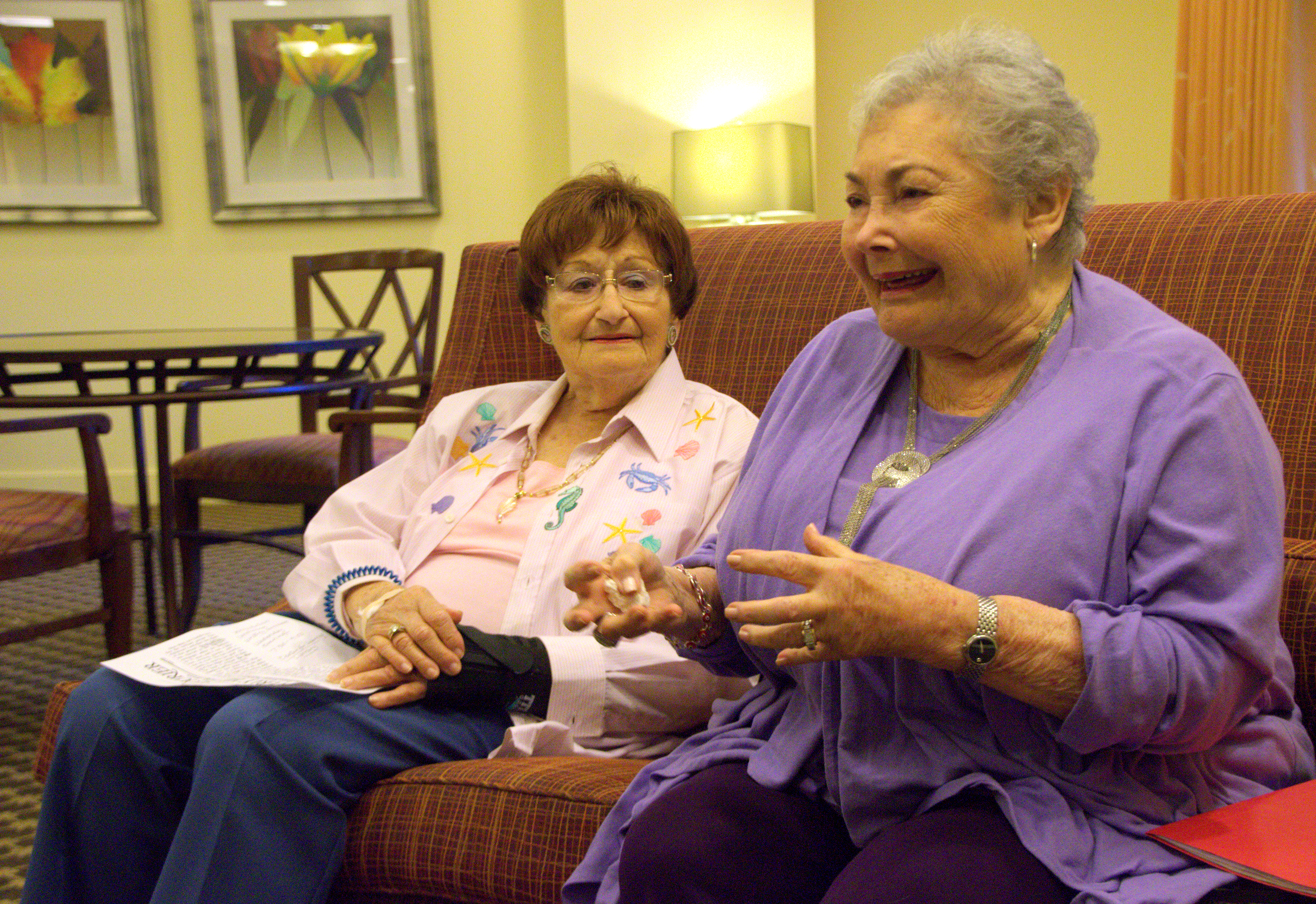 Sylvia Lieberman, 95, and Beverly Baum, 88, recount experiences from their pasts. These stories were among the many they shared with UCLA nursing students last Thursday at the "Speed Meet and Greet."
It's a speed meet and greet event at the UCLA School of Nursing and students aren't trying to meet potential spouses "" they are there to get to know the elderly residents of Belmont Village Senior Living, an assisted living facility in Westwood.
The ten-minute conversations, from topics such as relationships, technology and hobbies may soon break common stereotypes about the elderly.
Events co-hosted by Belmont Village and the nursing school "" like the one held Thursday "" give nursing students interested in caring for the elderly an opportunity to learn from people who still have much to share, said Maria Yefimova, a second-year doctoral student at the UCLA School of Nursing.
Throughout the year, Belmont Village Senior Living and the Center for the Advancement of Gerontological Nursing Science organize movie nights "" referred to as "film festivals" "" and socials like the one on Thursday, to help the center's residents and students at the nursing school get to know each other and engage in dialogue about aging.
The collaboration, which has spanned about three years, is part of an ongoing effort to educate nursing students interested in gerontology about the community they may one day serve, said Laurie Nussbaum, the community relations officer at Belmont Village.
"Aging is not always bad, it's something we all go through," Yefimova said.
Before her involvement with the nursing program, Yefimova would volunteer in libraries, where she befriended some of the elderly who visited regularly. She said she attributes her interest in gerontology to her Russian heritage and close relationship with her grandmother.
"I'm here and she's still in Russia ­"" and that got me interested in working with older adults," Yefimova said.
Visiting Belmont Village Senior Living gives students a chance to interact with the elderly in a living environment, Nussbaum said.
Often, nursing students will encounter the elderly as their patients, and that's not the same as getting to know them outside of a healthcare setting, she added. Youth sometimes underestimate how interesting and experienced the senior population can be, Yefimova said.
"I enjoy enlightening them," said Sylvia Lieberman, a 95-year-old resident who enjoys the students' company. "Past 65 (years of age), you don't pass away, you start living again."
Lieberman said her interest in writing led her to enroll in classes at the Santa Monica College Emeritus Program, which offers continuing education programs for the elderly community.
Students are often surprised to hear she is still in school, Lieberman said.
She started by taking classes about theater arts and play reading, but later moved on to creative writing, publishing a children's book. Now she is exploring autobiography.
"I should carry my birth certificate "" I've been told I'm a liar," Lieberman said.
Beverly Baum, an 88-year-old resident, enjoys attending the socials with the nursing students whenever she can.
She particularly likes sharing stories with the students and said she never fails to be impressed with how much she learns from the nursing students by retelling stories from her own past.
Once, a student asked her about her son growing up and moving out of the house.
She knew her son would grow up and become independent long ago and began teaching him the value of making choices and mistakes from a young age.
As the collaboration between the nursing school and the assisted living center enters its fourth year, organizers are gearing up for another event, this time a movie.
"It's a movie about how old people can come together and pick themselves up from adversity," Baum said.
Ricardo Gray, fourth-year nursing student, plans to attend the movie screening, which will be his first time at Belmont Village. He hopes he will get to know the people at the center and in turn, dispel any false perceptions of elderly he has picked up over the years, he said.
Health problems in the elderly are often linked to the mind, so getting to know them as people through these types of events is one of the best things students interested in gerontology can do, Lieberman said.
She said she is looking forward to seeing the movie for the first time. She likes the company too.