Former UCLA football player Nick Ekbatani sees injury as an opportunity to inspire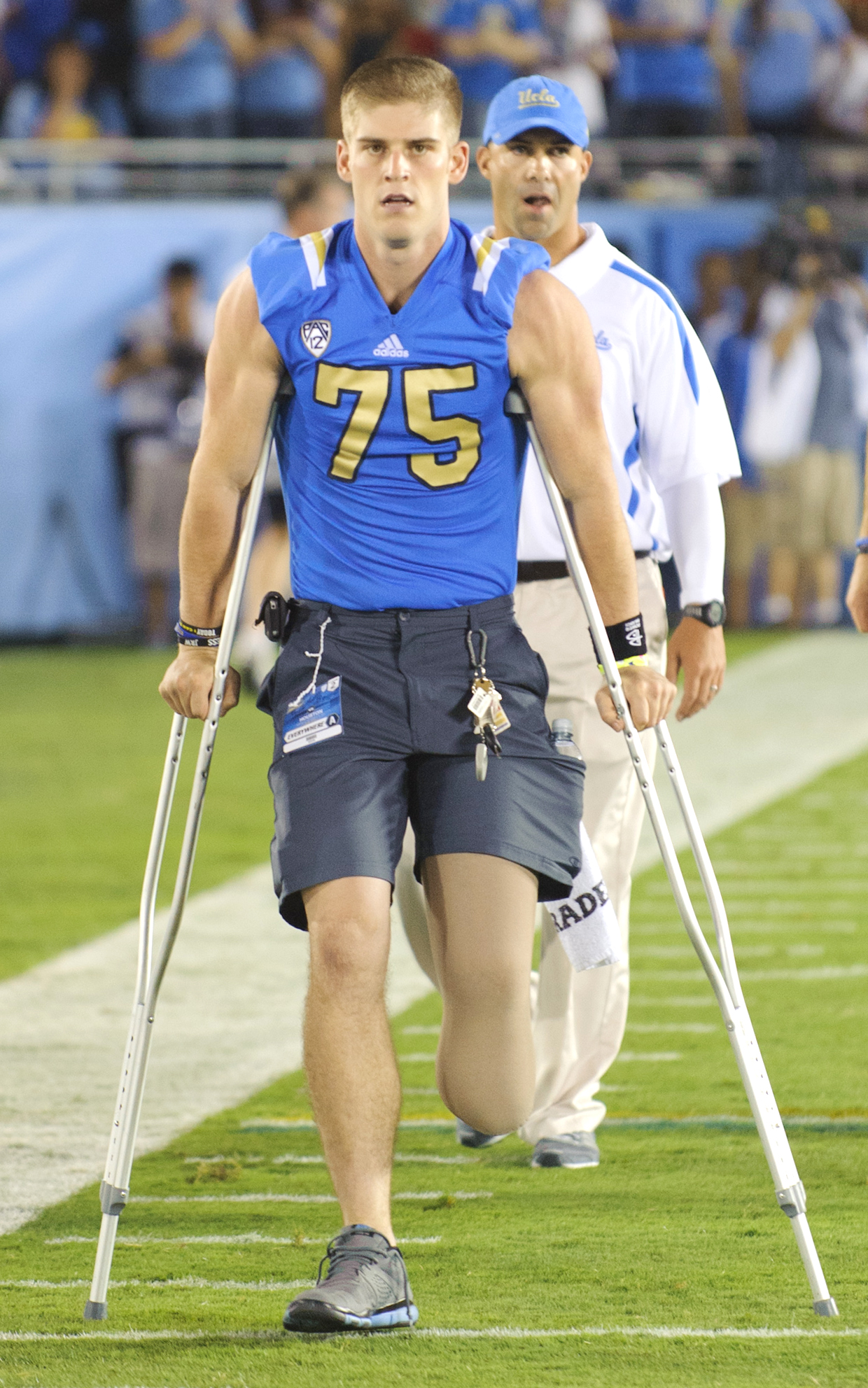 Losing his leg in a motorcycle accident has done nothing to weaken Nick Ekbatani's resolve. Instead, the accident has strengthened it.
Fascia is a thin, white tissue that covers muscles, blood vessels and nerves.
"Fascia," said Nick Ekbatani, intrigued with the new addition to his vocabulary. "That's interesting. You learn something new every day."
Ekbatani smiled as he watched the emergency room doctor stitch up the four-inch gash on his right leg that exposed the fascia from the muscle in his shin.
For most people, understanding physiological terms is the least of their worries while receiving 18 stitches on a laceration that nearly reached the bone, but Ekbatani isn't most people.
He hates television and video games because he's not living what he's seeing.
He fasts for 16 hours a day because he believes the human body wasn't meant to constantly have easily accessible food.
On July 14, he got in a motorcycle accident, lost half of his left leg and was more concerned about his favorite leather jacket and the brand new pair of dunks he was wearing at the time of the crash.
Ekbatani has this disposition that is built on discipline, structured by positivity and fueled by an obsessive-compulsive urge to improve.
This tenacious mentality is what saved his life, but it also led him to learn his new favorite medical term, fascia, after trying to crutch up bleachers on one leg about two months after his accident.
No, Nick Ekbatani is most definitely not most people.
"I'm here for a reason," he said. "The doctors say it's an anomaly that I'm alive, and, against all odds, I lived that night. Now, people get inspired by just watching me live, and I really want to give them something to be inspired about."
Ekbatani was an offensive lineman at UCLA from 2006-2009 after transferring from L.A. Harbor College.
His path through football was not an easy one, as it began as a means to give an obese child the opportunity to be more active.
"I hated it," Ekbatani said. "I would come home crying every day, but my parents wouldn't let me quit, and through that, I learned discipline and how to build myself."
The product of this building has created something closer to a machine than a human being.
After the accident, Ekbatani refused to let the loss of his leg hinder his life. Instead, he views it as an opportunity.
"Everybody supported me because they wanted me to be alive," Ekbatani said. "I think there's no better way to show my appreciation than to do something with my life. I'm just going to work hard until something happens and I know if I keep working hard, something big is going to happen."
Two weeks ago at the Rose Bowl, something big did happen.
Ekbatani was named an honorary captain for UCLA's game against Houston, and he had the opportunity to go to midfield for the coin toss.
As he and the other captains were about to walk out, they asked Ekbatani to be in the middle, but told him that he should use his crutches instead of holding hands like they usually do.
"No way," Ekbatani said as he tossed his crutches to the side. "I'm a part of the team today."
He grasped hands with fellow captains redshirt senior fullback David Allen and redshirt senior outside linebacker Damien Holmes, and hopped on one leg out to midfield for the coin toss.
Goosebumps spread across the stadium as the crowd rose to its feet "" a moment that's typically associated with movies.
"He demonstrated what the human spirit is capable of," said coach Jim Mora. "Him throwing his crutches and hopping out there was extremely courageous. … I love having him around, not just because of what happened, but because of the kind of person he is. He's awesome."
For Ekbatani, the opportunity to give back to the university that helped cultivate the person he is today was everything he could have asked for.
"What I learned about in this UCLA culture kept me alive," he said. "I'd like to believe that when I was at a crossroads between life and death, I chose that I was going to work hard to live. I owe that to UCLA."
Since his accident, the UCLA community has shown that the feeling is very much mutual.
A fund was started by one of Ekbatani's good friends to ease the burden of medical bills. To this day, the fund has raised over $61,500 with hundreds of supportive Bruins fans and alumni donating in his honor.
Defensive line coach Angus McClure worked with the offensive line while Ekbatani was at UCLA, and the support from the UCLA community did not come as a surprise to him.
"He was one of the most popular players in the locker room at UCLA," McClure said. "Everyone really seems to like Nick. We would even use him as a host for recruits because he was such a great representative of the team; he's a great guy."
Because of this overwhelming support, Ekbatani has turned his focus toward having more opportunities like the one he had at the Rose Bowl.
He wants to compete in the Paralympics. He wants to get into boxing.
He wants to have the opportunity to change the way people look at the world.
"It is human nature to whine, complain and make excuses," Ekbatani said. "My mantra throughout this recovery is that someone else out there has it worse, and they probably aren't complaining about it. If I can inspire people to strive for excellence and not make excuses, that would be it. That is the goal."
Because of this lofty objective, he is determined to never take a day off.
In fact, after receiving a diction boost and 18 stitches in his right leg, he asked to be dropped off at the gym so he could get in his planned workout for the day.
This is Nick Ekbatani, and nothing can stop him.
"I'm competing in something, and at the end of the day, I'm not trying to win medals "" I don't give a crap about that. I've competed for prizes already; now, I'm competing to inspire. That's my prize now."