Q&A: UC President Mark Yudof discusses UC's financial future, Prop. 30, among others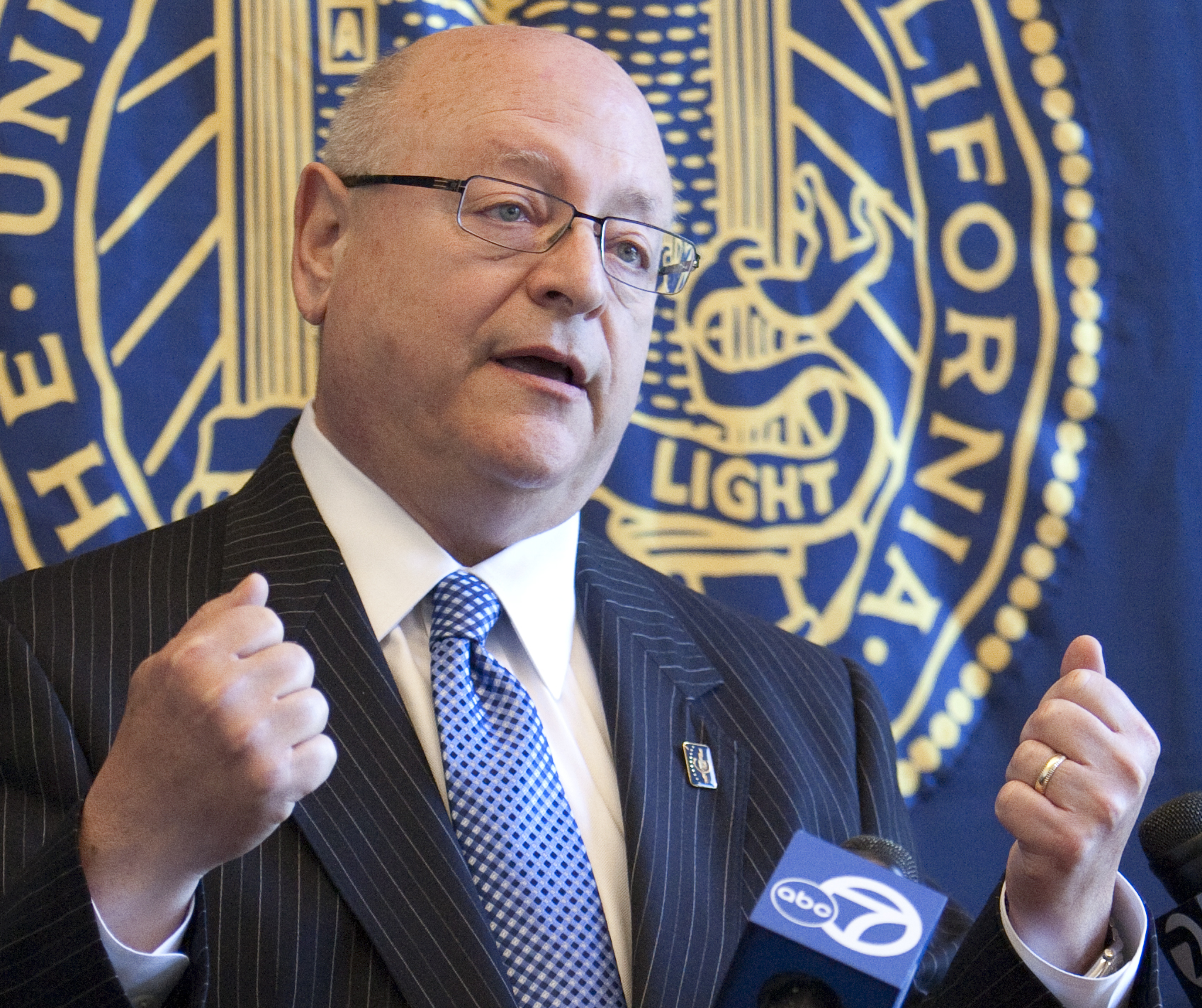 UC President Mark Yudof participates in a Q&A session at a UC Board of Regents meeting held earlier this year.
University of California President Mark Yudof answered questions from nine UC campus newspaper representatives on Wednesday via teleconference. Yudof discussed the impact of Proposition 30, student representation on the UC Board of Regents and online education, among other topics.
Daily Bruin Managing Editor Andra Lim participated in the interview. Below are excerpts from the Q&A.
At last week's regents meeting (Sept. 11-13), there was a discussion on a variety of long-term proposals to increase revenues or cut costs across the UC system. These proposals included increasing enrollment of out-of-state students and differential tuition among campuses or majors. With the UC's future funding unclear, which proposals are most attractive to you at this time, and why?
I would say, the differential tuition by campus or by discipline is probably near the very end of the list. It's very unpopular with students; it's unpopular, I think, with the regents; it's not something the faculty is for…
I would say (one thing) that would make the most sense is restructuring our debt, which was blocked in the legislature last time, which would enable us to pay less money to Wall Street by refinancing things and paying lower interest rates. … We can save a block of money there, up to $80 million per year. … Some higher payouts from our endowments, that's another $20 million or so.
I think we need to be careful about non-residents "" our first obligation is to Californians, but the truth is that we're so underfunded, that when we enroll a non-resident and they pay full freight, that enables us to admit a Californian…
The other things are pretty draconian. We can freeze faculty hiring; we're already 15 percent below market on faculty salaries; we could do some of that. We could trim health and welfare benefits, but that would take some time and some consultation with the labor unions and with our non-represented employees…
You've been a leading voice in the UC urging support for Proposition 30. … If you were to meet a UC student on the street today, what would you say to the student about the significance of the upcoming election? In your opinion, how might possible outcomes of the election affect the student?
I would say to the student that this is critical. … We need to have a steady stream of increasing appropriations. And we have worked out a plan. It's not official, … but believe it or not, in about five years, we could be back at 2007-2008 levels of state appropriations.
That would take a lot of pressure off of tuition. … I don't promise no tuition increases, but I'm hoping we could keep them in the single digits. … And as you know, we're going to need each vote. … The polls are close, as you know.
What problems do you see with the UC's governance model, and what changes would you want to make to it?
I think if I had my way, we'd have more campus autonomy, probably on admissions. … One of the things I wish: that our regents meetings, with the comment period and so forth, were less theatrical, and we had more time for the regents to actually learn how the campuses operate, and what their problems are, and what their aspirations are. So we're trying to figure out ways that strengthen the expertise that the members of the board have about actual conditions on the ground, on the campuses…
And … this might be controversial, I probably would have less central control of salaries than we do today. … On the other hand, I'd probably have some more centralization in other areas. … I think it's good to have common procurement systems. So we all buy our pencils together, get a bigger discount, and we're doing some of that…
The UC has been developing its program rapidly for the past two years, but what's your vision for the future of online education? Will this end up being a university-wide effort, or will it vary by campus? Do you think this could be a significant source of revenue for campuses down the line?
I would actually say … that in my view, it's been very slow. … I guess at a minimum what I'd like to see is by having some really great courses available to students on campus that we can reduce some of our costs and therefore not see tuition rise as much. … So a student, I mean I'm just making up numbers, might take five courses or something like that online, it certainly wouldn't be the dominant way of getting an education…
Could it make some money? Maybe down the line, but it's totally untested. You know, could we market it abroad and so forth? We've thought about it. But right now, we're trying to get it right for our own matriculants.
The other thing is, it's also designed into something we have executed on poorly historically here. And that is, if you're a student at Davis, it's not so easy to take a course at UCLA, or if you're at San Diego to take a course at Merced. … It's trying to create a common platform where these courses would be available systemwide, and you would get credit for it, even though it may be a Berkeley professor putting it together, there you are, sitting in Irvine. … So that turns out to be complicated. We need to clear … a lot of administrative stuff that's grown over many years, but I'd like to make it easier for our students to cross-enroll across campuses…
In light of Prop 30, what strategies does UC have or has it been discussing to keep UC schools an economical option for both in-state and out-of-state students?
We have the most generous financial aid system in the United States. … Thirty percent of our tuition gets turned back into financial aid. In addition to that, we have Pell Grants, and we have Cal Grants and so forth. The result is, half of our students pay no tuition. That's pretty affordable…
What is your stance on … increasing the number of student regents?
I feel it's not my prerogative to tell the regents or California "" I've only been here four years "" you don't have the right way of selecting regents, or you have too few or too many or so forth.
The one thing I would say is I think, since I've been here, the student regents have been pretty terrific. … I don't think the one-year terms are long enough. … It just takes a long time to understand all the gobbledygook and rigmarole and the numbers and so forth. … It might be a good idea to at least have a two-year term so that you get a little more continuity…
There's been a lot of buzz about the (UC) Advisory Council, … reports both for Jewish, and Arab (and) Muslim student(s). … How are you approaching the findings, … and when can we expect a decision regarding the Jewish report's recommendation to ban hate speech on campuses?
I wish I could create a hate-free campus. … We can't do it "" if by hate-free you mean people cannot speak out what they think about other people or events or whatever, and it's simply pure speech. … We protect speech in this country, and that's what our First Amendment is all about…
I think I and the chancellors ought to speak out, we have a moral obligation when people are anti-Semitic or anti-Muslim or anti-gay or anti-African American or whatever, but we cannot and should not try to prevent speech.
The cure for bad speech is good speech.