Students look to cloud-based services for note-taking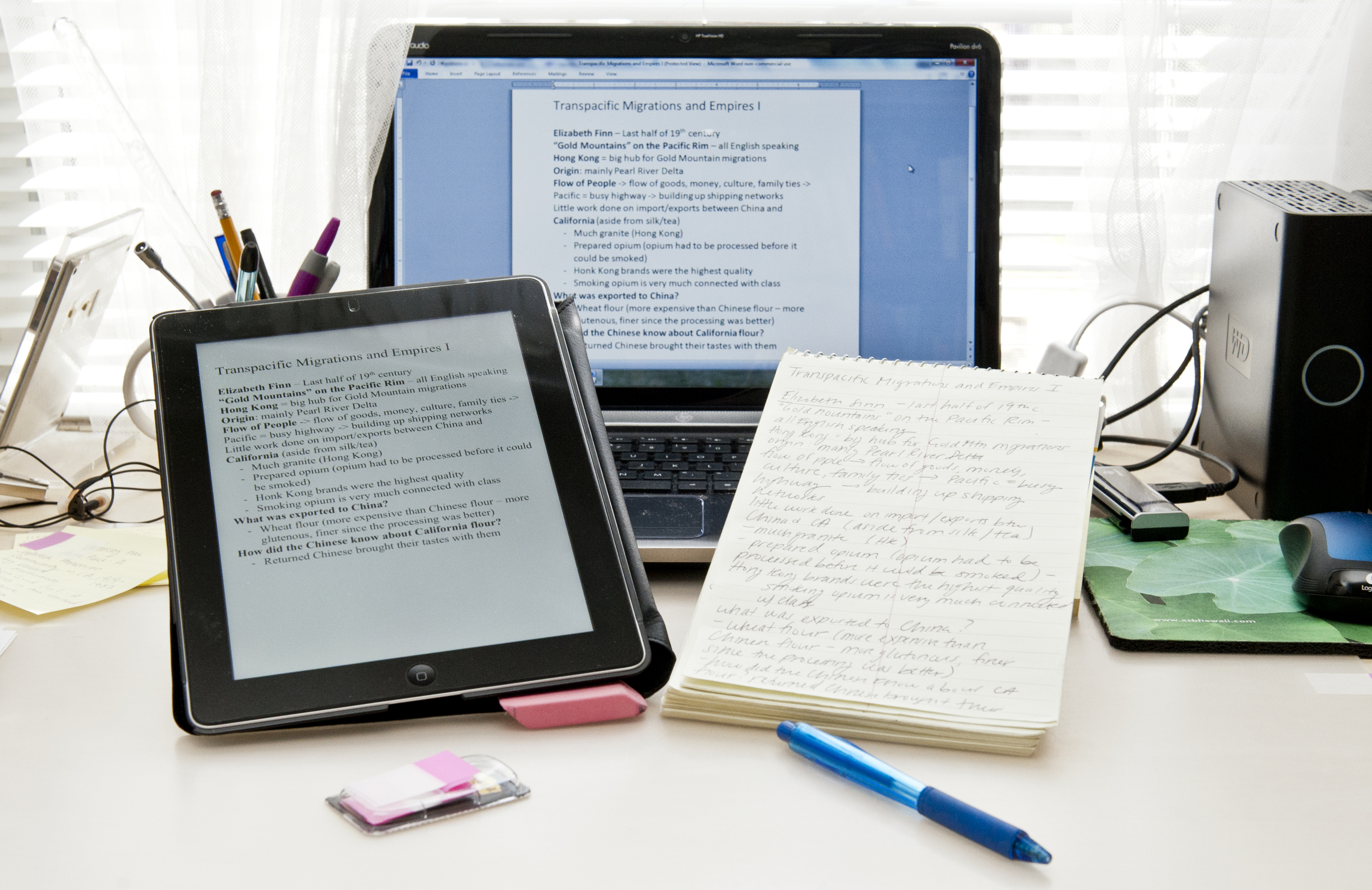 An increasing number of UCLA students are switching to cloud-based note-taking services, professors say. (Photo Illustration)
An increasing number of college students are turning away from traditional methods of note-taking, instead looking for other ways to keep track of their coursework.
Some UCLA professors have noticed the increased popularity of cloud-based note-taking in their classes over the past few years.
Last year, third-year linguistics and computer science student Armando Araujo started using Evernote, a cloud-based service that allows users to create online notebooks that are automatically backed up and accessible anywhere. Araujo found the program on the Apple store, he said.
"It's immediately clear why this would appeal to students and could be beneficial to them," said Margaret Davis, an English lecturer. "Staying organized and accessing your notes, research, etc. anywhere would definitely give (students) an edge."
Microsoft and Google also provide services similar to Evernote.
Through Google Docs, users can type notes into a document that is automatically saved. Microsoft OneNote functions as a digital notebook, syncing and storing notes on a cloud storage system that is accessible through a smartphone, computer or an iPad. The service requires a paid subscription.
The cost-effectiveness of the time-tested pen and paper method, however, is another counter to online note-taking services, Araujo said.
And when his computer is running low on battery, he said he is forced to take notes by hand and later transcribe them online.
Still, the technology can prove beneficial for students.
Some companies, like Evernote, are starting to offer "smart notebooks" that allow students to take photos of handwritten notes and integrate them into online technology.
Olivia Gomez, a third-year history student, does not use an online note-taking platform. Instead, she prefers to take notes on a computer after having had some traditional notebooks ruined in the rain, she said.
Combining study materials from various sources "" like class notes, diagrams and worksheets "" could be an advantage of cloud storage over traditional note-taking on a computer and would be easier than simultaneously drawing diagrams by hand and typing notes on a computer, she said.
As fall quarter looms ahead, many incoming freshmen are looking for innovative ways to stay on top of their coursework "" and online note-taking could be one of them.
Jane Kang, a first-year physiological sciences student, said she got a head start by watching videos of lectures from her chemistry class.
Though Kang had never heard of cloud storage technology or applications for note-taking before, she said she may consider downloading the programs this year.
"I want to be more efficient (when taking notes)," she said.
Araujo said he finds the program helpful because all of his notes are automatically saved online and available on any device that has an Internet connection.
"I can't tell you how many times (my) friends have lost their computers or notebooks and had no backup," he said.