Bruins harvest a win in home opener against the Cornhuskers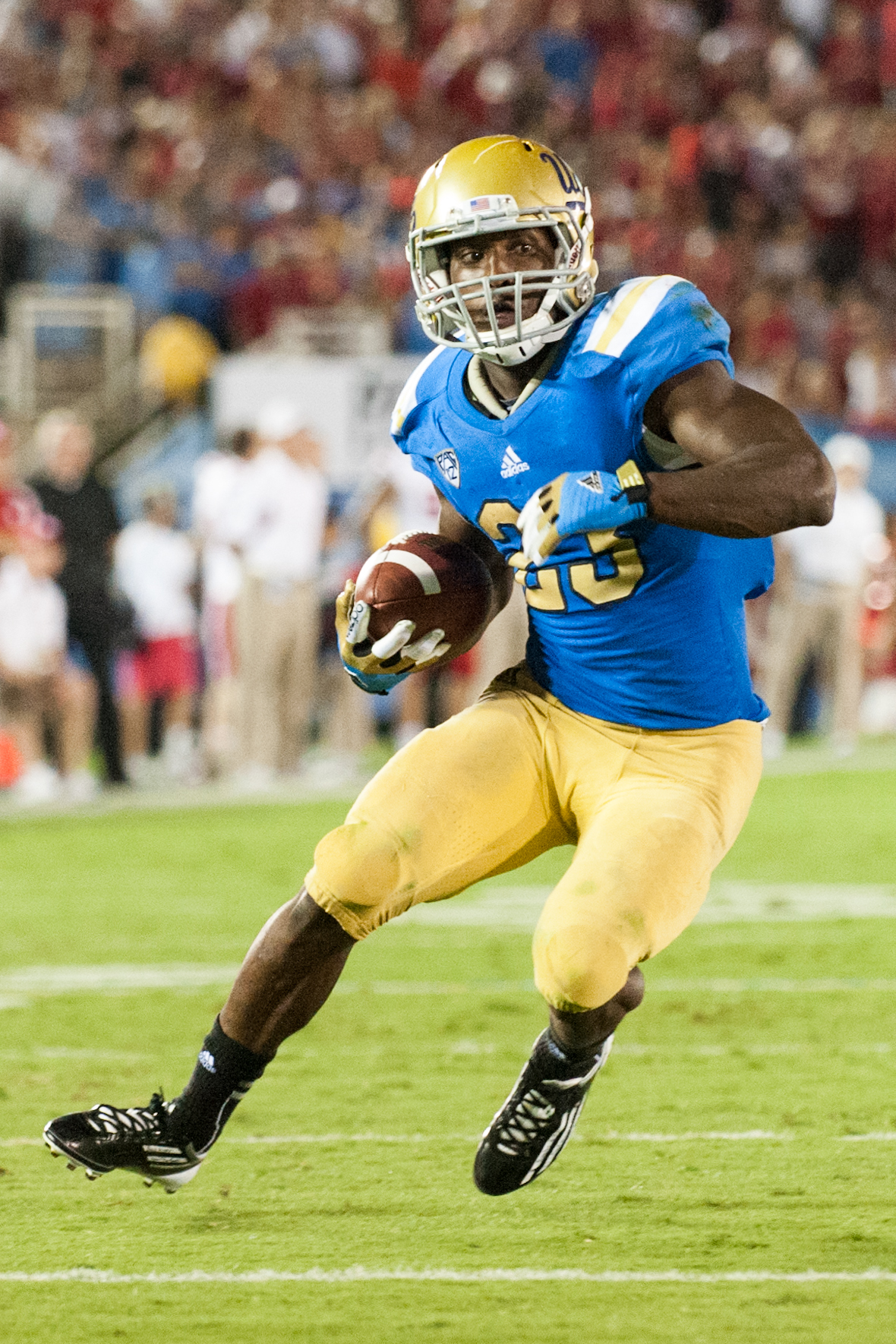 UCLA running back Johnathan Franklin rushed for 217 yards "" a career high "" in Saturday's game against Nebraska.
Correction: The original version of this article contained an error. Two of Datone Jones' tackles for loss came against Nebraska quarterback Taylor Martinez.
As the clock expired, redshirt freshman quarterback Brett Hundley raised his arms in victory, ball in hand. He walked up and down the sideline, soaking in the atmosphere of winning after his first-ever start in the Rose Bowl.
He hugged teammates, did interviews and shook hands with everyone in sight all while clinging to that same football.
Hundley refused to let go. He didn't want to. He earned it.
He earned it with his performance on the field, where he contributed to 358 total yards on offense while throwing for four touchdowns.
He earned it with his body when he sprained his ankle running for a first down in the third quarter.
He earned it with his effort, as he took the role of lead blocker for redshirt senior running back
Johnathan Franklin on the game-sealing run in the fourth quarter.
"Brett is a great guy and a great quarterback," Franklin said. "He's going to be a great player and he's going to take this team to the top."
Hundley's performance was a vital piece in what was an impressive 36-30 victory for the Bruins (2-0) over the No. 16 Nebraska Cornhuskers (1-1).
The UCLA offense gained a total of 653 yards on the night with Franklin setting a career high in rushing with 217 yards.
Franklin also showed his versatility out of the backfield by catching three balls for 59 yards and a touchdown.
A large part of UCLA's offensive success can be credited to the offensive line, which paved way for Franklin and gave Hundley plenty of time in the pocket all night.
"I thought they played well," said coach Jim Mora. "(Nebraska coach) Bo (Pelini) is a great defensive coach, so for us to be able to run the ball effectively like we did and give Brett some time to throw the ball, I think that says a lot about our offensive line."
Defensively, UCLA had an almost complete replica of its performance last week against Rice.
The Bruins gave up 24 points and 333 yards in the first half only to surrender just six points and 106 yards in the second half.
Last week, the Bruins surrendered 24 points in the first half and zero in the second.
The halftime adjustments kept UCLA in the game, but the biggest play of the night came from redshirt senior defensive end Datone Jones. His safety late in the fourth quarter gave the Bruins a 29-27 lead and the ball.
"You hate to ever say there is a play of the game, because there are so many plays that are critical. But that might have been the play of the game," Mora said.
Jones had three tackles for loss on the night, two of which came against Nebraska's junior quarterback Taylor Martinez.
"I don't stat chase, it's just a race to the football every chance I get," Jones said. "We've got 10 other guys on this defense that can make plays and tonight we made plays as a unit."
This victory will undoubtedly bring up memories of former UCLA coach Rick Neuheisel's first game when UCLA defeated then-No. 18 Tennessee in the Rose Bowl.
The Neuheisel win was hailed as a new era in UCLA football, but after only one winning season in four years, it was clear that it didn't alter the program.
Mora made it clear in the press conference following the victory over Nebraska that he has no interest in buying into the fanfare of beating one ranked team.
"We're 2-0," Mora said. "It means we are 2-0. It means we beat Nebraska and we are 2-0 and we'll play another game next Saturday."
That "other game" that Mora mentioned will be against the Houston Cougars at the Rose Bowl. UCLA has played Houston the past two seasons and split the series.
Houston, like UCLA, is under new management as former coach Ken Sumlin left for Texas A&M, which led to the hiring of Tony Levine.
Unlike Mora, who is off to a strong 2-0 start to his career, Levine and his Cougars have lost their first two games of the season. To make matters worse, Houston's offensive coordinator Mike Nesbitt quit after a 30-13 loss to Texas State in the first game of the season.
While the Bruins do not plan on taking the Cougars lightly, there is a feeling around Westwood that good things may keep coming as long as Hundley continues to keep the ball in his hands.