UCLA's Maddy McLaren first woman to score highest points in Newport lifeguard training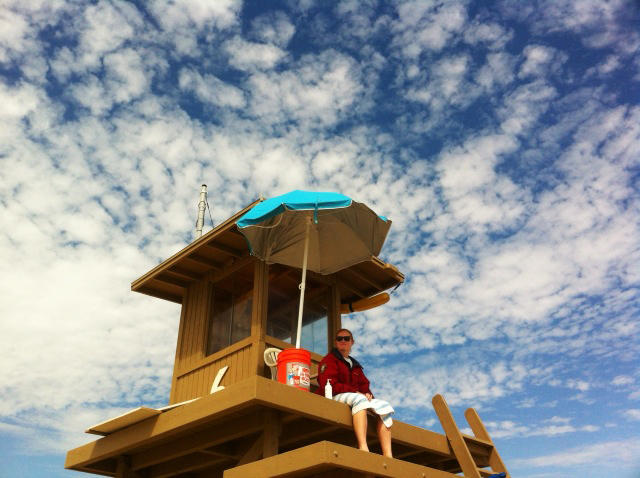 Maddy McLaren, an incoming water polo recruit, has also made a name for herself as a lifeguard in Newport Beach. She came in first in their training academy, the first woman to ever do so. The 10-day program to compete for lifeguard jobs includes physical events like long distance swims, runs, and paddles. (Courtesy of the McLaren family)
September 4, 2012 1:23 am
When it comes to its lifeguard hiring policy, Newport Beach offers no favoritism.
Every spring, like in most California beach towns, the Orange County surf spot holds a lifeguarding academy to determine which trainees will be selected for the latest rookie class in one of the world's most prestigious lifeguard forces.
One of these trainees was 18 year-old Maddy McLaren, an incoming UCLA water polo recruit and recent graduate of Newport Harbor High School.
This year, after a short initial tryout, 26 men and three women were selected to attend the training academy and compete for jobs, which are awarded to the trainees with the highest point totals at program's end.
Throughout a 10-day program spanning five weekends, prospective guards are scored in physical events like long distance swims, runs, paddles or any combination of the three, written lifeguarding exams and simulated rescue situations.
At the end of this year's five week session, the cream of the crop hiring practice was still the same, but the results proved unique, as McLaren became the first woman in the program's history to come out on top.
After earning high rankings in the grueling 80-hour academy's early rounds, McLaren maintained a sense of confidence that propelled her to the historic finish.
"Going into training, I was trying to convince myself not to be set on trying to win because I knew that it's a very difficult academy and it's very hard to get a job," McLaren said. "I didn't want to get second or third or a lower ranking and still get hired but be bummed out."
"After the first two weekends … I saw that I was ranked up top … and then my competitive side took over and I knew that I really wanted to win training."
While McLaren is not the first woman to earn a spot as a seasonal lifeguard, her victory is held in high regard in a program and a profession comprised mostly of men.
"It's awesome to be recognized by all the other guards in such a positive way," McLaren said. "I feel like it just gives all the women that work as Newport Beach lifeguards a whole new level of respect from all of our co-workers."
A former junior guard, McLaren has long been familiar with the Newport Beach lifeguard community, which includes her father, Matt, as well as her twin older brothers, Jordan and Justin.
"All the guys that run the lifeguards today were guys that I worked with, so she's literally known all those people since she was born," Matt McLaren said of his daughter. "They held her as a baby and she grew up on the beach. It's in her blood."
McLaren's experiences as a lifeguard have had a direct impact on her ability to see plays develop as a water polo player.
"You learn when you're sitting in the tower to … notice situations early," McLaren said. "I think that's helped me in the way that I play water polo and the way that I notice what's going on in the game."
This summer, she has been splitting time between her two passions, playing for her club team as well as the United States Water Polo Youth National Team, which allowed her to gain experience in international competition in Europe this summer.
McLaren is one of eight standout recruits headed to Westwood this fall. The size and talent of this incoming group of freshmen should fit right in with UCLA's already dangerous roster.
"This last year we had such amazing team chemistry that you'd think it'd be impossible to fill the void, but I can already see that our incoming freshmen are ready to step up and help us pick up where we left off," said rising junior utility Becca Dorst.
Until UCLA water polo training begins, the recently crowned training champion will be kept busy refining her on-the-job skill set.
"They can tell you stories and they can show you photos," McLaren said, "But there's really nothing like being out on the sand as an actual lifeguard."