Helping hands in Haiti: UCLA student group works to bring educational equity to children in Port-au-Prince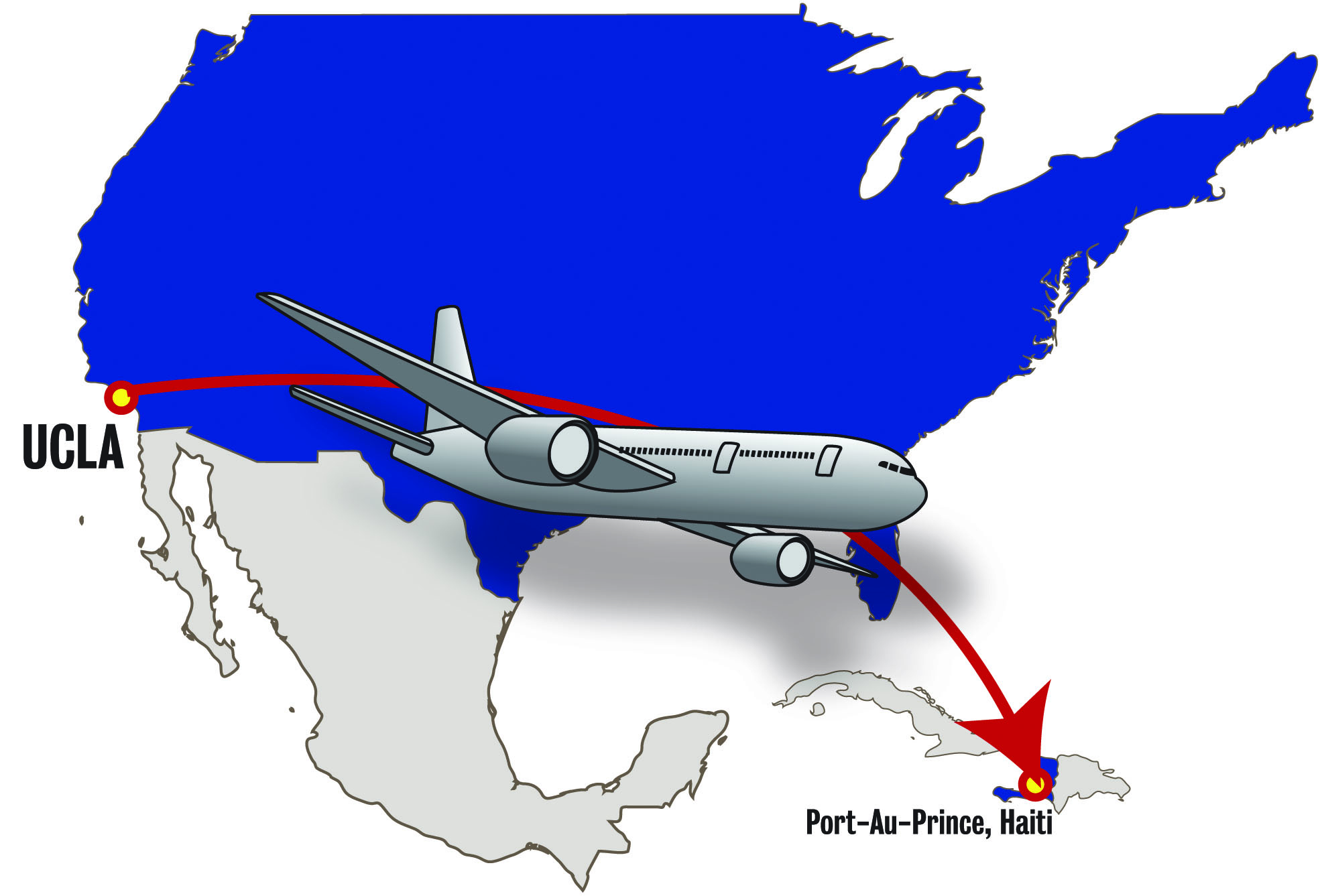 Hundreds of tents constructed from tin and tarp stood before Julia Cashen on the humid summer day.
The makeshift community "" or refugee camp "" was home to thousands of people who had been displaced in a powerful earthquake that jolted Port-au-Prince, Haiti more than two years ago.
The 7.0-magnitude earthquake destroyed countless buildings and homes in 2010, killing 316,000 people and injuring many more, according to the U.S. Geological Survey. Two years later, destruction caused by the earthquake was still apparent, Cashen said.
The UCLA alumna was visiting the city with four other members of Social Entrepreneurs for Education, a student group she founded at UCLA last year.
During their trip, the students helped construct schools, donated money to various groups, and met with Haitian organizations to hear their stories and figure out ways to aid in the country's development, said Ashley Naff, a fourth-year anthropology student and member of the group.
The Social Entrepreneurs for Education is based on Cashen and co-founder Alexis Fogel's mutual belief that education is a right, not a privilege, said Fogel, a former Daily Bruin photographer who graduated from UCLA this year with bachelor's degrees in psychobiology and biological anthropology.
Cashen flew to Haiti last year with high school students after hearing about a similar trip her sister went on that year, she said.
The devastation Cashen saw and the connections she made on the trip "" both with locals and her fellow travellers "" inspired her to form an organization that would work with the Haitian community to bring educational equity to the country, she said.
Cashen enlisted the help of Fogel, who she met at a leadership development camp, to start the Social Entrepreneurs for Education organization at UCLA, Cashen said. The organization currently has about 10 active members.
For most of last year, leaders organized fundraisers for the upcoming trip to Haiti by selling handmade jewelry, accessories and T-shirts, said Naff, who spent six months collecting scraps of fabric and hair ties to make headbands.
The group raised $5,000 for Haiti and paid for the travel expenses "" $1,500 each "" themselves, Cashen said.
When the group members arrived in Port-au-Prince, several Haitians told them conditions had worsened since the quake, said Rachel Estrada, a UCLA alumna who went on the trip.
Aftershocks with magnitudes of 5.0 and greater wracked the country for months after the earthquake, likely causing more damage, according to the geological survey.
Since Cashen's previous trip to Haiti, the refugee camp population had increased. There was little sanitation. Disease and unemployment were rampant, Cashen said.
In addition to unclean living arrangements, many Haitians will not be able to access higher education, according to the U.S. Institute of Peace.
"Haiti is still in a state of disarray, especially after (Hurricane Isaac), which recently hit Haiti and set them back in terms of recovery," said David Zielski, executive director of RainCatcher, a nonprofit organization that supplied the social entrepreneurs group with water filters to bring to Haiti.
Despite the challenges, community leaders continue to initiate constructive programs, Cashen said.
Even in the internally displaced persons camp in Delmas, a district in Port-au-Prince that Cashen visited, more than 30,000 people live in tents with no security, she said. Leaders were working to implement education programs and bring in computers, she said.
Members of Social Entrepreneurs for Education wanted to partner with Haitian organizations to help them accomplish their own ideas and goals rather than going in and changing everything themselves, Cashen said.
The group donated most of the $5,000 raised to a school in Cite Soleil, a commune in Port-au-Prince, Naff said.
Cashen first encountered the Cite Soleil school on her previous trip to Haiti, she said. The school began as a shack made of tin and sticks that 350 students attended, but was eventually knocked down when a separate sponsor offered to fund construction. That sponsor, however, left after laying down the school's foundation, Cashen said.
"There was another school where the kids wore their nicest clothes, smiling and trying to impress us, even though they were sitting in chairs made of yarn and sticks," Estrada said.
Now Social Entrepreneurs for Education helps fund the schools, providing money for books, construction, teacher salaries and food, Naff said.
The group also donated to other grassroots organizations in Haiti, including women's groups and a group supporting girls who had been sexually assaulted or abused, she said.
The group was told anecdotes about 11- to 12-year old children who would likely become prostitutes to pay for their education, Estrada said. "It was terrifying, but also showed their resilience to keep moving forward," she said.
For Fogel, who visited Haiti for the first time, the trip was more difficult than she anticipated.
"I knew it was important to be realistic about this (trip), especially since the group was just starting out, but it was still more overwhelming than I had expected it to be," she said. "There were so many things to do and I didn't know where to start."
Despite the rough beginning, Fogel said it was a matter of taking things piece by piece and realizing what was manageable.
Fogel said she hopes that Social Entrepreneurs for Education, which Naff will be in charge of this year, will continue travelling to Haiti every year and eventually become a full-fledged national nonprofit organization.
"We want this to be an effort made to last and leave deeply rooted changes," she said.