UCLA Health System partners with CVS MinuteClinics to offer quick, affordable services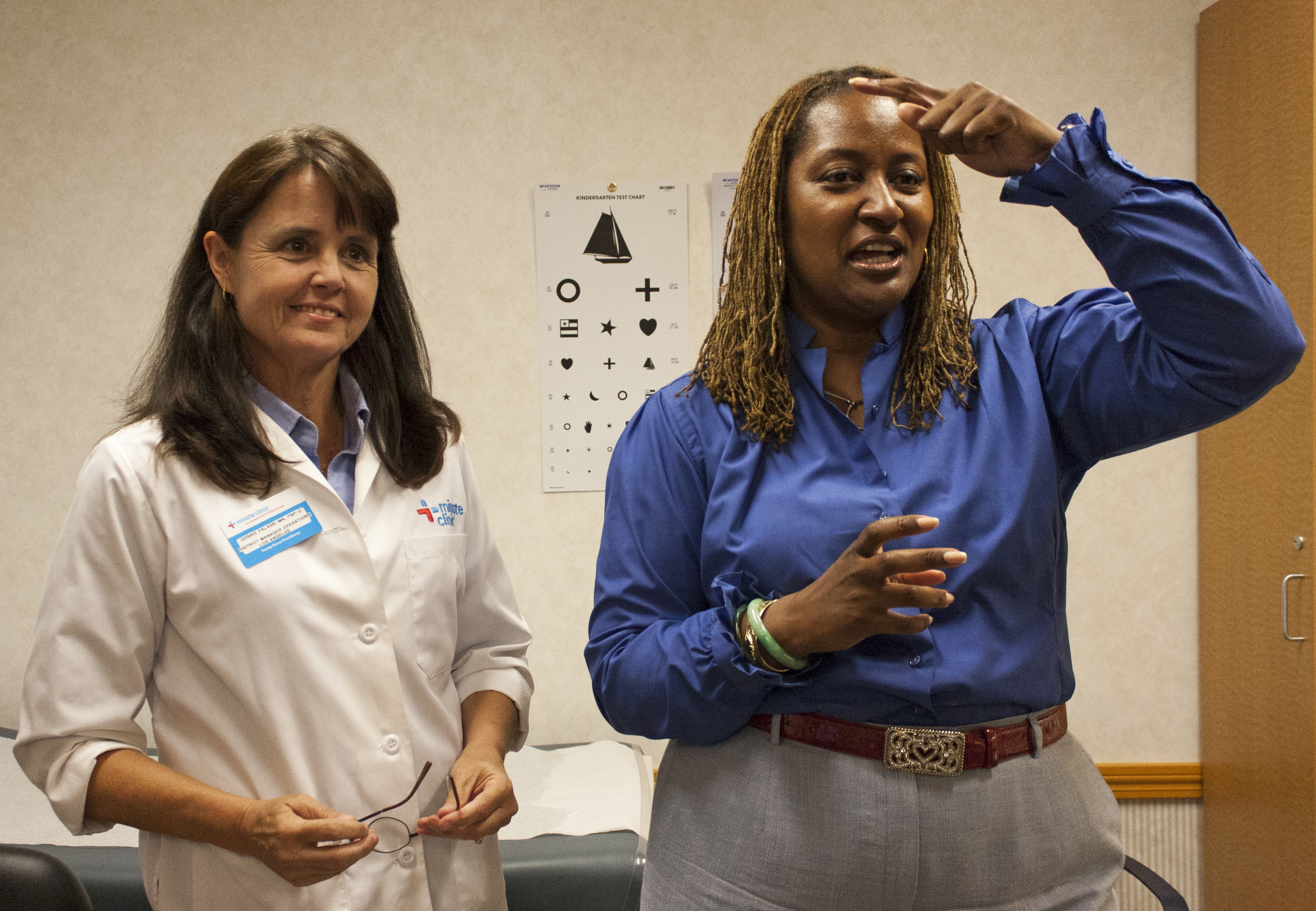 State assemblywoman Holly Mitchell (D-Los Angeles) meets with Debbie Palaski, MinuteClinic's Los Angeles district manager of operations.
A new partnership between the UCLA Health System and CVS Caremark Corp. aims to improve healthcare in Los Angeles County by giving patients greater access to UCLA care.
Under the partnership finalized this month, UCLA physicians will serve as medical directors to oversee UCLA Health System MinuteClinics run out of CVS stores in Los Angeles County.
The clinics are staffed by nurse practitioners who can legally write prescriptions and treat patients for a variety of basic ailments, such as ear infections, bladder infections and strep throat, said Dr. Bernard Katz, a UCLA physician and director of the partnership.
This is the first time the UCLA Health System has entered into an oversight partnership with an outside clinic, said Dr. David Feinberg, CEO of UCLA Health System.
The partnership is part of the UCLA Health System's efforts to expand its reach further into the Los Angeles community, Feinberg said.
"We think our doctors and staff are second to none," he added. "However, we're not always open late. We don't always have parking."
MinuteClinics have partnered with 18 other major health systems, including Cleveland Clinic and the health system run by Emory University, said Dr. Andrew Sussman, president of MinuteClinic.
The clinics accept most major insurances, said Eric Douglas, senior director of government affairs for CVS Caremark.
UCLA students enrolled in the UC Student Health Insurance Program, or SHIP, can also visit the clinics but would have to pay out of their pockets because the insurance provider is not honored at MinuteClinic, according to its website.
Uninsured patients "" about a third of the clinic's patients "" are also required to pay for the services up front and the costs vary by state, Douglas said.
High school student Dylan Fussman said his visit to the MinuteClinic in Westwood was convenient, with only a 15-minute wait. He came to get a $49 sports physical and heard about the clinic from his dad.
"It was great, my parents didn't have to take off work to come with me," he said. "I would definitely visit again."
State assemblywoman Holly Mitchell (D-Los Angeles) also visited the Westwood CVS earlier this month.
She wanted to see how clinics will help make health care cheaper and more accessible for her constituents, she said.
During her visit, she received her own vaccinations for influenza and whooping cough.
With a shortage of primary care physicians, patients are turning to more convenient ways of treatment than the traditional clinic setting, Feinberg said.
The shortage is expected to worsen with the implementation of the Affordable Care Act as 32 million previously uninsured Americans will be required to purchase insurance "" or pay a penalty if they don't "" beginning in 2014, Sussman said.
Through the new partnership, nurse practitioners will be able to electronically share patient charts from the CVS MinuteClinics with UCLA physicians with the patients' permission.
The charts from participating clinics will be reviewed for quality control by UCLA physicians and can be sent to the patient's own primary care physician as well, Katz said. The nurses can also directly refer the patient to a doctor if necessary, he added.
"Patients sometimes want the convenience of evenings and weekends, and retail clinics are making that available," Feinberg said.