UCLA's Owamagbe Odighizuwa hopes to renew past success after disappointing second year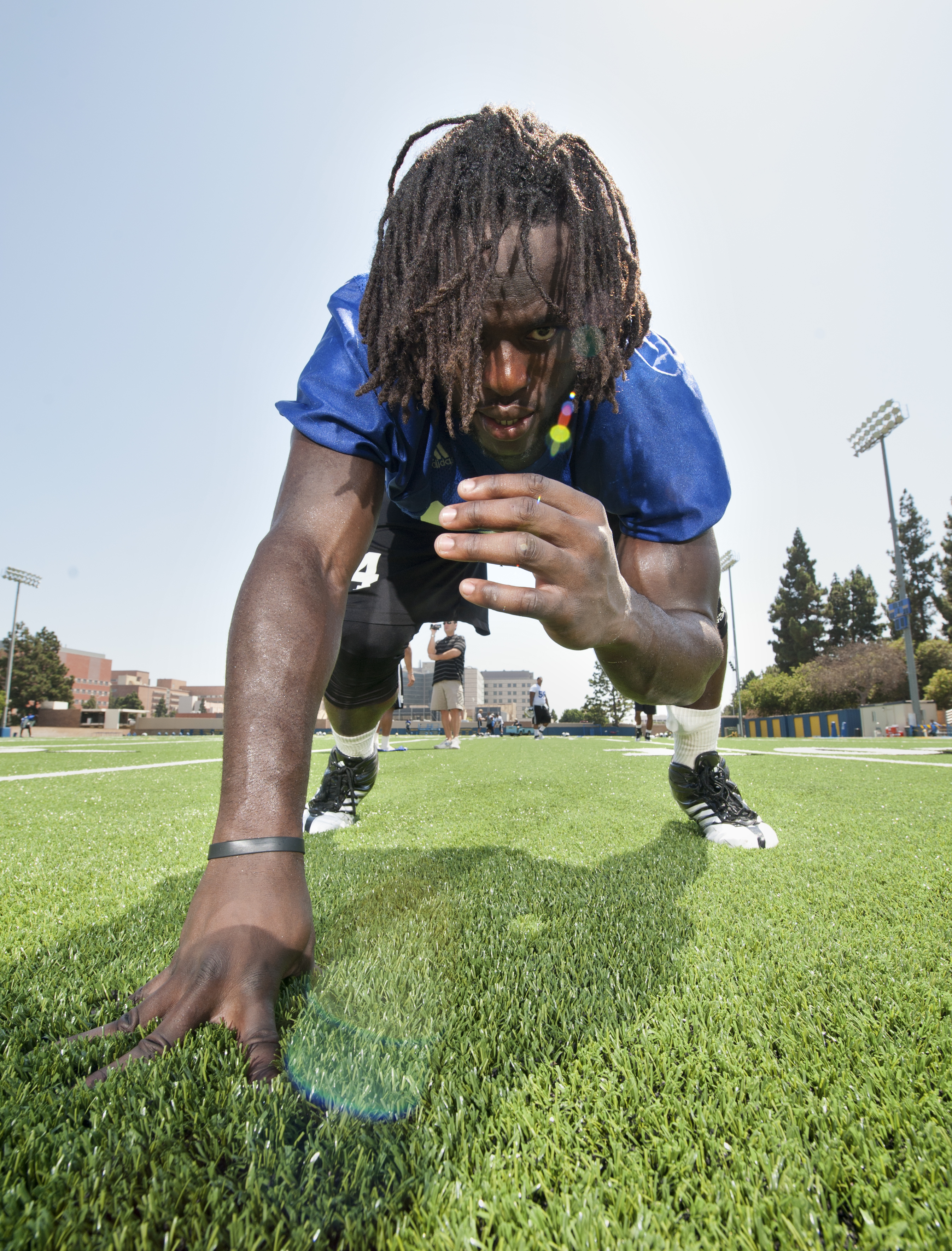 Junior defensive end Owamagme Odighizuwa hopes to have a much better season in 2012, after his sophomore campaign fell short of expectations.
It's hard to miss the gap between Owamagbe Odighizuwa's two front teeth. It dominates his mouth while his other teeth rest perfectly in order, accentuating the small opening even more.
"The gap has been with me since I was born," said Odighizuwa, or "Owa" as he is known by friends and family, as he exposed the trademark space with a smile. "I wouldn't be myself without the gap. It's a part of who I am."
The gap, as Owa so affectionately calls it, is a friendly window into what is an imposing human being.
The junior defensive end stands at 6­-feet-3-inches, 270 pounds. His hands are the size of baseball mitts and his arms are bigger than most people's legs.
The gap and his enormous frame combine to build the exterior of Owa. This same dichotomy exists in his personality.
Many see Owa as a quiet, unassuming presence, but in his element, he lights up and takes on a personality the size of his body.
"I strongly believe that I'm misunderstood," Owa said. "I'm very observant of my surroundings, of people and personalities so I come off as quiet and very reserved, but I'm definitely not a shy guy. I do get loud, I like to crack jokes and have fun."
Because of his imposing physique, most anticipate a bigger personality and are usually surprised by his initial reticence.
"I don't blame people for looking at my stature and expecting one personality but getting another. But once you get to know me more, things change up a little bit," Owa said.
In his first two seasons at UCLA, Owa was as enigmatic on the field as he was off it.
Coming out of high school, he was considered an elite prospect, with offers from dozens of schools including Notre Dame, Florida and USC.
According to Rivals and ESPN, Owa was the highest rated recruit UCLA has signed since each recruiting service started up in 2002 and 2006, respectively.
Once he arrived on campus, Owa shone as a freshman, accumulating four tackles for loss and three sacks, earning himself a spot on Rivals' All-Pac-10 Freshman team.
But after his freshman season, both defensive coordinator Chuck Bullough and defensive line coach Todd Howard were fired, which led to his sophomore regression, when he tallied only three tackles for loss and zero sacks in the season.
"It hurts me a lot even talking about it," Owa said of his sophomore slump.
"There were a lot of factors that played into our lack of success as a team. "¦ It's hard accepting that I made mistakes, but I had to own up to it. Now I've got to really be focused and learn from it, grow from it and let it go."
To forget last season, he went all in. During the offseason, Owa devoted himself to working with new defensive line coach Angus McClure to improve his reflexes and understanding of the game.
"The biggest thing Owa did was expand his knowledge of offensive schemes and blocking schemes," McClure said.
"I think that has made him have the ability to react quicker. … I'm really excited about him. … There is no limit to his potential."
Along with growing his understanding of the game, Owa began participating in yoga and mixed martial arts training to better improve his flexibility and reactions.
"Before, he couldn't really bend, but now he's out here every day working and doing yoga and pushing himself to be the best," said redshirt senior defensive end Datone Jones. "I see him as a future first-round (pick)."
Owa is entering his third season with renewed hype and expectations. A gifted athlete his entire life, Owa has dealt with expectations before, but now he knows that it is time to meet them.
"This year has really hit me to live up to great expectations, not for others, but myself," Owa said.
"Knowing that I have the potential to do it, that I'm capable of doing it is enough. This is my junior year. This is my season."