Hundley hopes to leave legacy, change history at UCLA instead of just stabilizing position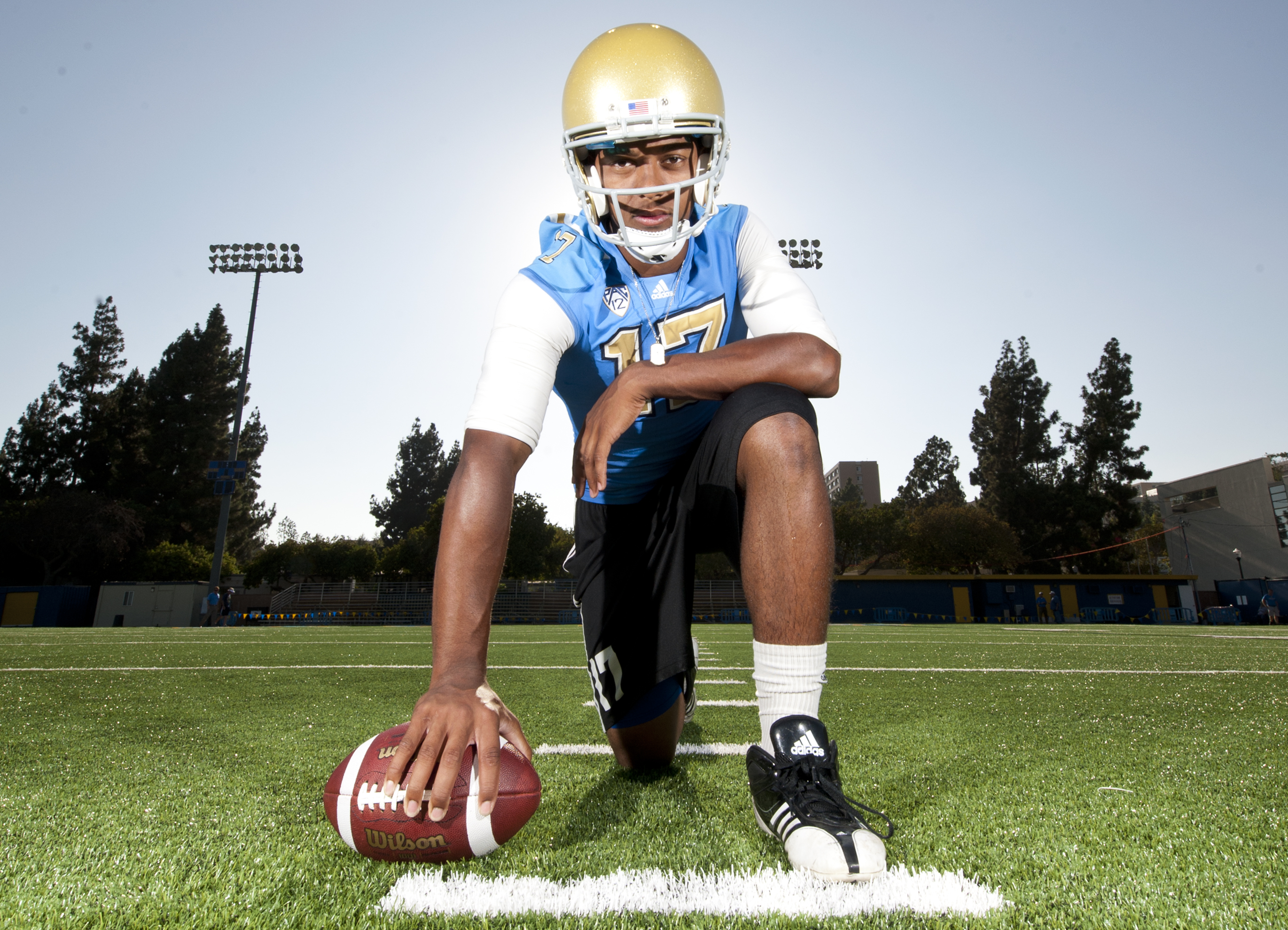 Redshirt freshman Brett Hundley has been tagged as the Bruins' starting quarterback for the season opener at Rice. Hundley hopes to make an impact on the football program.
Brett Hundley's face was blank. The redshirt freshman quarterback sat frozen, unable to comprehend the words coming out of Noel Mazzone's mouth.
"Brett is going to start."
It was an out-of-body experience of sorts. Hundley saw his offensive coordinator's mouth move as though Mazzone was talking to him and the other quarterbacks in the room, but Hundley couldn't hear a thing. He was stuck on those five words: Brett is going to start.
Mazzone left the room to retrieve coach Jim Mora, and just as the door shut, Hundley snapped back to reality.
"All of these emotions just hit me at once," Hundley said. "I just broke down and cried. I had worked so hard this past year to get to this point and seeing all that hard work pay off was surreal. I was so happy."
In a teary daze, Hundley had a short conversation with Mora before he called his parents to inform them of the news.
"That moment right there was one of the best moments a father can share with his son," said Brett Hundley Sr., Brett's father. "He was crying so hard that it took him about 10 minutes to tell us that they made him the starting quarterback. It was an unbelievable moment."
As Hundley and his father cried together over the phone, the anticipation, stress and pressure from the past months left their bodies with each salty drop.
It took a few minutes but they eventually calmed down and composed themselves. Now that the moment was over, the real journey was about to begin.
"I know exactly how much work I put into winning that job and just seeing all of that and how it just paid off "" it's amazing," Hundley said. "But now that I got the job, I need to work even harder."
Named the starter with four years of eligibility remaining, Hundley now has the unenviable responsibility of stabilizing the quarterback position for UCLA.
Dating back to the Cade McNown era in the mid- to late-90s, there has only been one UCLA quarterback who started every game in back-to-back seasons "" Drew Olson, from 2004-2005.
For the past three seasons, redshirt senior Kevin Prince has been named the starter at the beginning of each year, but was unable to stay healthy and consistent during those stints.
"There is a lot of pressure being the starting quarterback, but I think Brett is ready for it," Prince said.
"He knows what he's doing, he's a smart kid and he's got tons of room to improve. It'll be fun watching him continue to grow this season and beyond."
The Savior
The label was inevitable.
Before Hundley even stepped on campus, the UCLA fan base was buzzing with anticipation, as the newly committed five-star quarterback was set to resurrect their program. It was simply a matter of time before a word embodied the hype "" he was the "savior."
"It was pretty insane," Hundley said of his nickname. "There was one picture of me on the Internet throwing a football in clouds with doves around me. Then when I got to school, everyone was like, "˜There's the savior, there's the savior.'"
While Hundley understands that the "savior" label is primarily facetious, the idea of it was actually a crucial reason for his choosing UCLA.
He flirted with the idea of attending a perennial football powerhouse, but he eventually narrowed his choices to UCLA and Washington for their academic prowess and the up-and-coming status of each program.
The elder Hundley, who played running back at Arizona, gave Brett guidance as he went through the recruiting process, telling him to pick a school, not a program.
"I made a list of pros and cons, and both schools were pretty even, but for some reason I just had that feeling about UCLA," Hundley said.
"To be honest, I think it was the players. … They wanted something to turn this program around and I decided to be a part of that."
The Redshirt
Hundley graduated high school early and enrolled at UCLA in January 2011. He was quickly thrust into a quarterback competition with Prince and then-junior Richard Brehaut, both of whom had started at times the year before.
During his first round of spring ball, it quickly became clear to him that there was a sizable divide between high school and college football.
"There's more to success than being the top quarterback (recruit) in the country," Hundley said. "I mean, you could be the top quarterback in the country but you still have a lot to grow and that's what I saw after that first spring ball. I knew I had a lot of work to do."
Hundley came out of spring as the third string quarterback only to suffer a crippling blow to his starting chances.
While playing basketball over spring break in Arizona, Hundley came down wrong on a rebound and tore his meniscus, forcing him to miss the majority of fall camp.
"I didn't know what to do," Hundley said. "That was the first time I kind of knew that I wouldn't start and that was really difficult. I just had to sit and pray."
The combination of adjusting to college football and the setback from knee surgery led to Prince's being named the starting quarterback for the third year in a row; Brehaut was named the backup.
The five-star prospect, the exciting new quarterback, the "savior" did not see the field in his first season at UCLA.
The Wide Receiver
As a sophomore at Chandler High School in Arizona, Hundley received an offer from Colorado as a quarterback without ever playing a snap of varsity football.
Despite his potential as a quarterback and early attention from college programs, he was moved to wide receiver upon moving to varsity in junior year.
"I was furious. I wanted to transfer and even thought about quitting altogether," Hundley said. "But my dad sat me down and told me, "˜Wait for the second game of the season against Centennial; you'll get your shot.'"
Hundley listened to his father and played, begrudgingly, as a wide receiver to start the season ­"" and then came the game against Centennial High School.
One of the top high school football programs in the nation, Centennial jumped out to a 34-6 lead at halftime and, as prophesized by his father, Hundley got his shot.
Chandler lost the game 62-38, but found its new starting quarterback. Hundley completed 14 of 18 passes for 204 yards while throwing for three touchdowns.
"Going from starting quarterback in JV for two years to getting moved to wide receiver was a very hard and humbling experience for me," Hundley said. "But I learned a lot about myself and stayed patient, and I eventually got my chance."
Hundley went on to win Gatorade Player of the Year in Arizona that season.
The Pioneer
It was the first time Hundley had really thought about it.
"Really?" Hundley said in shock. "Wow. Wow."
Hundley had just been told that no black quarterback has started for an entire season since the Bruins began using a traditional quarterback position in 1962.
"That's a lot to take in," Hundley said, still adjusting to the news. "Just finishing a season is making a statement, but I want to do more than that. It's not like I just want to finish the season. There is a lot of history to be made here, and it's crazy to think that I'm in the position to do it."
There have been eight black players who technically served as quarterbacks in UCLA history, including Jackie Robinson. Bill Bolden was the last one of those eight to start the first game of the season back in 1968.
That knowledge, that burden is something that Hundley will have to carry for the rest of his career in blue and gold.
"You never know if you're going to be one of the few, one of the pioneers, but Brett has that opportunity," Hundley Sr. said.
"In the past week since he was named, we have had people from all over the nation, people we don't know, come to us and wish him luck this season for just that reason. This is a very humbling experience and I know Brett will represent the African-American community and the UCLA community in the best possible way."
Hearing his name in the same sentence as Jackie Robinson is something that Hundley might never fully adjust to, but that was the exact reason for coming to UCLA in the first place.
"I want to be something to somebody. I want to have people look back on it later and say he did something while he was here and he made a statement, he made history," said Hundley.
"I want to leave a legacy."