UCLA football team returns to Westwood from camp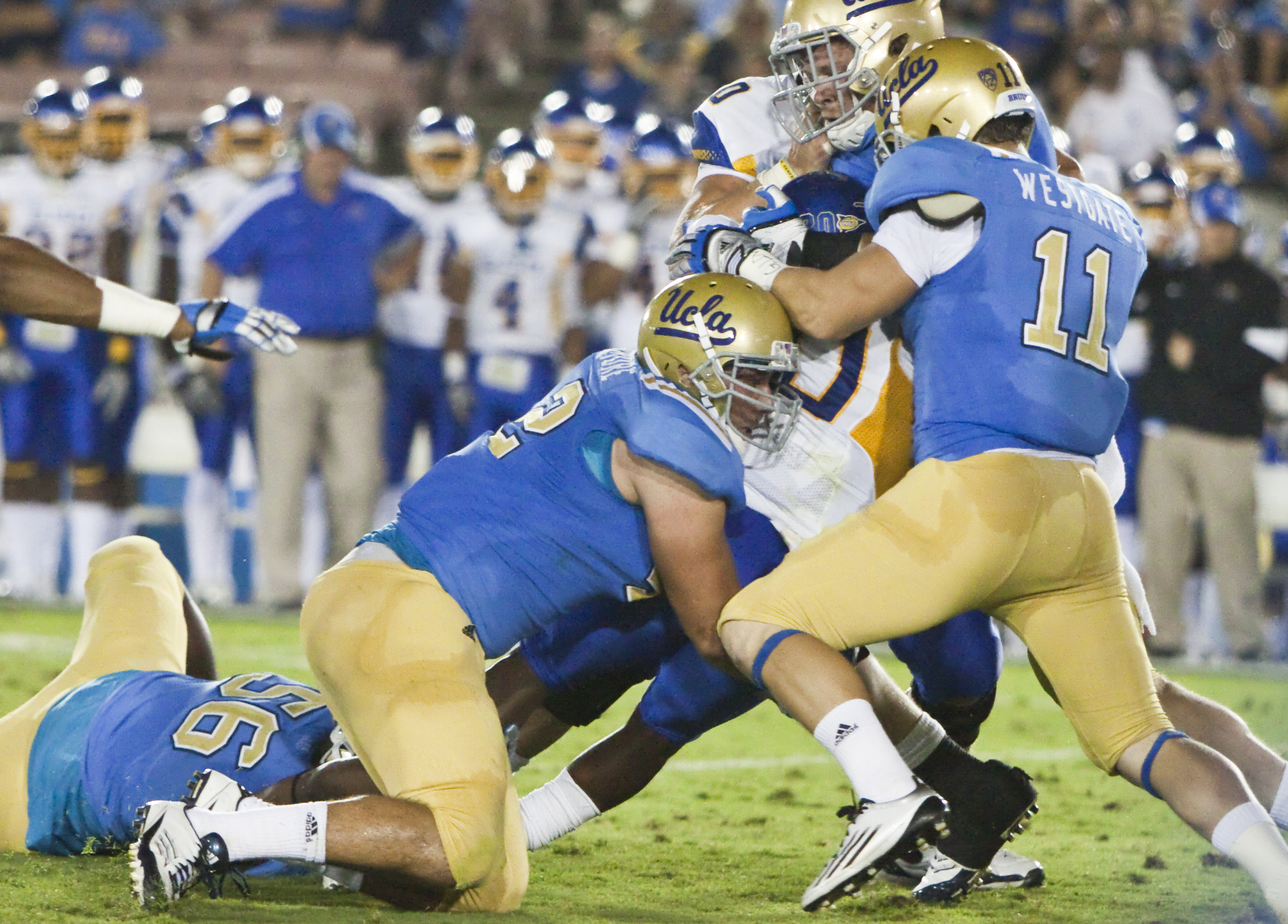 At UCLA football's fall camp in San Bernadino, redshirt senior linebacker Patrick Larimore was forced to retire because of concussions. Larimore was the team captain and led the team in tackles. He is seen here making a tackle during a game against San Jose State last season.
After a long, hot and tedious 13 days in San Bernardino, the UCLA football team returned to Westwood last Thursday.
New coach Jim Mora and his staff took the Bruins to the Inland Empire for their fall camp as a way to remove the team from distractions while getting used to some heat before heading to Houston for their first game of the season, when they play Rice on Aug. 30.
"I think it was a great experience for our football team," Mora said. "A lot of real positive things came out of this. … I think we leave here 13 days after we got here a much better football team both on the field and off the field."
While the camp was deemed an overall success by the UCLA staff, the move to San Bernardino did not come without consequences. With temperatures hitting 109 degrees at times during their two-week stay, more than a dozen Bruins fought heat-related issues that forced many to sit out at times.
There were no severe heat-related injuries during the camp, but UCLA did lose redshirt senior linebacker Patrick Larimore (concussions) and junior offensive guard Chris Ward (knee) to medical retirements.
The loss of Larimore was a particularly big blow to UCLA, as he was the team leader in tackles last season while acting as a team captain.
"Patrick was a leader on and off the field," said redshirt sophomore middle linebacker Eric Kendricks. "It will be impossible to fill his role but we're going to have to pick up the pieces. We're going to miss him a lot."
There has been no determination as to what Larimore's role will be on the team in the future, but he may continue to work with UCLA as an undergraduate assistant coach.
Raising the Barr
Despite the heat and injuries, several players stepped up big-time to fill the void left by others. Junior outside linebacker Anthony Barr was wihtout a doubt one of those players, as he seamlessly transitioned from offense, where he played the past two seasons, into his role on the defense.
"The transition has been smooth," Barr said earlier in camp. "The outside linebacker position is pretty simple. The concepts aren't too difficult so it's all about taking what you learned in film and produce on the field."
With the loss of Larimore, chances are redshirt senior linebacker Damien Holmes will slide inside to replace Larimore. Barr could be the leading candidate to fill the potential void left by Holmes at outside linebacker.
Healing line
Throughout camp, the offensive line was easily the most habitually injured or inconsistent position group. Ten of UCLA's offensive linemen were each unable to practice at some point during the two weeks.
Probable starting linemen Jeff Baca, a redshirt senior, and Greg Capella, a redshirt junior, went down early in camp with injuries, forcing the squad to dig deep into the depth chart. Out of the turmoil rose sophomore tackle Xavier Su'a-Filo, who took the reigns as the group's leader both on and off the field.
"Being at that left tackle position, there were a lot of guys coming in and out and I felt like it was my responsibility to lead by example," Su'a-Filo said. "I try not to say a whole lot, I just try to encourage guys as much as I can."
As camp progressed, the line performed better with redshirt freshmen Ben Wysocki and Torian White stepping up and making their way into the discussion for a starting role.
Freshman orientation
For many of the freshmen in the 2012 recruiting class, fall camp was their first exposure to Division I football. Despite the steep learning curve, several of the freshmen stood out and looked ready for playing time this fall.
Out of those standouts, cornerback Ishmael Adams may have been the biggest, as he spent a large amount of time working as the top nickelback.
"They haven't said whether I will get playing time yet, but I've seen a lot of time on the practice field and I'm going to keep working to get out there this season," Adams said.