Student-run exhibits display history of science in university libraries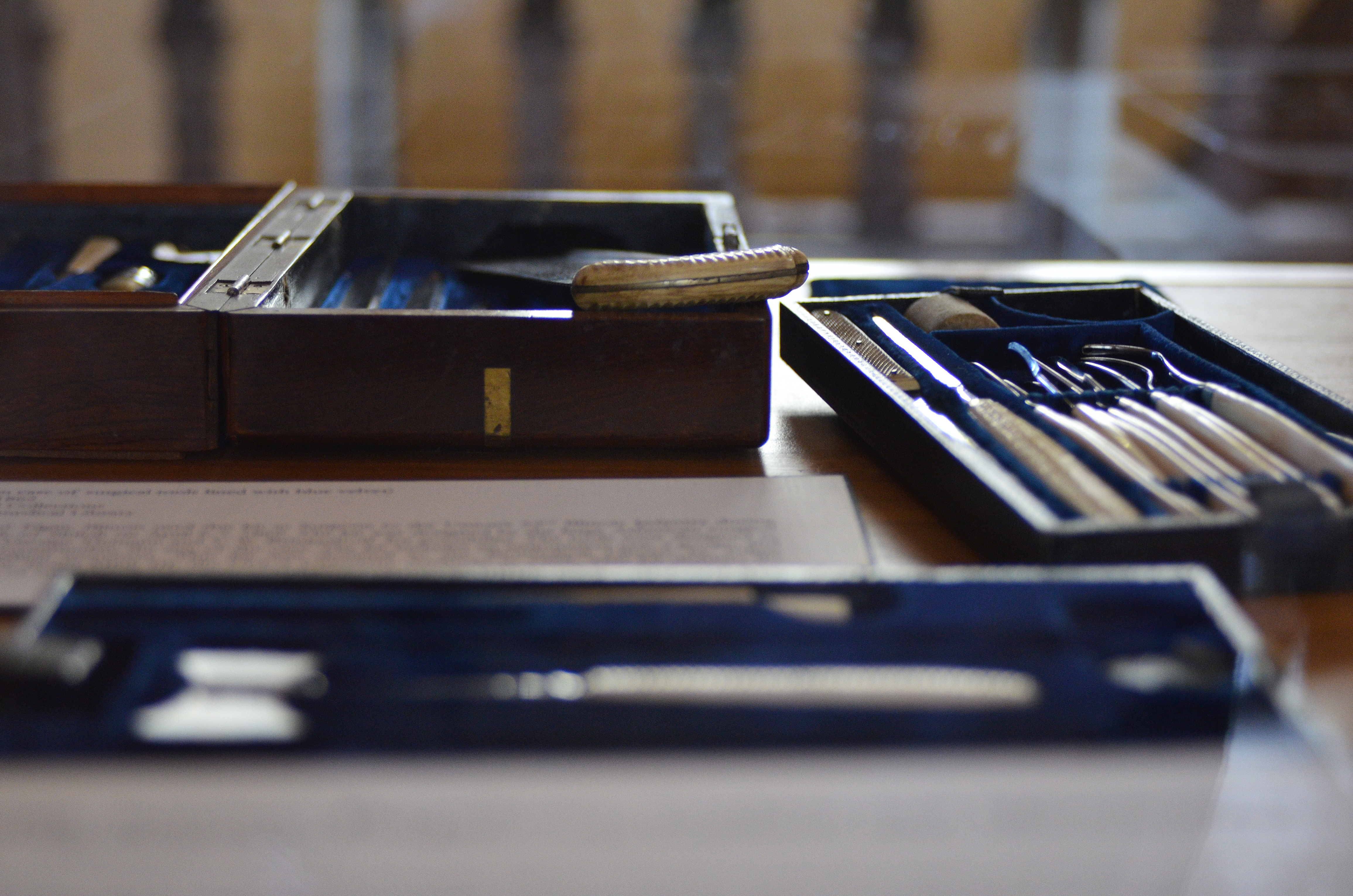 A surgical kit from before 1862 rests on a table in Powell Library as a part of a display called "Development of Medicine – From Experiment to Practice." Pop-out textbooks about human anatomy are also in the exhibit.
Using a modern microfilm viewer, Camilla Harris examined notes from interviews with victims of atomic bomb radiation during World War II, stored in the university library's special collections.
Harris, a second-year physics student, was hit by the reality of the victims' stories and chose to display black and white photocopies of the index cards in a student-run exhibit in Powell Library called "Public Science: Peepshows, Caskets, and Microscopes," open through September.
The exhibit "" with themed displays in the Charles E. Young Research Library, the Louise M. Darling Biomedical Library and Powell Library "" aims to visually depict the history of science and was put together by students from the yearlong History of Modern Thought freshman cluster.
One display called, "Development of Medicine "" From Experiment to Practice," houses anatomy "flap books" or pop-out textbooks with colorful, layered prints of human anatomy in a case near Powell Library's main rotunda. Nearby, another glass case displays a portable surgical kit from before 1862.
About 20 students from the cluster's spring quarter seminar hand-selected the aging artifacts that came from the storage vaults of the university library's special collections department for a spring quarter research project.
This was the first time students assembled and curated a library exhibit at UCLA, said Russell Johnson, a history and special collections librarian in the Biomedical Library, who mentored the students.
Marissa Petrou, the graduate student in history of science who taught the seminar, said one of her motivations for the project was to pull the objects from storage for public display. She said she also wanted the students to recognize that the library's collection includes objects and not solely books.
Early spring quarter the class visited Young Research Library and the Biomedical Library special collections where the librarians laid out an assortment of objects for the students to handle and examine.
After visiting the library and picking an object, the students formed groups to create themed exhibits, each of which would be on display at different libraries on campus.
"To me it felt like I was discovering some type of secret of the university," said Marcus Simpson, a second-year astrophysics student who took the course. "It had this kind of personal setting where you would go in there and say, "˜I want to look at this.'"
Surrounded by cabinets with old books about medicine and science in the Biomedical Library's living room-styled "Rare Book Room," Johnson recalls a group of students returning to the Biomedical Library after their initial tour to keep exploring outside of class hours.
Johnson said he overheard the students' excited chatter as they unwrapped each of the items in a box "" called the "WunderCabinet" "" as they discovered seashells, honeycombs and other objects.
The cabinet is a modern replica of 17th century rooms dubbed "cabinets of curiosity," which displayed scientific and historical objects for entertainment, he said.
Sam Freitas, a second-year physics student who was part of the group, remembers carefully digging through the compartments and worrying about damaging one of the valuable items.
Freitas said he was interested in the intricate WunderCabinet's accompanying guidebook describing its contents, including glass eyeballs, the first designed to comfortably fit the shape of an eye socket, dating back to the 19th century .
Harris said that the project put a lot of responsibility on the students and she was nervous initially.
Working with a passionate Johnson and other librarians, however, put Harris and the other students at ease and set the tone for the process, she added.
"No matter how old or how rare, (the library) collects stuff to be used," Johnson said. "We're not a warehouse, we're a library," he added with a laugh.