Westwood CityTarget now open to public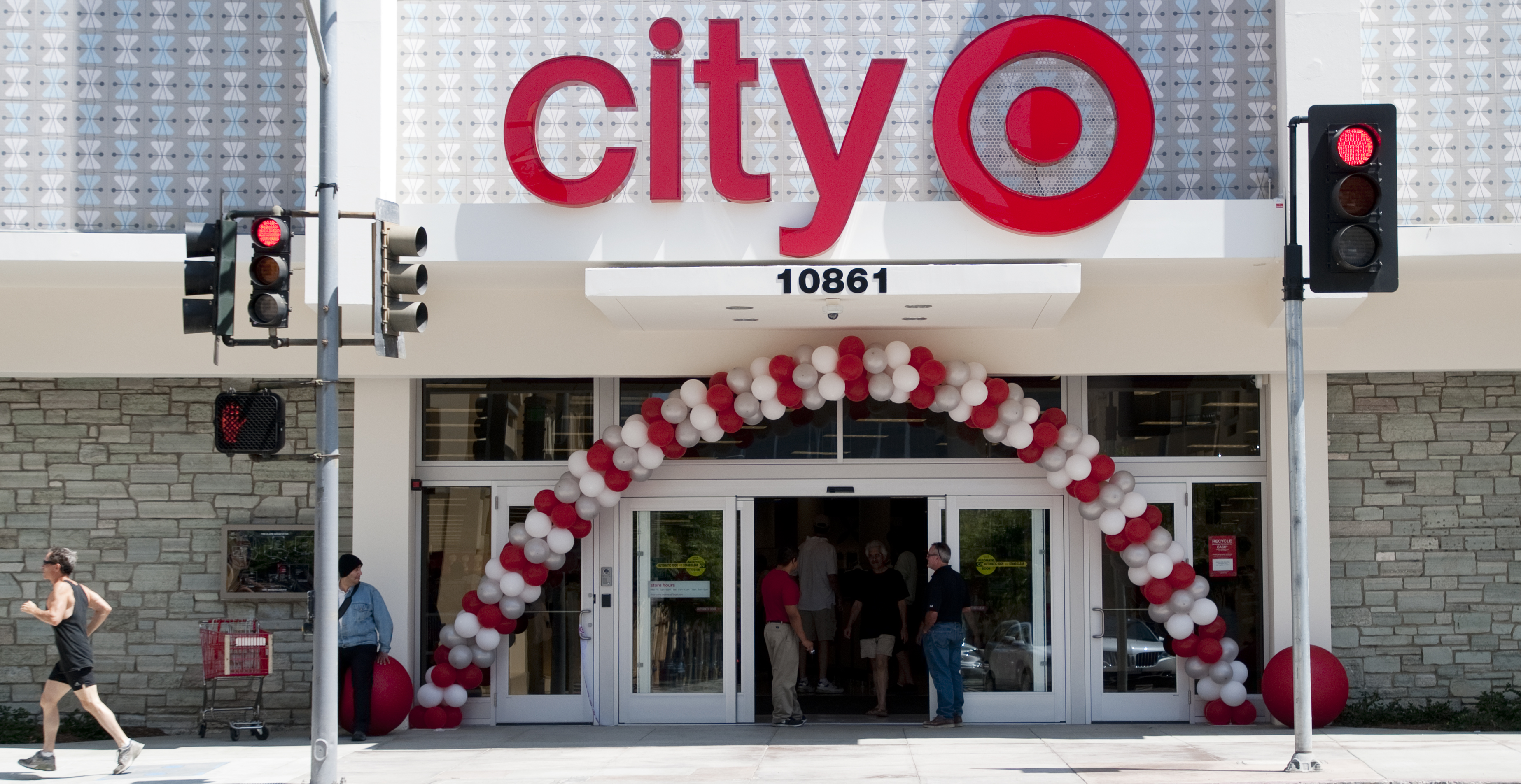 A red and white balloon arch frames the entrance of the new CityTarget in Westwood, which had its grand opening on Sunday.
Past an arch of red and white balloons, customers swarmed to grab gift bags chock-full of shampoo samples, coupons, cereal and other products from Westwood's newest store.
Sunday marked the grand opening of Westwood Village's CityTarget, a smaller version of a Target store designed to accommodate urban residents.
The Westwood store, located behind Ralphs, is one of the first CityTargets to open in the country, said John Favilla, the district manager of Target. Only a few select stores have been opened in cities such as Los Angeles, Chicago and Seattle, he said.
The store first opened to the public on Wednesday as a part of its "soft opening" following an opening party on Tuesday night.
Westwood's newly opened CityTarget is smaller than a traditional Target store "" 98,000 square feet compared to 120,000 square feet, Favilla said.
The condensed size is meant to accommodate walk-in customers and students who are not necessarily looking to buy family-sized products in bulk, said Steve Sann, chair of the Westwood Community Council, a public forum for Westwood stakeholders.
CityTarget's main draw is the products that are not offered in nearby stores, such as beddings and linens, he said.
The new store caters to city dwellers "" who often walk or get around with public transportation "" with its smaller basket sizes and sale of reusable rolling bags, Favilla said.
Nancy Calderon, a second-year health management graduate student, disagreed. She said the store seemed very similar to traditional Target stores.
"It's definitely more geared towards college students," Calderon said, gesturing to the racks of Bruin paraphernalia. "But other than that, it just seems like a lower-scale Target. It sells a thousand different things rather than a million different things."
Westwood community members spent about four years trying to bring a Target to the college town.
In 2008, the Expo Design Center, the store the CityTarget replaced, was rumored to be going out of business, Sann said. Sann said he immediately began brainstorming possible businesses that could take the center's place.
"I talked to business owners, neighbors, students … asking them what they wanted in the Village, and the No. 1 choice was Target," Sann said.
After months of making phone calls, launching proposals and getting turned down because of the space's small size, Target representatives finally started to consider the Westwood location, he said.
"Target is looking to make a more urban footprint," said Andy King, the store manager of the Westwood CityTarget. "We are looking for places with a lot of foot traffic, like Westwood."
Local leaders were initially concerned that the store might lure business away from local Westwood stores and asked Target not to duplicate services and goods already offered in the Westwood area, such as pharmaceuticals and fresh produce, Sann said.
CityTarget does offer dry food, but no perishable food, and it has cut back on the baby supply and jewelry sections while eliminating the pharmacy and shoe sections, Favilla said.
Many local business owners, however, are pleased with the new addition to Westwood.
"It will definitely make a huge difference, not only by improving the looks of the area, but also by acting as a catalyst for other businesses to see their potential," said Clinton Schudy, owner of Oakley's Barber Shop.
David Friedman, president and co-owner of Sarah Leonard Fine Jewelers, said he looks forward to the benefits for his own business as more customers are drawn into the area by CityTarget.
The new store is still in the process of seeking an alcohol license which it was initially denied in April, he said.
Sann said he hopes the new CityTarget will bring customers into Westwood on a regular basis, recapture sales dollars and attract other specialty businesses into the area, Sann said.
Xiaoang Li, a graduate student in electrical engineering, was one such customer that was lured into CityTarget.
The first-time Target customer was walking by the store when he decided to go inside on a whim. He was pleasantly surprised by what he saw, Li said.
"(CityTarget) provides a lot more options," he said. "There's nothing else like this in Westwood."