Los Angeles Dodgers honor UCLA baseball alumnus Eric Karros at Stadium's 50th anniversary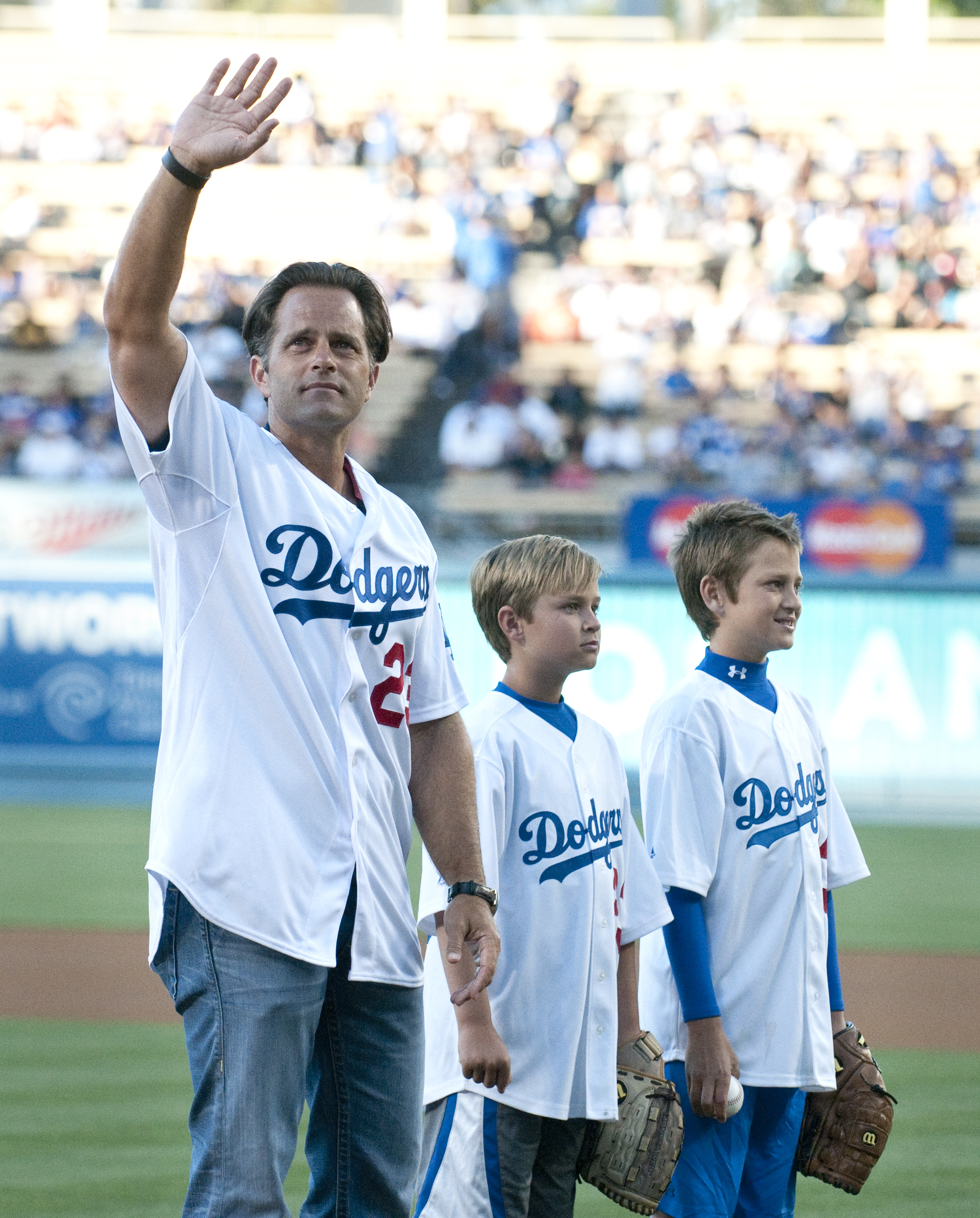 Former Los Angeles Dodgers first baseman Eric Karros waves to the crowd with his two sons, Jared and Kyle, on his bobblehead night before the Dodgers took on the New York Mets.
Sitting in his office one day in 1985, former UCLA baseball coach Gary Adams received a call from George Karros.
Karros told the coach that his son, Eric, was interested in attending UCLA and asked if the three could meet at the team's next game. At the time, the senior from Patrick Henry High School in San Diego wasn't being recruited by anyone else, and Adams told Eric's father he didn't think he would have time to meet with them.
The older Karros explained that his son had a 3.7 grade point average and was interested in attending UCLA for the school's academics and great sports programs. The then-UCLA baseball coach liked what he heard enough to invite the two up from San Diego.
Adams spoke to them through the fence in right field and, when pressed on Eric's chances of making the team as a walk-on, made one promise. He told them that walk-ons were typically cut within the first two to three weeks of fall, but for Eric, Adams promised he "won't cut him until the end of the fall."
"I won't forget that," Eric Karros said of his first meeting with Adams.
"Coach Adams gave me an opportunity. There's something to be said about that because he did. He didn't make up his mind from high school reports or anything like that," Karros said. "He gave me a chance, and for that, I'll be forever grateful."
By the end of fall, Eric was one of the best hitters on the team. His coach also noticed that Karros, who he at first described as an awkward and clumsy athlete, was a tireless worker with a quick bat and some confidence, too. For Adams, it was an easy decision.
"When I told him we were going to keep him and he made the team, I thought he'd jump up and down and all that, but typical of Eric, he kind of expected it," Adams said. "That's the kind of confidence he had in himself."
It was not long after that the coach's gamble paid off as Karros blossomed into a talented first baseman and leader for the Bruins. A captain his junior year, Karros was drafted in the sixth round of the 1988 Major League Baseball draft by the Los Angeles Dodgers and went on to play 13 seasons in the pros. He retired from professional baseball in 2004.
"It wasn't a very good recruiting job," the coach said with a laugh. "I just gave him that big break by telling him that I wouldn't cut him in the fall and that was kind of the enticement that encouraged him to come."
On Thursday, Karros was honored as part of the Dodgers' "50th Anniversary of Dodger Stadium" celebration going on throughout the year. A bobblehead of Karros in his white No. 23 Dodgers jersey was given out to fans. The Dodgers all-time home run leader was also honored with a video tribute before the game and Karros and his sons, Jared and Kyle, combined to throw out the first pitch.
Karros said he felt honored to be included in this year's bobblehead theme of "Dodger Stadium Greats," alongside the famous "˜Infield' of Steve Garvey, Ron Cey, Davey Lopes and Bill Russell, former managers Tommy Lasorda and Walter Alston, and broadcaster Vin Scully.
"That's special and I appreciate it. I've got all my crew out here today, all my kids and little league team, so we're going to enjoy it," Karros said with a smile.
Although a transition from walk-on to starter to captain to MLB player is rare, Adams said he knew Karros had what it took to break into the majors.
"I felt for sure he was going to make it," Adams said of his former player's chances. "It wasn't a mystery."
Not only did Karros display the work ethic necessary to succeed "" his manager with the Dodgers Lasorda used to throw batting practice until the first baseman's hands would bleed "" but it was his leadership and confidence that impressed his former coach at UCLA. Adams noted that Karros wasn't afraid to call time during a game to talk to his team's pitcher.
"Some guys work hard when the coach or somebody is looking at them, Eric would work hard when nobody was looking," Adams said. "That's the type of character he had."
Karros made his MLB debut in 1991 and was named National League Rookie of the Year in 1992 following a season in which he totaled 20 homers and 88 runs batted in.
Current UCLA coach John Savage said he still uses Karros' story in team meetings as a perfect example of what it means to take advantage of opportunities.
"You're talking about a walk-on that had an unbelievable career at UCLA and then probably a bigger one in professional baseball," Savage said of Karros. "So, I just think it's a lesson learned that regardless if you are a scholarship guy or not, if you do get that opportunity and take advantage of it, then good things are going to happen."
While Karros' professional career was a great success, his coach at UCLA said he was proud of the fact that Karros returned to school and received his degree early on in his baseball career, before many of his ex-teammates. Currently, Karros works as a color commentator for Fox baseball and KCAL-TV in Los Angeles. The former Dodger now serves as a broadcaster on KCAL's Dodgers pre-game coverage.
For Karros, the time he spent in Westwood was special for more reasons than simply baseball.
"I think the opportunity that UCLA afforded me both academically and athletically, I'm not sure I could have had that duplicated anywhere else," he said.
"The experiences there are a part of the foundation that has allowed me to live the life that I lead right now. … What UCLA means, especially in this area (Los Angeles), is unparalleled."
What impressed Karros's coach at UCLA most was his decision to return to school sooner than most of his ex-teammates to attain his degree.
"He made a point of going to classes and getting it done, it was important to him and his family to get that degree," Adams said of Karros.
Despite chasing his dream as a professional baseball player, Adams said Karros never lost sight of the fact that he came to school for more than just baseball.
"He stuck true to his word."