Alumni choose to stay at UCLA and work as staff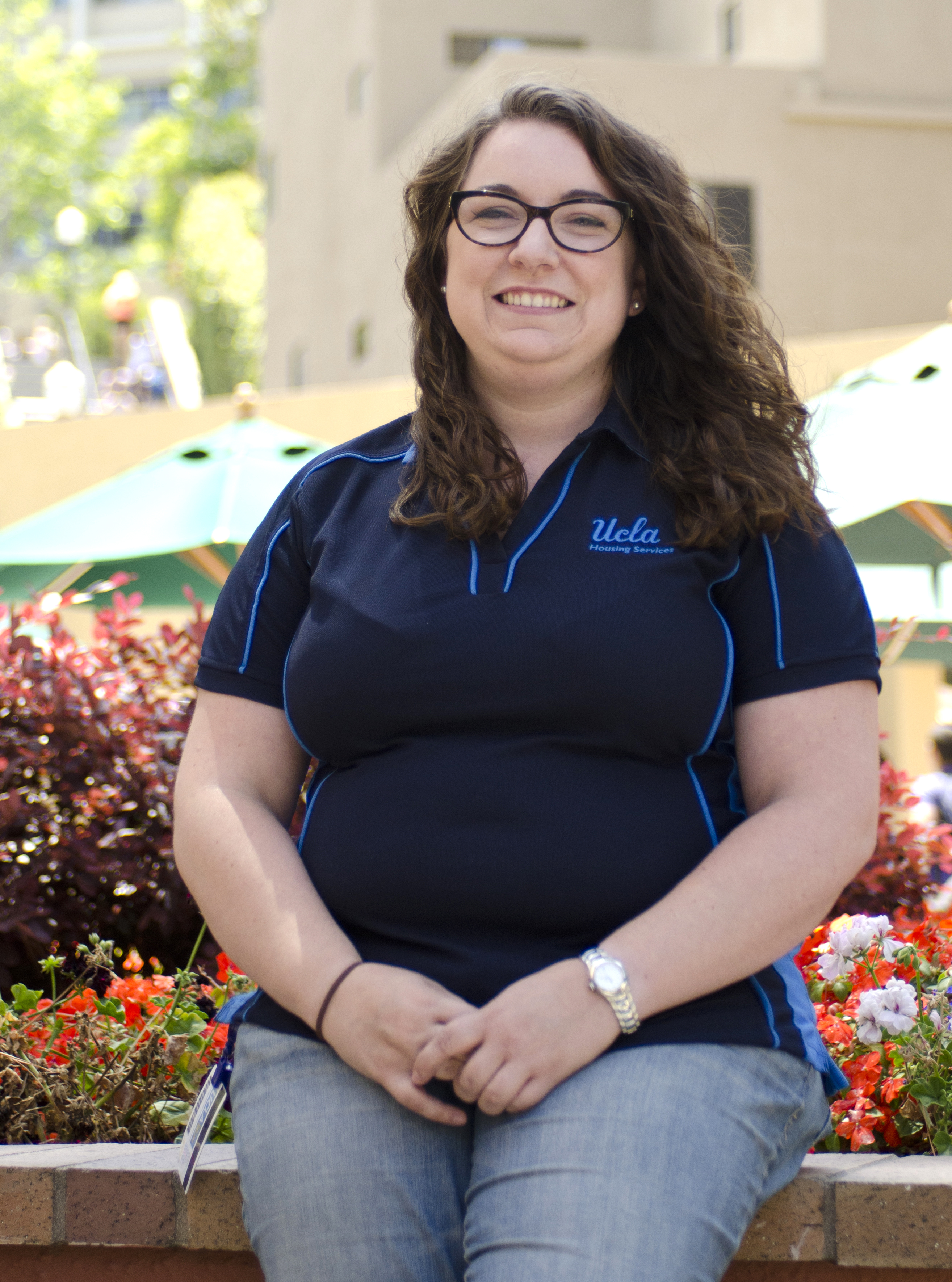 Sarah Quinn has worked at UCLA since graduating in 2005. She uses the same student identification number she was assigned nearly 11 years ago.
This article is part of the Daily Bruin's Graduation Issue 2012 coverage. To view more multimedia, galleries, and columns, visit http://dailybruin.com/gradissue2012
Sarah Quinn has been eating dorm food for more than 10 years.
She swipes herself into Covel dining hall or Bruin Café on a daily basis with the same student identification number she was assigned 11 years ago.
Although her Bruin Card has been lost and replaced over the decade, she has been at UCLA as both a student and an employee.
"I will never forget that number," said Quinn, laughing.
She visited the cafe so regularly since the cafe opened in 2005 that they have her coffee order memorized, she added.
Quinn came to the Hill as a first-year student in the fall of 2001, and soon joined the staff at the Dykstra-De Neve front desk.
When Quinn graduated with a degree in history in 2005, a position for assistant resident hall manager conveniently opened up, she said.
It was a convenient job given her past experience, and she was extremely lucky that it was available to her when she graduated, she said.
Quinn said she does not know how frequently housing hires recent graduates as staff but knows about 15 people in Housing who also stayed after graduation.
Since then, Quinn has risen through the ranks and is now the associate resident director of UCLA Housing and Hospitality Services.
She has affectionately termed herself one of the "lifers" at the university for neglecting to fully transition out of her university.
"We're the odd ones out for staying here," said fellow "lifer" Dan Les, the director of budget and financial planning for UCLA Housing and Hospitality.
Les' own friends moved on after graduation, but he said it becomes normal to see people fade away over the years.
It did not take Quinn long to realize that she wanted the job that was meant to keep her afloat after college to become a permanent career in the UCLA housing department. She said she saw all her friends struggle with job hunting and did not feel the need to stress about finding a new job when she was happy with Housing and Hospitality.
Even though she was pursued by a company based in San Francisco to organize their events a few years back "" with a salary increase "" she decided to decline the job and stay at UCLA. "I just wasn't ready to leave (UCLA)," Quinn said.
Her close relationship with fellow employees and students, the good benefits and her continuous promotions were among her reasons for staying with Housing.
At a time when graduating seniors were moving away and starting new chapters, continuing an undergraduate lifestyle at UCLA after graduation didn't pose a problem to Quinn. She said the transition from a student into adulthood was relatively easy.
"My life didn't suddenly change drastically," she said. "It just happened that with my good friends "" well, we just all moved to Brentwood."
Almost 10 friends lived within a few blocks of each other, letting the social life of college continue post-graduation.
She joked that she and her friends finally started growing up as everyone started moving on with their lives and away from the Village.
She finally moved away from Brentwood last year and recalled the move as bittersweet.
"It's the cycle of life: People move on," Les said.
Les has worked at UCLA for more than 30 years since he graduated as an economics student in 1981.
Over the years, Les has seen the area transform from a quaint, pastoral town into a more urban center, he said.
"It's been great being here, both as a student and employee," Les said. "It keeps me young."
Being able to work around students made the transition to a full-time job easier, he said.
Some students stay on at the university as employees only temporarily. Keli Arslancan graduated winter quarter with a degree in art and history and stayed with the university in the Community Programs Office.
Graduating mid-year, the transition was not hard and most notably, she enjoyed being more actively involved in the programs her office helps organize.
But she plans to leave after next year to pursue a career in arts education.
Les and Quinn also plan to remain here for a while longer.
"Even though I really like being an employee, I miss having the careless lifestyle of a student "" being able to take naps in the sculpture garden and not care," Quinn said with a laugh.
With many students deep into studying for finals, Quinn said she also appreciates being one of the few people on the Hill who do not have to worry about schoolwork.
"It stays interesting here. Every day is different; each incoming class (of students) is different," she said.
"UCLA keeps changing, and I get to witness all of it."
Contributing reports by Erin Donnelly, Bruin senior staff.