Deaf instructor moves across country to teach American Sign Language at UCLA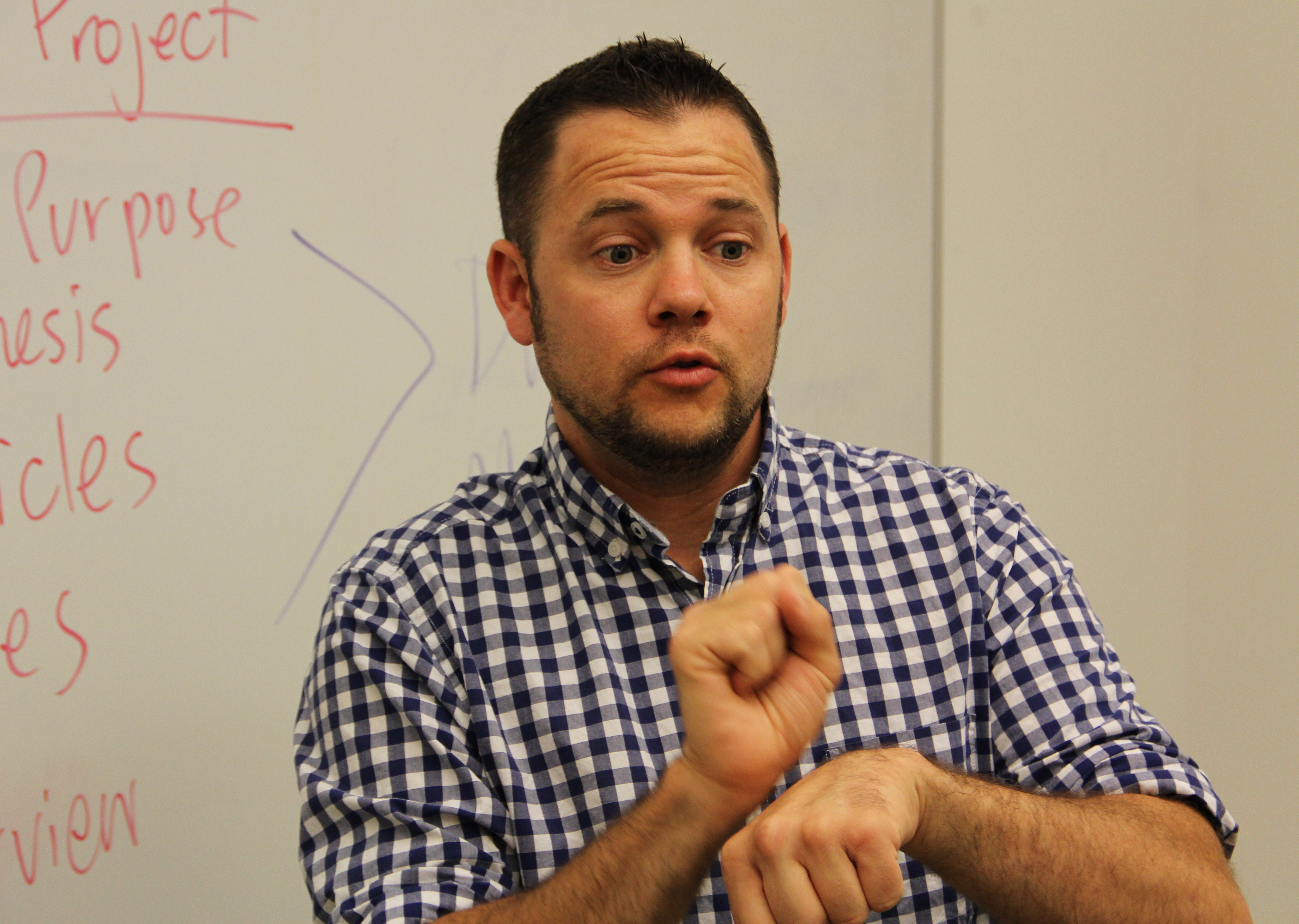 Benjamin Lewis will move across the country to teach UCLA's first American Sign Language classes in the fall. Photo courtesy of Benjamin Lewis.
This article is part of the Daily Bruin's Graduation Issue 2012 coverage. To view more multimedia, galleries, and columns, visit http://dailybruin.com/gradissue2012
*Read more from Spreading the word
Linguistics graduate student strives to preserve fading languages through her work at UCLA
Playing with his neighbors on the streets of Fremont, Calif. as a little boy, Benjamin Lewis and his childhood friends had a secret language that only they understood.
But the secret language was more than a way to play games. It was a way for Lewis, who was born deaf, to communicate with his friends as well as his deaf parents.
Unable to speak, Lewis said he had to find different ways to communicate. He constantly came up with new hand gestures with his friends and made his own type of sign language.
Starting this fall, Lewis will use his years of practice to teach two American Sign Language classes at UCLA.
Gesturing to a sign language interpreter through a Video Relay Service who voiced his sentences over the phone, Lewis said he wants to teach because he wants to make sure American Sign Language and culture is preserved for deaf children.
The courses are ASL 1: "Elementary American Sign Language," and ASL M115: "Disability and Deaf Study Issues" at UCLA, said Kyle McJunkin, director of curriculum coordination.
ASL courses have been in the works for more than a year now, after a Daily Bruin opinion columnist started a petition last year urging the university to offer sign language.
"I want students to really get to see and fall in love with the language as much as I have," Lewis said.
Lewis said although he was interested in teaching, it never really struck him as something that he would do until he landed a job teaching American Sign Language in Japan after graduating from Gallaudet University in Washington, D.C., a university for the deaf and hard of hearing.
Besides experiencing the immediate culture shock of smaller rooms and driving on the opposite side of the road, Lewis said he was often misunderstood because Japan has its own sign language, just like it has its own spoken language.
"People think that (American Sign Language) is a universal language," Lewis said. "But the hand gestures make no sense whatsoever to someone who grew up in another country."
While in Japan, he stayed with a deaf couple that taught him Japanese sign language.
Lewis said he used his newly learned language to write an easy textbook to teach Japanese deaf people who were struggling to learn American Sign Language from English textbooks.
"(Lewis') teaching style is very dynamic," said Raychelle Harris, a sign language coordinator and assistant professor at Gallaudet University. "He moves around a lot. It's impossible to fall asleep in his class."
Hana Al Ameri, a student at Gallaudet University who took Lewis' class last semester, said Lewis' class was engaging and never boring.
"I didn't know American Sign Language before, but I never felt like I was far away from the students in my class who knew (American Sign Language)," Al Ameri said. "(Lewis) has this magical way of making all students feel involved, no matter what language level."
Lewis also encouraged Al Ameri and her fellow classmates to practice American Sign Language outside the classroom, she said.
Deaf people also have unique rules that people are unaware of, Lewis said. He said he wants to incorporate these customs into his class, he said.
For example, he said he hopes to teach students about the many methods deaf people use to get each other's attention that other people may consider rude, such as flashing lights on and off, pounding on the floor or tapping a person's shoulder.
"Many people aren't aware that it's actually difficult to get a deaf person's attention," Lewis said. "You can't yell their name because they can't hear you."
Mariam Janvelyan, a first-year undeclared student and the external vice president of Humans Establishing Awareness Regarding Deafness at UCLA, a student group that teaches sign language to students, said even though she has fulfilled her language requirement, she will be using her first pass to sign up for ASL 1 in the fall.
"I think it's brilliant to have a deaf lecturer," Janvelyan said. "It kind of forces you to learn faster because you want to communicate with the professor and get closer to him."
As Lewis prepares to move from D.C. to Los Angeles, he said he look forward to offering UCLA students a new perspective on American Sign Language and deafness. "It's about not seeing it as a disability, but as a language and culture," he said.