UCLA BEAM engineers hands-on mentorship for young students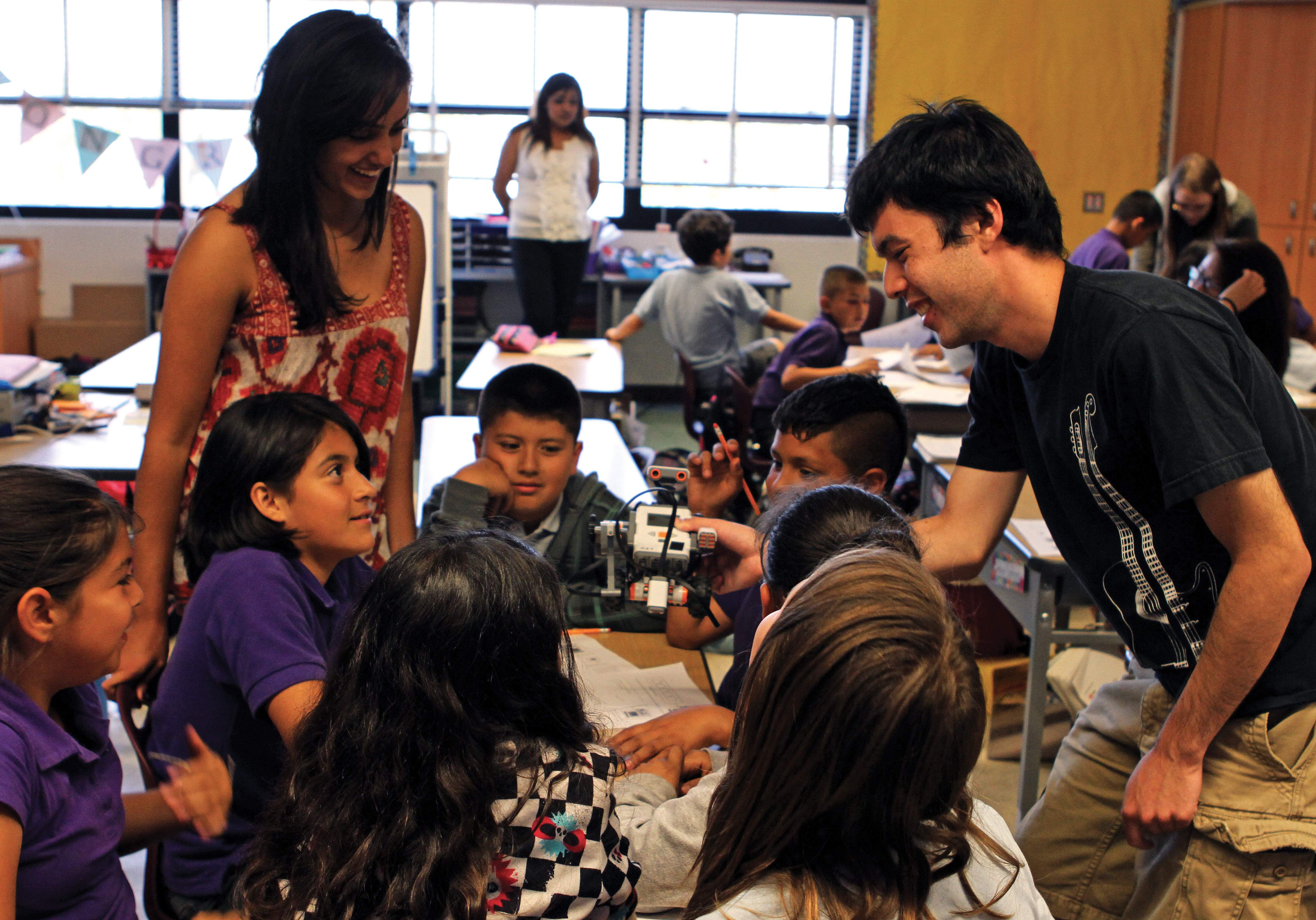 Second-year chemical engineering student Serena Shanbhag (left) and fourth-year mechanical engineering student Alex Baker (right) teach elementary school students at Aspire Firestone Academy in south Los Angeles how to program robots made from LEGOs through UCLA student group BEAM.
Alex Baker carefully took three LEGO Mindstorms robots out of a large black bag and set them down on the table one by one.
Immediately, more than 20 third- and fourth-graders rushed toward him and crowded around the robots, exclaiming in delight.
"It looks just like "˜Wall-E,'" many of them said in unison.
But the cartoonish-looking robots' function wasn't to save the world "" they were there to teach kids about programming, said Baker, a fourth-year mechanical engineering student. Baker and three other UCLA students brought the LEGO robots to Aspire Firestone Academy in south Los Angeles, as part of a hands-on science lesson for the elementary school children.
The UCLA students are members of Building Engineers and Mentors, or BEAM, a 20-member student group that aims to educate K-12 students in the Los Angeles area about science and engineering.
BEAM serves at three schools, all of which are located in socioeconomically disadvantaged neighborhoods, said Perry Johnson, a third-year aerospace engineering graduate student and a group adviser.
"These schools have all made cuts to their science programs, and these students don't really know what opportunities are out there," Baker said.
Johnson started the club at UCLA during winter quarter, partly to gain interactive teaching experience as a graduate student. As an undergraduate student, he was a member of BEAM at UC Berkeley, where the organization was founded in 2008.
Building Engineers and Mentors members create lesson plans from many scientific fields, but the main focus is the same "" it is all hands-on, Johnson said.
"It just makes more intuitive sense when they (make the project) themselves and see it work," Johnson said.
The newest lesson plan involved LEGO Mindstorms, which are customizable and programmable robots. The lesson was created to expose the students to basic programming, said Emily Galloway, a first-year undeclared engineering student and a member of Building Engineers and Mentors.
Building Engineers and Mentors members assembled the robots to move and react based on sensors and program codes before giving the lesson to the children.
The student group performed the robot demonstration for third- and fourth-graders in the afterschool program at Aspire Firestone Academy, a voluntary program for students who need more support, said Angelica Jimenez, the third-grade afterschool teacher.
"The topics they mention in the demonstrations spark questions in the kids," Jimenez said. "It gets them thinking about things they never would have anywhere else."
Baker, who is president of Building Engineers and Mentors, said the group aims to open up students to job opportunities in the science and engineering sector that they might not have previously considered.
Building Engineers and Mentors members passed out worksheets with five pictures of commands such as move forward, turn right and stop when the robot senses a dark-colored material.
The third- and fourth-graders had to place the commands in the right order for the robot to move correctly.
Miguel Warila, a third-grader from Aspire Firestone Academy, followed the robot as it moved away.
"The robots "" they are cooler than a person," he said, smiling.
The club has put together 26 different lesson plans that focus on motivating the kids rather than specific facts, Baker said. In addition to the most recent lesson on robot programming, other lesson plans include making stomp rockets, constructing electrical circuits using Play-Doh and creating DNA with strawberries.
Club members "" both graduate and undergraduate students "" visit three different school sites weekly to give hour-long lessons. They are also required to attend a planning session every Tuesday to learn the material, Johnson said.
Graduate students act as mentors for the undergraduate students, Baker said.
In the future, Johnson said, he hopes more non-science major students will join Building Engineers and Mentors.
"You don't need to be a scientist or an engineer because we give you all the materials you need," he said. "You won't be stuck with the deer-in-headlights kind of look."
As the lesson came to an end and Baker packed away the last of the robots into his black bag, he asked if the kids had any final questions.
The class asked, "When will you guys be back?"
"We'll see you next week," Baker said, with a smile.