One Mind for Research panel advocates brain disease research, social equality for mentally ill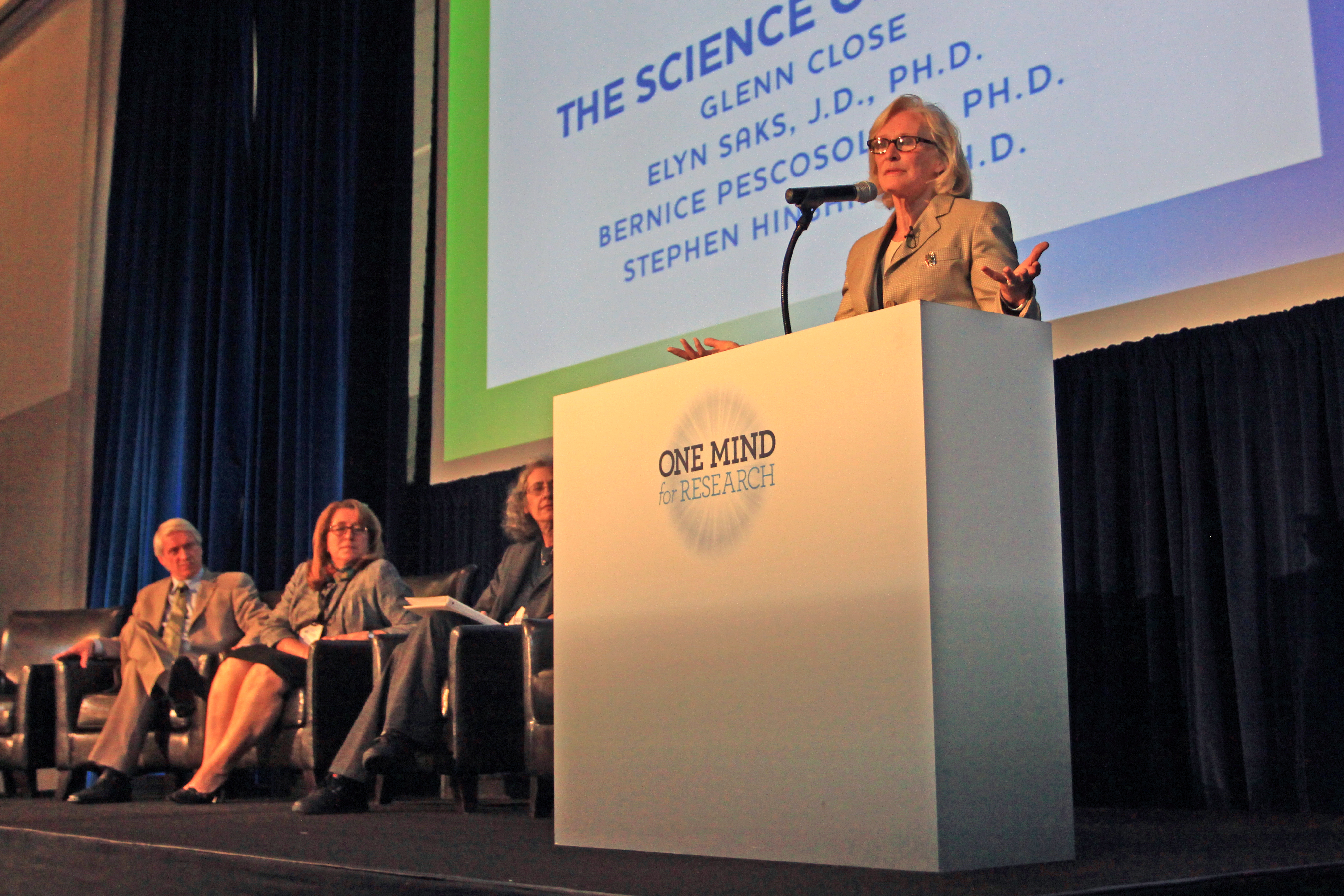 Actress Glenn Close talks about the stigmas of mental illness during the first annual One Mind for Research conference at UCLA.
In the Covel Grand Horizon Room, rows of neuroscientists, doctors and advocates sat side by side with laptops and cups of coffee, with one goal in mind "" curing brain disease.
From Wednesday to Friday, UCLA hosted the first annual meeting of One Mind for Research, a campaign dedicated to curing brain diseases within 10 years, through collaboration, research and social change.
Speakers from across the nation took the stage during the event to present neuroscience research and advocate for social equality for people with mental illness. The speakers included Mayor Antonio Villaraigosa, actress and advocate Glenn Close and UCLA's own neuroscience faculty.
In addition to keynote speakers, panels of neuroscientists and doctors from some of the top medical universities presented research on brain disorders such as autism, Parkinson's disease and Alzheimer's disease, emphasizing the substantial economic strain of caring for patients.
One Mind focuses on encouraging collaboration between individuals in the mental health field, said Garen K. Staglin, a co-founder of the organization.
The campaign is the brainchild of Staglin, a private equity investor, philanthropist and UCLA alumnus. Staglin, who has contributed to charitable causes throughout his lifetime, began his fight to end brain disease more than 20 years ago when his son Brandon was diagnosed with schizophrenia.
"In my mind, we had two options," Staglin said. "We could run away from the problem or we could run towards it and face it head-on. So we decided that we needed to set an example."
Staglin said the members of One Mind for Research hope to see their ambitious 10-year plan to cure brain disease succeed.
A primary focus will be on treating post-tramautic stress and brain injury among army servicemen. Looking for an experienced leader to head the campaign, Staglin and his co-founder, former Congressman Patrick Kennedy, recruited retired Gen. Peter Chiarelli, former Army vice chief of staff.
"I learned frustration while working in the medical community. I found out that many soldiers were given drugs for (post-tramatic stress) but these drugs weren't even fully developed for it," Chiarelli said.
He said during his address at the conference that 50 percent of soldiers had post-traumatic stress or traumatic brain injury at the time that he ended his service.
During the event, Chiarelli introduced Sgt. 1st Class Victor Medina, a veteran who suffers from a brain injury from an explosively-formed projectile while serving in Baghdad. When Medina returned to the United States, he said doctors did not give him a clear diagnosis.
Medina said he maintained a positive and optimistic attitude. He encouraged the audience to use their resources and partnerships to find more advanced treatment for brain injuries.
He also encouraged doctors in the audience to share their work, and fellow soldiers to share their stories.
"Please do the right thing. Do your part and glory will follow," said Medina, bringing out tears from many members of the audience. "I want my soldiers to not be ashamed of (brain injury), but instead stand up and be an example."
Stigma surrounding mental illness formed a central point of a speech delivered by Close. Close is the chairwoman of Bring Change 2 Mind, an organization dedicated to changing attitudes about mental illness.
Her sister had harbored thoughts of suicide, which spurred Close to begin to actively advocate finding cures, Close told the audience.
Chancellor Gene Block, who had volunteered UCLA to host the event, said the campus' prominent research staff and facilities made it a fitting location for the conference.
"We're bringing the best and brightest together, and out of many brilliant minds we will form one," said Block.
Conference attendee Andrea Ward, a mind, body and spirit therapist and the director of the United States Bear Force in Arizona, said she enjoyed the conference ­"" she appreciates the effort to facilitate future collaboration, she said.