Nobel laureate Walter Kohn to deliver lecture series detailing his work at UCLA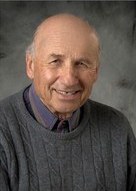 Walter Kohn, a Nobel laureate in chemistry, will speak at UCLA this week as part of first annual Green Family Lecture Series.
Courtesy of Institute for Pure and Applied Mathematics
Green Family Lecture Series
Today-Thursday
Fowler Museum (Today)
California NanoSystems Institute Auditorium (Wednesday)
Jules Stein Eye Institute (Thursday)
From the promise of solar and wind power to the degeneration of human vision capabilities, a series of lectures to be delivered this week by Nobel laureate Walter Kohn will canvas a range of scientific hot topics.
Kohn will be the featured speaker in the first annual Green Family Lecture Series, sponsored by the UCLA Institute for Pure and Applied Mathematics. Over the course of the next three days, Kohn will deliver lectures detailing his current work in several fields.
Kohn, currently a professor at UC Santa Barbara, received a Nobel Prize in chemistry in 1998 for his work on density functional theory, a computational method used to solve quantum mechanics and design materials for drugs, solar cells and batteries. Kohn will discuss the theory in his Wednesday lecture.
The institute selected Kohn to inaugurate the series because his work is closely aligned with the institute's goals and programs, which aim to foster an interaction between math and science, said Russel Caflisch, director of the institute.
The lecture series was created by the family of Mark Green, co-founder and former director of the institute and professor emeritus in the UCLA mathematics department.
Green, who spent his entire career at UCLA, said although his family has established and funded many of UCLA's programs including the Irving Green Lecture at the UCLA School of Law and the Fay-Bettye Green fund at the Fowler Museum, the institute was always his favorite. He founded this lecture series out of his love for the institute, which he helped to create.
"(The institute) kind of changed my whole perspective on math, about what's important and what's not," Green said. "I want to share that with the rest of campus."
The first lecture, which will be held in the Lenart Auditorium in the Fowler Museum today, will focus on the viability of wind and solar energy as sustainable fuels, said Stacey Beggs, assistant director of the institute. It is tailored to a broad audience, Green said.
Kohn's second lecture on Wednesday, on his work in density functional theory, is directed toward a more scientific crowd, Beggs said. It will be held at the California NanoSystems Institute Auditorium on Wednesday.
Kohn will conclude the series Thursday with a discussion of his work in macular degeneration, a medical condition in which there is a loss of vision due to damage to the retina. The lecture will be held with a smaller group of about 25 to 30 people at the Jules Stein Eye Institute, Beggs said.
The Institute for Pure and Applied Mathematics, a national institute, usually puts on programs at the national level, Green said.
In this case, he wanted to introduce a series aimed at the UCLA community specifically, Green said.
All UCLA students can reserve a spot for all three lectures through the institute's website.