Former Bruin Bobby Hosea tackles the mission of teaching proper football technique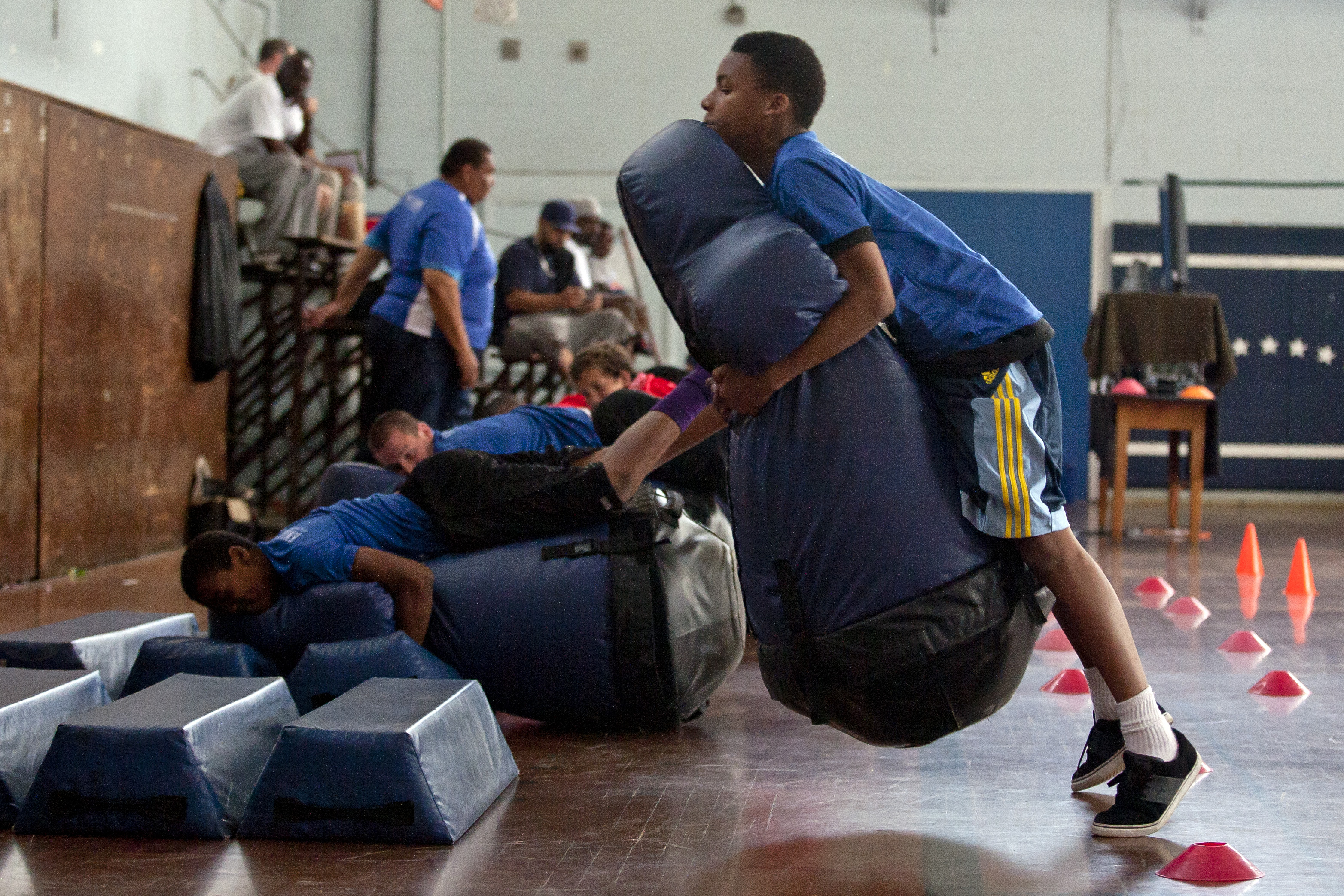 Elijah Samuel, 12, demonstrates the tackling technique Bobby Hosea teaches. Hosea's football camps focus on keeping the arms in, hips going forward and head up when tackling a ball-carrier.
By
Daily Bruin Staff
May 17, 2012 2:01 am
LAWNDALE ""mdash; This is a camp for football players, though there isn't a football in sight.
On this particular Saturday morning, there is no football field, either. The grass at Leuzinger High School is undergoing maintenance, but Bobby Hosea is undeterred. He does not need a field, nor shoulder pads, nor helmets. The former UCLA cornerback has adjourned to a basketball gym, where his lessons remain mostly unchanged.
Inside are a handful of young football players waiting to get started. They range from a beefy high-schooler heading into his senior year on the football team and hopefully beyond, to a pair of younger boys who stand about half the height of their counterparts.
Every session begins with Hosea peppering his campers with a battery of questions, starting with a simple one: What scares you to death about tackle football?
The answers are varied and vague. If anyone needs help answering, Hosea has plenty of evidence from every level of football that he has compiled into video clips.
Hosea believes fear begets fear "" fear of missing the tackle, fear of injuries, fear of the unknown "" and that by enlightening young players, there will be less to be afraid about.
While football leagues scramble in light of increasing player safety concerns, Hosea is putting safety in players' hands. His camps focus solely on proper tackling by eliminating helmet contact and using the chest to deliver hits.
Hosea is on a mission to change the sport by teaching young kids about the skill synonymous with football, even though he thinks what he does has little to do with the sport.
"This is not a football issue," Hosea said. "This is not a sports issue. This is a health crisis in America."
***
Despite the change in venue, Hosea still greets everyone at the door with the wide smile that he used during his days as an actor. At 57, he still cuts a well-built figure that he used to deliver tackles during his days on the gridiron.
Hosea transferred to UCLA and started during the 1977 and 1978 seasons. He played professionally, but began a far more rewarding acting career on the side. After five years spent in Canada and the United States Football League, his focus shifted to acting.
It was during research for a role that Hosea learned that every Marine is required to be a rifleman first. He carried that principle on to his tackling camps, called the Train 'Em Up Academy. Hosea teaches tackling to everyone, regardless of position, since anyone could be asked to make a tackle in a quick change of possession.
Hosea is head-on in his approach on how to eliminate the use of the head in tackling. He shows videos of violent helmet-to-helmet collisions from all levels of football, which have left players unconscious, paralyzed and even dead.
"I feel bad for those kids (in the videos)," said Devin Hynes, 14, of Covina, who has attended Hosea's camps with his twin brother Kevin for more than a year. "It makes me want to play better so I can't get injured."
After showing his fear-inducing clips, Hosea gets right to the solution.
"Where are his arms?" Hosea asks as he runs through examples of poor tackling.
"Out," campers are instructed to respond.
"Where are his hips?" "Back."
"Where is his head?" "Down."
By controlling the arms, hips and head, Hosea believes he can eliminate the thing that scares him to death about tackle football: brain injuries.
***
Hosea thinks he suffered seven concussions during his playing career.
Jonah Lewis of Palmdale, who played football for 16 years until college, knows he suffered five of his own. When it came time for his son Jonah, 8, to start tackle football, fear set in.
"I played football my whole life," said the elder Lewis, at Hosea's camp for the first time. "The way I learned how to tackle was the wrong way. (I was watching) him learn how to tackle … the wrong way."
A similar situation got Hosea on the warpath in 1997. He finally let his son Steven, now 27 and running camps alongside his father, play tackle football, only to be named coach of the team.
Fear of head injuries led him to invent a tackling technique he has taught ever since: the Dip "˜N' Rip.
"It's got to be instinct," said Mark Hynes, father of Devin and Kevin. Though each of Hosea's sessions are virtual carbon copies, Hynes continues to bring his high school-bound sons.
Hynes once brought a coach to Hosea's camp, which Hosea welcomes. He says youth coaches should be the best teachers "because their students have the most to lose." Yet not as many show up as Hosea desires.
"People are very slow to change," Hosea said. "Football coaches are the wrong people to address."
Hosea bemoans coaches who use phrases as popular as the forward pass. Plenty of rallying cries tell tacklers to use their head, and not in a cerebral way:
Bite the ball! Earhole him! Screws to the numbers! Swap paint! Lay some hat!
Hosea has slogans of his own. Don't listen to "wrap 'em up," he says, because spreading arms leads to the head dropping. Every shirt campers get says "Knock It Loose," encouraging Hosea's method of slicing both arms upward.
Also on the shirts is "BIG HITTS", a backronym Hosea coined since "safe hits" has a soft connotation. Bring Intensity to your Game, Hosea preaches to his campers. How? By employing his High Intensity Tackling Training System.
Parents observe from afar, noticing other coaches' errors. Sometimes, the mistakes are their own.
"The coaches really need to be here," said Tim Lewis, a personal coach who was at Hosea's camp for the first time with his son and neighbor, both 12.
"I taught "˜put your head on the ball,'" added Lewis, pausing to think about Hosea's words. "Man, that's wrong. Coaches need to teach these kids right, because their life is on the line."
Hosea stresses retention. He may be considered unconventional only because of some misleading conventions.
"I told my boys if they get to high school and these coaches are telling them something different, if the coaches don't want to listen to me "" Bobby said he would even come out there "" then my boys aren't going to play football," Mark Hynes said.
***
Hosea's passion isn't tackling "" it's teaching.
He's bounced around as a coach at various high schools and junior colleges, finding that empowering kids with the proper tackling technique netted the same result.
"We never had concussions, and we always win," Hosea said. "The kids get confident, they don't get hurt, and they tackle for real."
In this spring downtime, the kids he's tutoring every Saturday are his team.
Hosea stands tall under his Panama hat, donning a T-shirt, sweatpants and running shoes so that he can properly display how to run a drill at any time.
Always attached to his hip is an iPhone. His enterprise has branched out from Southern California. This week, he will hold camps in Washington and Arizona.
Hosea gains little compensation. Several parents commented on the affordability of his camps. One said Hosea is never too concerned about collecting payments.
It's a bad business model, according to Hosea, but certainly a unique one.
"There's nobody like me," Hosea said.
***
One of the many NFL highlights in Hosea's compilation is a hit leveled by a defensive back leading with his helmet. Both players suffer concussions and leave the game. The defender will later be fined by the NFL.
As Hosea plays the clip, his kids listen to the television analysis.
"You've got to find a way in this game to help eliminate that play right there," a commentator says, "and I don't know how you do it."
An incensed Hosea cuts him off.
"How about teaching the guy how to tackle?"