UCLA takes steps to cultivate a more bicycle-friendly environment with Bike to Campus Week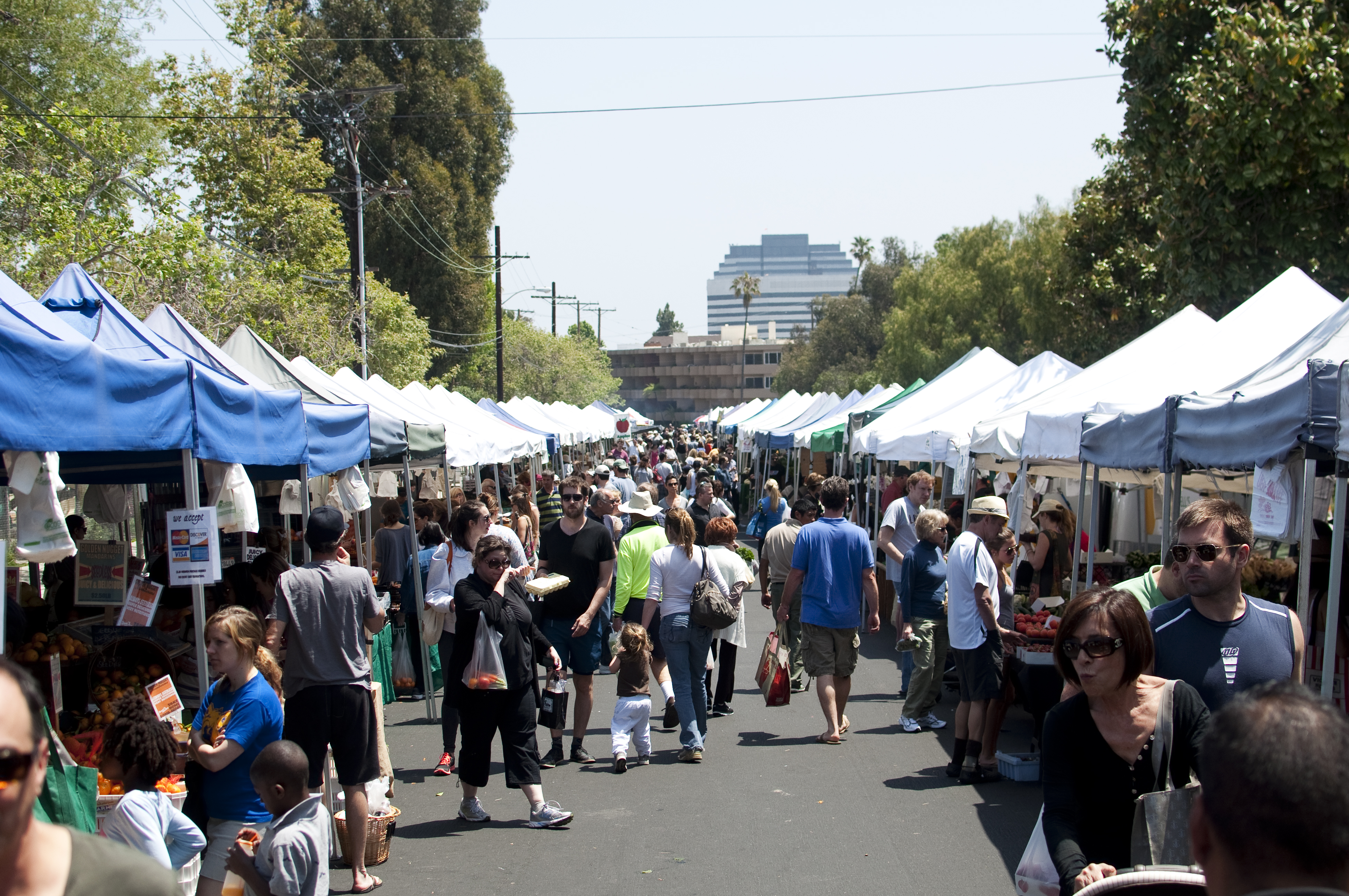 The Brentwood Farmers Market gathers every Sunday along San Vicente Boulevard.
Two summers ago, I bought my first real bicycle.
A gleaming red Bianchi road bike "" she was a machine of unparalleled beauty and speed. I brought her down to Los Angeles and biked to and from my Saxon residential suite, cutting down the commute to South Campus by a good 10 minutes.
One cloudy June day, I was pedaling home up Veteran Avenue after a long day at work in a laboratory in Westwood. Ahead of me, I saw a car pull out of its basement garage and drive up to street level. But I was moving so slowly and my road bike was so bright and red, I convinced myself there was no way the driver could have missed seeing me.
Then, suddenly, I was flying. Time crawled. I was swimming through the air from one side of Veteran to the other, until I calmly realized that humans can't fly. I had been hit by a car.
I turned out bruised but not broken. My bike, though? She was totaled.
Despite the dangers of biking through car-heavy Los Angeles, about 1,800 students, staff and faculty ride to campus every day, according to a survey conducted last year by UCLA Transportation. That's about 2.5 percent of the total UCLA population, higher than both the Los Angeles and national averages.
In recognition of commuters and in conjunction with national Bike to Work day, UCLA is again hosting its own Bike to Campus Week, starting today and running throughThursday.
During the week, there will be pit-stops set up in and around campus, where cyclists can learn how to tune up their rides and meet other bike enthusiasts.
"So many people who ride to campus do so on unsafe bikes," said Austin Arruda, a third-year environmental studies student and employee of the Community Bike Center behind the John Wooden Center. "But it only takes a few minutes to fix the most common problems."
Arruda recommends cyclists learn how to tighten down their tires and adjust their own brakes.
I'll definitely take my bike to one of these pit stops. Instead of bringing a new bike to campus, I rented a used one from the Bruin Bike Library program for $45 this quarter. But my squealing brakes turn heads when I coast down Gayley Avenue, and I wake up neighbors if I bike home late at night.
With only 1 percent of commuters biking and only about 200 miles of bike lanes, Los Angeles is not often considered a bike-friendly city. UCLA has worked toward becoming a bike-friendlier campus, however, by installing 3,100 bike racks, opening three stations with tools and air pumps, and running public service announcements reminding drivers to watch out for cyclists.
Last summer, these programs paid off, as UCLA received a bronze Bicycle Friendly University rating from the American League of Bicyclists.
But some bicyclists are still unhappy about restrictions, such as the Dismount Zone. There are no wheeled forms of transportation allowed on Bruin Walk or other busy walkways.
Paul Chen, a second-year applied mathematics student who also works for the Community Bike Center, suggested that UCLA paint in bike lanes and teach cyclists and pedestrians how to avoid collisions.
"It's not a compromise if you ban (bicycling) completely," Chen said.
With a daily population of around 70,000, it is unsafe to allow biking in high-density pedestrian areas, said Dave Karwaski, the manager of planning and policy for UCLA Transportation.
He added that UCLA Transportation is looking to improve conditions on and near campus that would make navigation easier for cyclists. The department has hired an engineer to analyze Strathmore Drive and make it more bike-friendly. Additionally, there are plans to add a bike channel on the stairs behind Ackerman Union, which would make it easier for cyclists to wheel their rides up and down the stairs.
Mike King, the bike coordinator for UCLA Transportation, has also been trying to work with the City of Los Angeles to improve road conditions in Westwood Village and the North Village, but with little luck.
Because of the city's financial straits, repairing the broken roads around UCLA has taken a backseat to more pressing issues, King said.
Road conditions and on-campus construction aside, it's still 20 minutes faster for me to bike than walk to Bunche Hall from my apartment on Strathmore and Kelton. Now, if only UCLA Transportation could do something about those hills.
---
Los Angeles is known for its traffic, not its bike routes. But that doesn't mean you can't use your bike to get off campus. Here are a few places within four miles of campus that are easy to access by bike.
Brentwood Farmers Market
741 Gretna Green Way
Every Sunday, vendors gather along Gretna Green, a street just off San Vicente Boulevard, to sell their fresh produce, homemade jewelry and an assortment of breads, dips, teas and treats.
As we walked in, a friendly old man handed us samples of family-made hummus.
"Four for $10, with free pita bread, for you and for you," he said.
Across the way, Homeboy Bakery tempted visitors with loaves of bread filled with garlic cloves or soaked in wine and speckled with cranberries. The bakery is run through Homeboy Industries, an organization that works to keep kids out of gangs.
All in all, the market is an expensive but delightful hideaway. Students won't be able to shop here every Sunday, but you can eat a lunch's worth of fresh samples from local Los Angeles businesses.
To bike there from the North Village, it's easiest to detour through the Veteran Affairs complex. Take Montana Avenue all the way past Sepulveda Boulevard and turn left onto Church Lane. A bike path takes you from the end of Church Lane to Constitution Avenue, where you'll make a right and bike past the Jackie Robinson Stadium. Head down Dewey Avenue to Eisenhower Avenue, and make a slight right onto San Vicente Boulevard.
There are no bike lanes, but there are a lot of bike path signs and the drivers tend to be more respectful and aware than on other busy throughways.
Follow San Vicente down to Gretna Green Way and take a left. The market is right there.
Literati Cafe
12081 Wilshire Blvd.
On the corner of Bundy Drive and Wilshire Boulevard, nestled near a Ralphs grocery store, is small cafe with quality coffee and free Wi-Fi. It is right down the street from the Brentwood Farmers Market and the two make a great packaged trip.
Students and young, white-collar workers seem to be the primary customers. Study there if you need a change of pace from the library.
The only downside is that the cafe is located right on Wilshire, which means you have to risk maneuvering traffic or choose one of slightly longer routes, either along San Vicente Boulevard or Ohio Avenue. Coffee and tea lattes run at about $3, and their meals cost between $7 and $15.
Urth Caffé
267 South Beverly Dr.
Beverly Hills
Nestled along Beverly Drive, next to Dior and Anthropologie, is Urth Caffé, a prototypical organic cafe and breakfast hot spot.
At four miles, it's a little more of a trek than the other locations, but it's a convenient place to stop by if you pair it with shopping or people-watching.
Urth Caffé offers an assortment of teas with names like Genmaicha and Awakened Buddha, and much of its food is organic and locally grown.
However, you're going to have to break into your savings to eat here. Assorted desserts and tarts cost $5-$6 and breakfasts run around $9-$12, and those costs don't include coffee. If you go with a friend, though, you can share a large drink. Check out their Spanish latte and Salmon Scramble, and the boba drinks on the menu.
To get to Urth from campus, head down Westwood Boulevard and take a left on Santa Monica Boulevard, which has one of the best bike lanes near UCLA. Follow Santa Monica and when the road splits, take the fork labeled "local." Continue on to North Beverly Drive. Take a right and follow it down, but be particularly careful here because drivers seem to be window shopping more than watching the road.
Roxbury Memorial Park
471 South Roxbury Dr.
Beverly Hills
Learn how to lawn bowl for free at the Roxbury Memorial or catch a Little League game in this rare L.A. greenspace. It's a little too kept up to be a true hideaway, but it's a great spot for a picnic and it's easy to get to from campus. Just take Santa Monica to Moreno Drive and turn right. You'll ride past Beverly Hills High School and through a quiet Beverly Hills neighborhood. The park is on the corner of Olympic Boulevard and Spalding Drive. It's also easily accessible from Urth Caffé or Sprinkles Cupcakes, so consider grabbing a cupcake and taking a coffee to go. Tip: If you order a small but ask for a big paper cup, you'll save yourself a lot of cleanup.