Independents claim two of three contested seats in USAC elections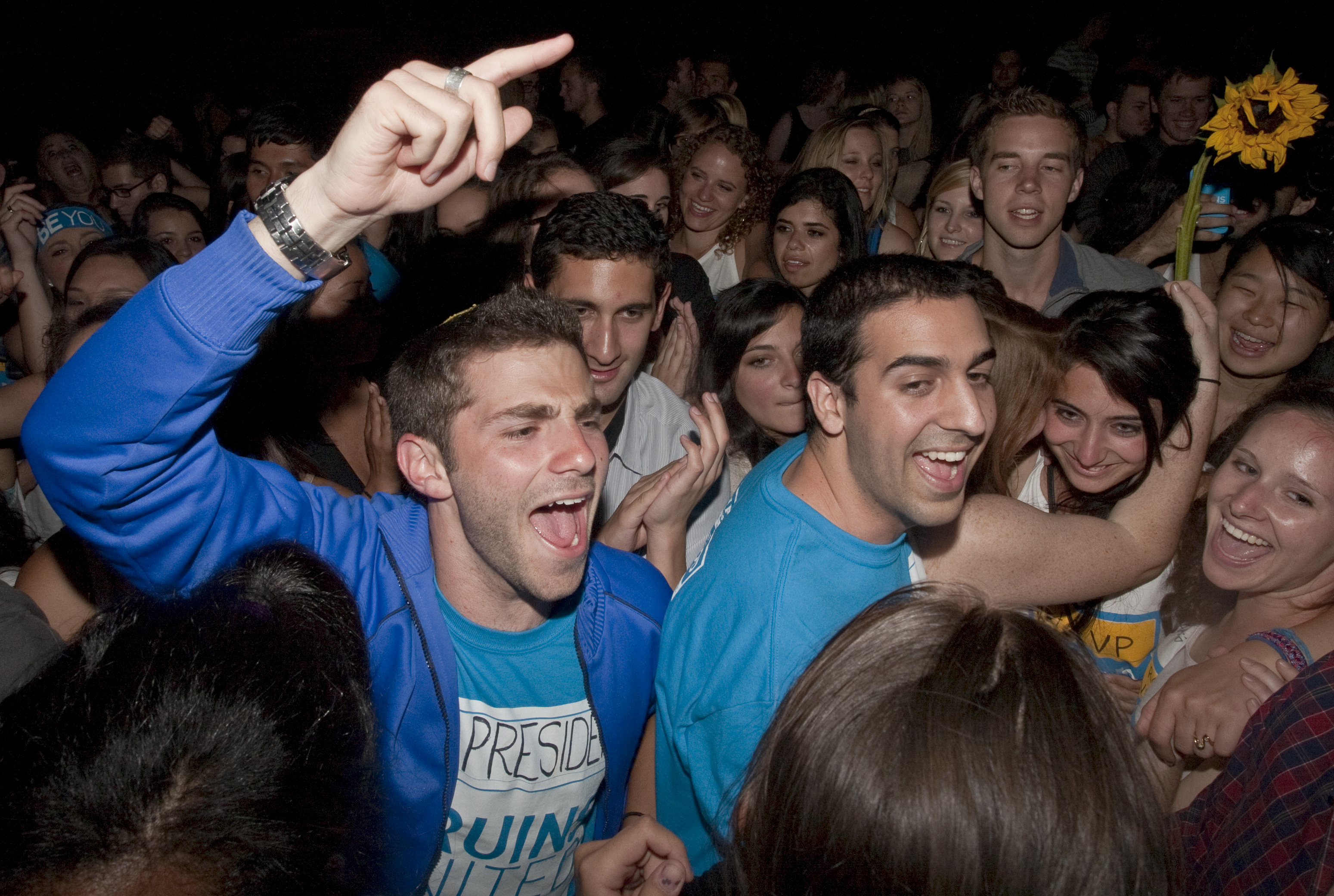 Current Bruins United member and General Representative David Bocarsly reacts after being announced as the uncontested USAC president for 2012-2013.
Independent candidates Lana Habib El-Farra and Taylor Mason took two of three contested positions in this year's undergraduate student government elections, but the Bruins United slate will still hold a large majority on next year's council.
Bruins United took eight positions on the Undergraduate Students Association Council, the first time it has held such a large majority since 2007. The slate, which was created in 2004, was already guaranteed to win seven uncontested positions, including the presidency.
El-Farra was elected external vice president with 59 percent of the vote, while Mason was elected Cultural Affairs commissioner with 68 percent. Sahil Seth of Bruins United was voted Financial Supports commissioner with 54 percent.
"We all did it," El-Farra said of her supporters amid tears. "It wasn't just me, it was everyone here that believed in (my campaign)."
External vice president candidate Raquel Saxe said she was disappointed about her defeat, but added that she would still be involved in USAC next year.
Mason, who won by a margin of 36 percent, said her success in the election was a result of unity among students from various groups regardless of what slate they supported.
"Usually it's about a slate. We broke that down completely," Mason said. "It wasn't about politics, it was about the goals we wanted to accomplish."
Mason said it was important that independents be in office because a council dominated by one slate would not be accountable. As an independent, Mason said she would work to hold the council responsible for its actions.
Independent Financial Supports commissioner candidate Taylor Bazley obtained 46 percent of the vote in his race. He said the large support he received showed what a student who doesn't like what is happening at the university can do.
"I wasn't anything special, I was just a normal student with a reasonable support group," Bazley said, surrounded by a small group of supporters. He added that he will work in USAC next year because he wants the experience on the council, which he said was a crucial factor in his defeat.
The proposed referendum to increase student fees by $9 each year, known as the Contingency USA/BOD Referendum Enactment, or CURE, did not pass. The referendum would have provided funding for student programming.
Voter turnout decreased this year. Thirty percent of eligible undergraduate students voted this year, as opposed to last year's 38.16 percent. Low voter turnout because of the large number of uncontested positions was a concern for some candidates during the election.
Current General Representative David Bocarsly will be next year's president, while Andrea "Andi" Hester will be internal vice president, Kim Davis will be Academic Affairs commissioner and Stephen Kraman will be Facilities commissioner.
Michael Starr received 2,862 votes, the highest number for the general representative position. Carly Yoshida followed with 1,954 votes, and Yasar Mohebi came in third with 1,104 votes. All three are part of Bruins United.
Three uncontested positions were won by independent candidates. Anees Hasnain will be Community Service commissioner, Cassarah Chu will be Student Wellness commissioner and Jan Tancinco will be Campus Events commissioner.
The proposed constitutional amendment to change the name of the Student Welfare Commission to the Student Wellness Commission was passed with 81 percent voter support.
Contributing reports by Alessandra Daskalakis, Alexia Boyarsky and Jillian Beck, Bruin reporters.