Opening of new businesses enliven Westwood Village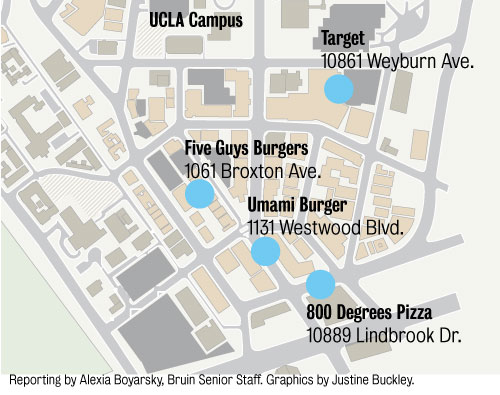 Correction: The original version of this article contained an error. A proposed Metro stop on Westwood and Wilshire wont be added until about 2036.
After more than two decades of steady decline, Westwood Village may be poised for a revival, according to analysts at UCLA.
Once a premiere shopping destination, Westwood fell into a decline in the 1990s and the first decade of the new millennium because of a number of factors, including a lack of public parking and economic turbulence caused by the recession.
Since then, Westwood has had many businesses come and go in rapid succession, with few finding traction in the Village. But earlier this year, two businesses opened their doors "" and those doors have since been filled with customers.
Five Guys Burgers and Fries and 800 Degrees Neapolitan Pizzeria have found success in the Village that few other restaurants have seen in the past and may be responsible for ushering in a new era for Westwood, said Dana Cuff, the director of UCLA's cityLAB.
"It's taken a while for Westwood to reestablish its new identity, but really it is primed for its next blossoming," Cuff said.
CityLAB is a research center on campus that analyzes how cities grow and change over time in the hopes of predicting the future of urban development. For the last year, they have been focusing their efforts on Westwood Village, Cuff said.
The center has noticed that Westwood is becoming more of a model for what shopping neighborhoods could be in the future, combining large retail stores and cultural locations with smaller boutique stores that bring a local feel to the community, Cuff said.
"Areas that are successful have an identity and authenticity that people appreciate, and Westwood can be one of those places," she said. "The one part of Westwood that's always been strong is the cultural, like the Hammer and the Geffen, that are anchoring the zone."
For Westwood to continue to be successful, it will need to continue to develop a mixture of large stores, such as Target, and small, local businesses, like 800 Degrees, Cuff said.
Opening in early January, 800 Degrees originally expected to serve about 400 pizzas a day, said founder Anthony Carron. Now, the restaurant serves close to 1,000 pizzas daily.
"(Business) has essentially leveled off at this really high level, and at some point we had to realize that we couldn't make more pizzas in a day," he said.
Even prior to the opening of 800 Degrees Neapolitan Pizzeria, part-owner Adam Fleischman decided to also bring a chain of his popular burger restaurant Umami Burger to Westwood. Its varied demographic, which includes students, residents and people who work in the surrounding area, provided a large customer base, Fleischman said.
U-Mini, a smaller version of Umami Burger, will open this summer.
"We have an under-served area here, and we want to focus on serving those businesses on the Wilshire corridor, with high quality food," he said.
Fleischman said that although there are a number of restaurants in the Village, many of them are fast-food restaurants, while others suffer from poor management that makes it difficult to be successful.
Similarly, Five Guys has seen their customer base develop a devoted following of students that sometimes come more than once a week, said manager Jose Lopez.
"We've got a lot of people from UCLA and from the (Ronald Reagan UCLA) Medical Center that come in, and we see some familiar faces every week," he said.
Businesses like these may be the key to the revival of Westwood as their success will draw other innovative and profitable businesses to the Village, Cuff said.
"Other businesses see that (the business) worked, then they'll follow, that's the way all development works," she said. "Until someone takes the risk, it's difficult to bring in other businesses "" it's basically a domino effect."
While the improvements may seem sudden, many of these projects have taken years to put into place, said Steve Sann, chair of the Westwood Community Council.
Target, in particular, has been a multi-year project that will culminate with the opening of the new City Target this summer.
City Targets differ from the normal large stores because it is designed for an urban space and is almost half the size of the traditional Target stores, said Mya Walters, a spokeswoman for Target. When the store opens in the Village on July 29, it will be one of three of these new Target stores opening up for the first time around the country, Sann said.
The opening of the store will mark the first time since 1999, when Macy's closed its doors to the city, that Westwood has had a department store in the Village.
A number of factors may be contributing to a revival of Westwood Village, one of which is the improving national economy, Sann said.
Banks are now more willing to loan money to business owners, Sann said. Businesses also feel more secure in opening new stores, he said.
In addition, the revival of the Westwood Business Improvement District last year has helped create a more welcoming feel to the Village, which may help to draw more businesses, Cuff said.
"When businesses are looking at areas, and they see that we are investing in ourselves, that's attractive, and it will make them want to be part of that community," Sann said.
In the future, Cuff said Westwood needs to increase its pedestrian culture for continued success.