Bruin Run/Walk cause inspires avid Bruin runner to participate in 5K event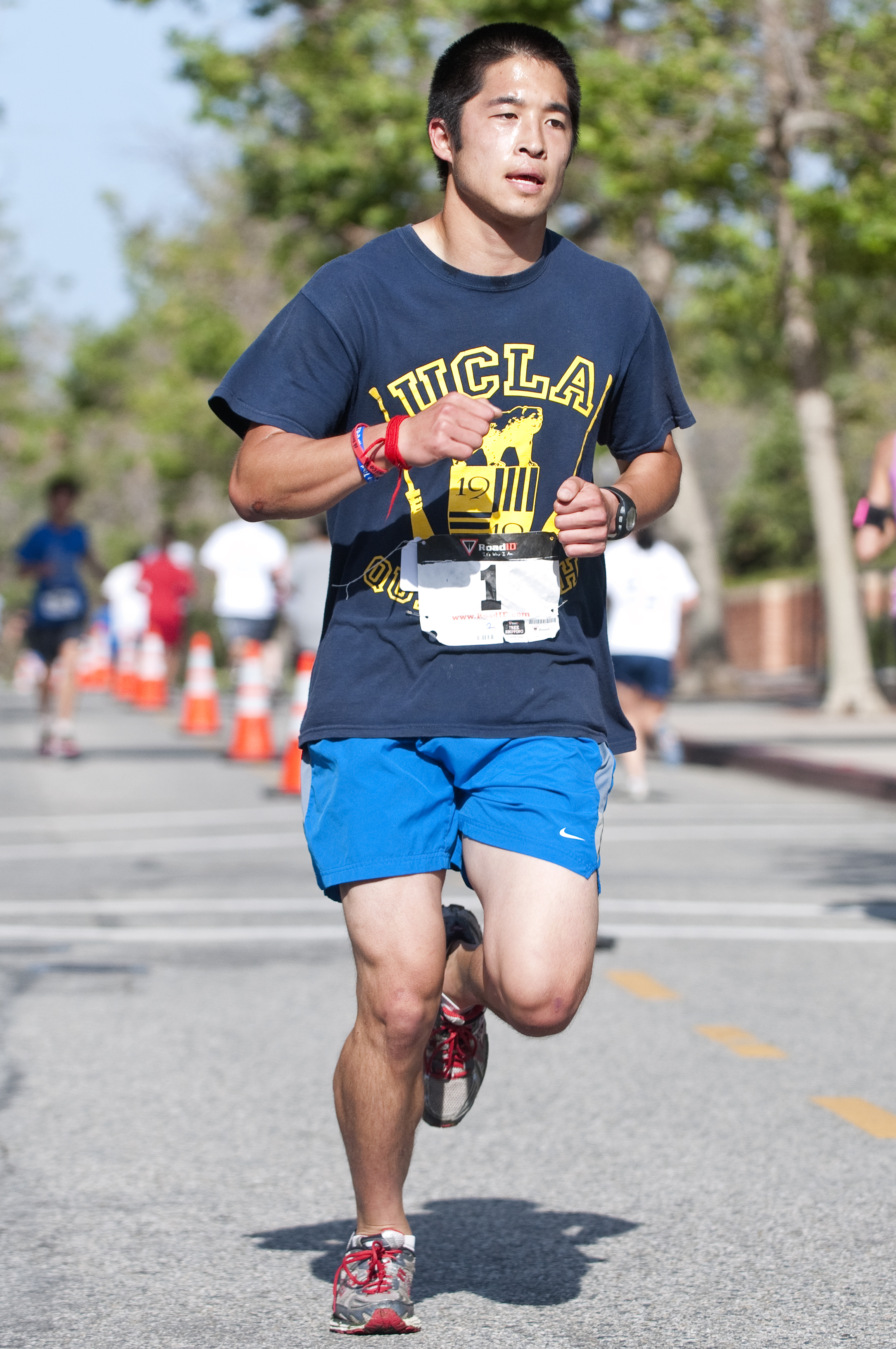 Jeffrey Lin, seeker on the UCLA Quidditch team and a third-year microbiology, immunology and molecular genetics student, runs in the 5K event.
As the sun rose over Janss Steps early Sunday, Jeffrey Lin ran past the line framed by two "Finish" flags in Wilson Plaza and, in the process, crossed an item off his UCLA bucket list.
While Lin did not come in first place at the 13th annual Bruin Run/Walk, the number "1" pinned across his UCLA Quidditch shirt showed his enthusiasm for the event "" he was the first of more than 900 participants to sign up for the 5K benefiting the Chase Child Life Program at UCLA's Mattel Children's Hospital.
One of the few runs held at UCLA throughout the year, the Run/Walk has always been on his list of things to do during his time at college, said Lin, a third-year microbiology, immunology and molecular genetics student.
This year, he found the time to take part. His girlfriend, Tiffany Chow, is the participants coordinator for the event, which also encouraged him to run in the race.
"Given the choice, he would rather run or bike anywhere," Chow, a third-year biochemistry and microbiology, immunology and molecular genetics student, said with a laugh.
After registering, Lin encouraged his Quidditch teammates to form a team, said Alex Browne, Lin's friend, teammate and a third-year mechnical engineering student.
"At times, (Lin) can be a pretty calm guy, but when you see him stepping up and getting a lot of people to join with him on this cause, you can't help but get excited too," Browne said.
Coming in 45 seconds off his personal record of 18 minutes and 20 seconds for a 5K race, a sweaty Lin said he was a little disappointed in his time, but was glad he participated because he likes running to support a cause.
As a group of kids participating in the Kids Race ran by, Lin broke off the conversation and looked toward the children.
"So cute," he said, gazing at them with a fond smile. "They're all so sweet."
Lin, who is one of the site directors at Project Literacy at UCLA, a student group that aims to improve literacy rates in the Los Angeles region through one-on-one tutoring, said he admires children for their resilience in the face of adversity.
Running for a cause gives him extra motivation, Lin said.
Lin discovered running in his freshman year of high school, when his soccer coach encouraged him to try cross country and track after seeing he could run.
While he never thought of himself as a good runner, he fell in love with it as soon as he joined, Lin said.
"At first it's challenging," Lin said. "But once you get into it, it's addictive."
Lin has run the LA Marathon for two years in a row now. Last year, he ran for Project Literacy. This year, Lin pledged to the run the 26.2-mile marathon through Los Angeles with a broom between his legs.
"People were laughing and staring, but it was all in good fun," Lin said.
He also improved his time by 16 minutes, much to his surprise, he said.
Lin said he runs for his own sake rather than competitively. When he is stressed during midterms and finals, taking a run usually helps him to de-stress and calm down, he said.
Every night, he runs off campus around UCLA, sometimes into Brentwood and Bel Air. On the weekends, he takes longer trips to Santa Monica and San Vicente boulevards.
Peeling a banana after doing a cool-down run with his teammates, Lin said he could not think of a better way to spend his Sunday morning.
"It's nice to be in a race that is local and on the UCLA campus," he said.