Men's volleyball coach Al Scates leaves behind an unmatched legacy at UCLA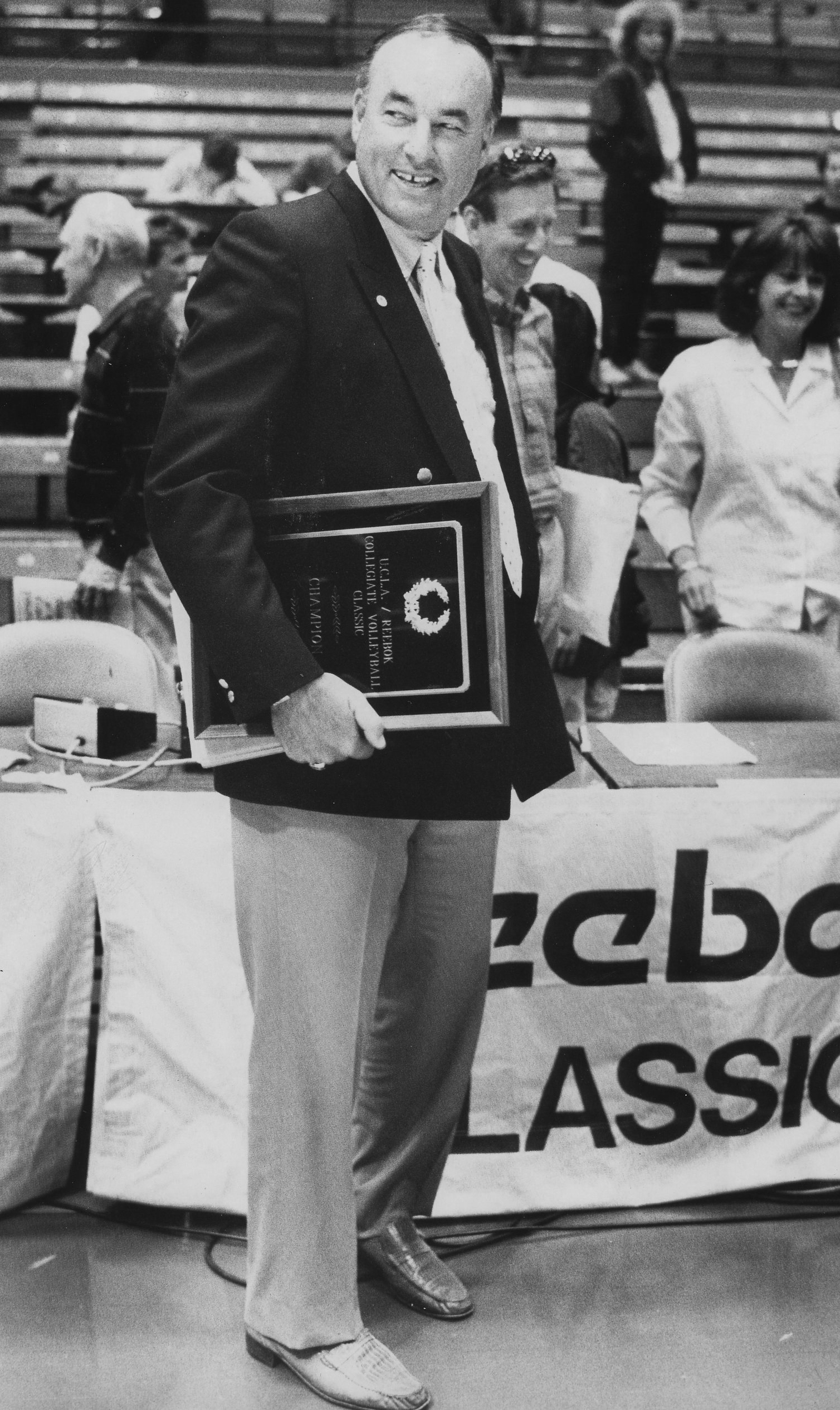 Lost among the chaos following UCLA's loss to UC Irvine Saturday was a short PA announcement recognizing the end of UCLA coach Al Scates' 50-year career.
Barely audible above the din of the crowd, the announcement seemed to go largely unnoticed by the Irvine fans. It was a sad moment, but it had a hint of irony. While the crowd ignored Scates' legacy, it was his legacy that gave them something to cheer for.
"Al Scates is volleyball," said Mike Sealy, UCLA women's volleyball coach and a former player of Scates.
But for a man who is so closely associated to the sport, he had very humble beginnings. Trying volleyball during football's offseason at his coach's suggestion, Scates found it to be more of a challenge than expected.
"I was cut after the first five minutes," Scates said.
But Scates found the sport intriguing. Each weekend morning, he returned to the beach to hone his game, eventually rising to the top of his competition.
Later when Scates arrived at UCLA, his improved skills earned him a spot on the volleyball team.
Soon thereafter, he founded the Southern California Volleyball Association in 1963, which today is the Mountain Pacific Sports Federation in which UCLA still plays.
In the first year of the league, he served as a player-coach for the team.
"When I coached and played on the same team, I never came out of the game. We only had about eight players back in those days," Scates said.
From barely having enough players for a team, Scates expanded the sport, not just at UCLA but nationwide.
With the Japanese men's and women's national volleyball teams in town in 1965, he saw an opportunity to grow the sport.
Scates organized a triple-header featuring the Japanese teams against their American counterparts and UCLA against USC.
With advertising for the event solely on his shoulders, Scates embraced the challenge, posting flyers all throughout L.A. County and getting articles about the event published in a local newspaper.
"That night we had 5,000 paying customers. And J.D. Morgan after the match came up to me and says, "˜Al, were going to make this an NCAA sport. I've never seen a volleyball game but I really like this and I like the fact that we had all these people here.' Basically that's how it became an NCAA sport," Scates said.
Scates was named as the head of the NCAA volleyball committee, where he reformed the structure of the Final Four to include at least one team from the West, the Midwest and the East.
This helped spur interest in the sport around the country and reduced Southern California's volleyball monopoly.
Scates also began a tour of summer camps around the country, further spreading the sport's popularity.
Along with the camps, Scates released educational videotapes, books and coaching tools.
"He was the engine for a whole industry of volleyball in itself," said assistant coach Brian Rofer.
Scates' sacrifices for the sport went unparalleled, showing just how strong his dedication to volleyball was.
"When Al first started coaching, he would actually take a second mortgage out on his house every year to fund himself to go coach in the summertimes with the USA programs then come back; so he dedicated a lot to the sport, he took a lot of risks as well," Sealy said.
With money tight, Scates took a job as an elementary school teacher.
"Volleyball was a part-time gig," Scates said.
This "part-time" job brought him 16 NCAA titles until his teaching career ended in 1997. Scates was sure to have some of the more interesting stories around the watercooler in the teacher's lounge.
While the sheer number of NCAA championships "" 19 in total "" garners the most attention, what can't be quantified is the impact Scates has made on his former players.
In fact much of college volleyball's landscape is strewn with Scates' disciples.
"When you look at his coaching tree of players that played for him who are in coaching now, that he's influenced, it all leads back to Al," Sealy said.
One of Scates' most successful understudies is current UC Irvine coach John Speraw, a former player and assistant coach for Scates.
Speraw, who has won two national titles in the last five years, credited Scates for his decision to go into coaching.
"Not only was he a big factor in why I got into coaching, but he was a huge factor in me even being able to even begin coaching and start my career path," Speraw said.
Though Scates' loss to Speraw in his final match last Saturday marked the end of an era, his imprint on the sport will never fade.
"Even though he's retiring, we'll never lose Al Scates," Speraw said. "He's the reason why men's volleyball is an NCAA sport. He's been a fixture in a program that has dominated the landscape of men's volleyball for its entire history.
"He's a legend in every sense of the word and I don't think his retirement will ever take him away from the game."