Bruin athlete starts up UCLA chapter of non-profit Soles4Souls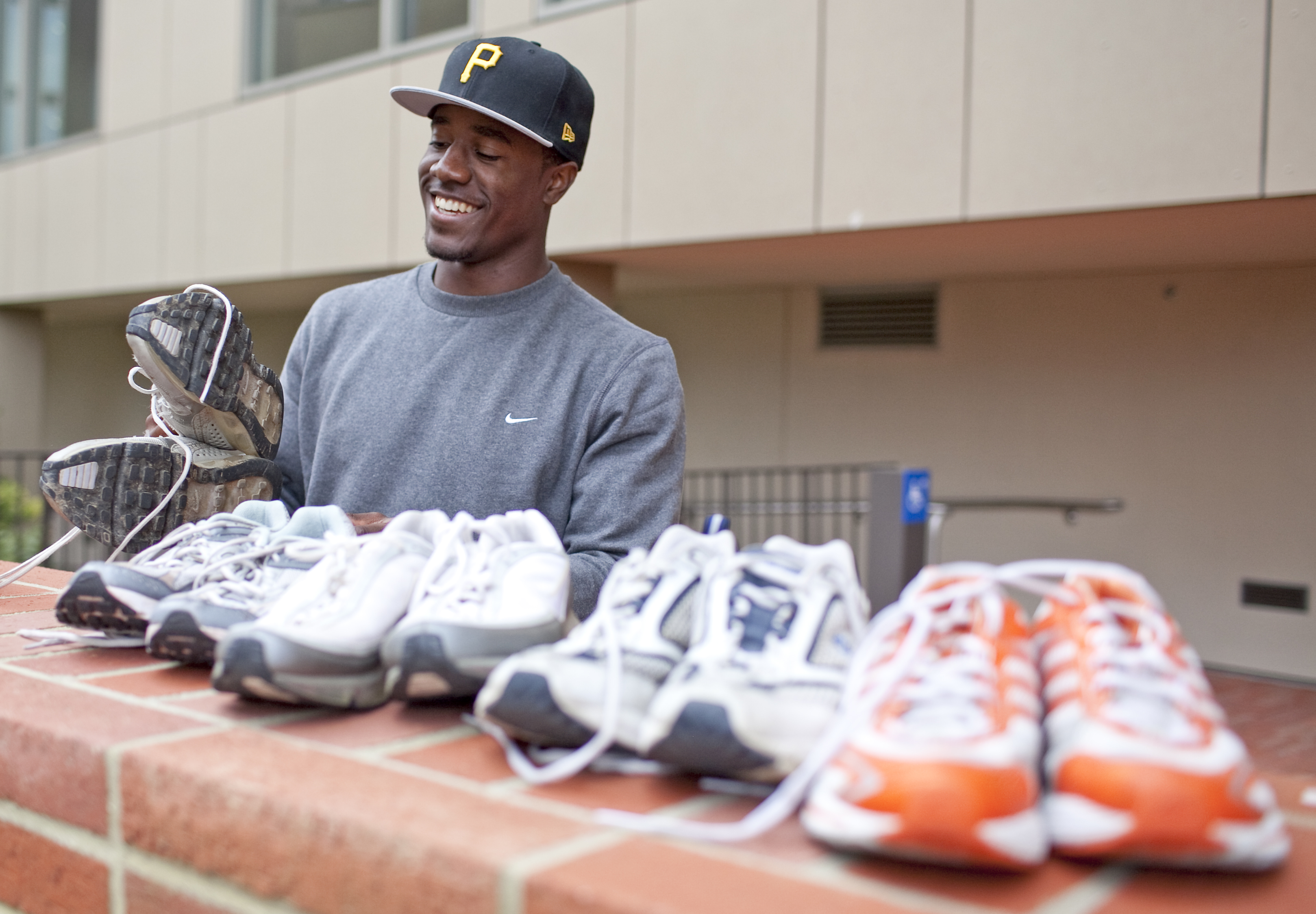 Second-year psychology student Brenton Allen started the UCLA chapter of the Soles4Souls organization that collects shoes and gives them to children in need.
To say that Brenton Allen likes shoes would be an understatement.
The second-year psychology student, who is an outfielder for the UCLA baseball team, currently owns more than 80 pairs, most of which are rare, limited-edition sneakers like Nike Air Jordans or Air Max.
But walking through De Neve plaza with a bag full of shoes on a recent afternoon, it was a pink Hello Kitty slipper in the bag that caught his eye.
"This just goes to show "" we really do accept all shoes," he said, laughing.
The slippers, along with many other shoes, are the beginning efforts of the UCLA chapter of Soles4Souls, a Nashville-based nonprofit that accepts donations of all kinds of shoes and sends them to people who don't own shoes. The donations are distributed to 127 countries around the world, including Haiti, Thailand and the United States.
According to the Soles4Souls website, there are more than 1.5 billion pairs of shoes in American closets and 300 million children around the world who need shoes.
David Graben, executive vice president of Soles4Souls, said receiving one pair of shoes helps prevent injuries and diseases transmitted through the skin for the recipients of the shoes. More importantly, it allows children to attend school, which they are often not allowed to do without shoes, Graben said.
Allen's experiences with donating shoes began with his family's yearly clothing donations to Goodwill, to which Allen contributed 15 pairs each year. After learning about Soles4Souls and realizing that the organization had no college chapters on the West Coast, he established a UCLA chapter at the beginning of this quarter.
"I just really like fresh shoes," he said. "And I didn't want to be selfish by having all these really nice shoes and not giving back in some way."
He said that by selling two pairs of his Nike Air Jordans for $500, he has been able to fund the initial efforts of the club "" including making silicon bracelets and fliers "" as well as paying the shipping fees for all the shoes he collects.
Allen said he hopes that as word of the organization spreads, students will realize how easy it is to make a difference in another person's life through shoes.
He added that he believes college students are willing to give to charities, but struggle to find time to do so in their busy schedules.
To make donations as easy and convenient as possible, Allen has set up drop-off sites at Ackerman Student Union, near the De Neve residence halls, and on the baseball field. Allen said he is even willing to go pick up donations from someone's dorm or apartment in Westwood.
On one such trip earlier this week, Allen made a stop at the dorm room of Drew Drysdale, a first-year global studies student and a high jumper on the track and field team.
"What Brenton is doing is very admirable and I just want to help him out," Drysdale said, adding that she doesn't have a lot of shoes but was happy to donate what she could.
After picking up several pairs of sneakers from Drysdale, Brenton commented that athletes are particularly good donors because their shoes must be in near-perfect condition for them to compete effectively. He said athletes are more likely to donate shoes that are still in good condition but are not in good enough shape for use in sports.
Allen said being part of the UCLA Athletics community has given him a small, tight group of students and alumni who have been very supportive of his efforts.
Allen's efforts are also gaining attention outside of the athletics community for taking on an additional commitment beyond that of his sport.
"He's really breaking stereotypes," said Danell Johnson, a second-year psychology student who has been helping to establish the club. "People think all that athletes do is go to school and play sports. But he's really changing that and getting involved in the community."
Allen said that while he considers the cause to be very important, it has been a challenge to fit in an additional time commitment in the middle of baseball season.
"It's really, really tough "" I won't lie," he said. "If I'm not doing classwork, or sports, then I'm doing this. But it doesn't feel like a chore. I'm happy doing it."
And while he is busy establishing the fundamentals of the club right now, Allen has a much larger vision for its future. He has been trying to get in touch with notable UCLA alumni, including Russell Westbrook and Kevin Love "" both NBA players who began their careers as Bruins "" to expand the pool of donors.
"A lot of people have a couple pairs of shoes in the back of their closets," he said. "Come cleaning time, you can donate your unwanted shoes instead of throwing them away (and) save a few lives."