Pianos become street art in Los Angeles as part of installation "˜Play Me, I'm Yours'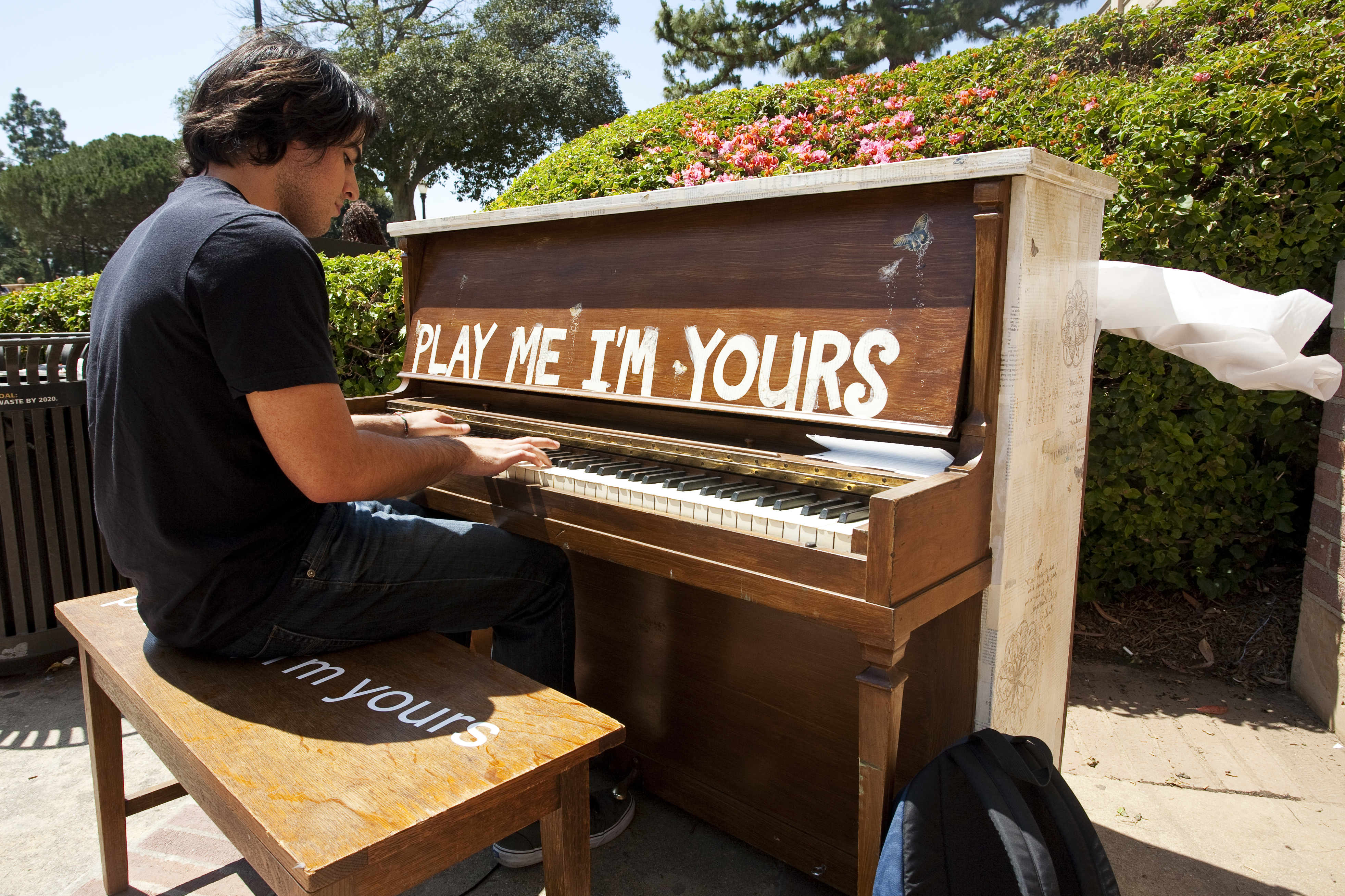 Fourth-year philosophy student Eric Fischer plays the piano that was delivered in front of the steps of Royce Hall on Monday evening. The instrument is one of the 30 pianos that are a part of the Los Angeles-wide art installation "Play Me, I'm Yours," organized by UCLA alumna and Los Angeles Chamber Orchestra project coordinator Sandra Chien.
Today at noon
In front of Royce Hall, FREE
It is wrapped in layers of pages from old books, worn to fade in between sheets of music and adorned with handwritten words of Victor Hugo and Henry Wadsworth Longfellow. It is an old upright piano, and it appeared in front of Royce Hall late Monday afternoon. The front of the instrument bears a simple request: "Play Me, I'm Yours."
These instructions are the namesake of a free county-wide art installation. "Play Me, I'm Yours" features 30 individually decorated pianos placed in public spaces around Los Angeles, literally asking to be played by any and all. The event kicks off today at noon as pianists play Johann Sebastian Bach's "The Well-Tempered Clavier" simultaneously in each of the 30 locations. The pianos will then be open to the public for three weeks, 24 hours a day.
Conceived by British artist Luke Jerram, the colorful pianos of "Play Me, I'm Yours" have been decorated and installed in 22 cities internationally. The Los Angeles Chamber Orchestra collaborated with the artist to bring the installation to Los Angeles for the 15th anniversary of its music director Jeffrey Kahane.
The event is the perfect way to celebrate the pianist and conductor, according to Sandra Chien, the orchestra's project coordinator and a recent UCLA alumna.
"Instead of banners and fliers, we wanted to celebrate his tenure with LACO in a more interactive way. (Kahane) is very much about engaging the community," Chien said.
Community engagement was a principle aim of the orchestra's "Play Me, I'm Yours" iteration from the beginning; the orchestra reached out to local professional artists and community-based organizations alike to decorate the pianos. From the Braille Institute to Chicano artist Frank Romero, the orchestra's roster of artists represents a cross section of the Los Angeles cultural landscape.
Coordinating 30 artists and organizations, 30 pianos and 30 locations was no small feat, according to Chien.
"I'm the liaison between LACO and all of these artists and community partners. … All the little details, I had to keep track of," Chien said.
One of these artists was Christine Mason Miller, whose work can be seen adorning the piano outside of Royce Hall.
"What I like to do with my work in general is to create layers, and then sand off parts or remove parts so that people can see a little of what is underneath each layer. It creates a nice sense of mystery," Miller said.
Miller also said that she hasn't participated in an installation like "Play Me, I'm Yours" before, but saw an opportunity to employ a technique about which she is particularly passionate.
"I have a very strange passion for covering peculiar objects with papers and book pages and all those things. I did a whole series with mannequins, so covering a piano was easy compared to the mannequins," Miller said.
The result is a culmination of both visual and performance art that will give students something new to look at, and with the help of any passing musicians, something new to listen to.
The orchestra's executive director Rachel Fine had been following Jerram's project for a number of years before contacting him about coming to Los Angeles.
"I have been following this … since it first appeared in England in 2008, and I followed it when it was in New York, then Austin, Texas. I've been really consumed by it. … To be honest, I've been looking for an excuse to do it ever since I learned about it," Fine said.
That excuse came in the form of Kahane's 15th anniversary with the orchestra.
"He came to be recognized first and foremost as a pianist, long before he was a conductor or a music director. … It just made sense," Fine said.
Fine also said that she loves the public nature of the project, as it is a gift that demonstrates the power of music to connect people who don't know each other.
"This is really a gift to the community. It adds such an element of humanity and beauty to our lives," Fine said. "This is a time when we need it, we need a little joy. I hope that is what these pianos give to people."