UCLA School of the Arts and Architecture push for cutting edge designs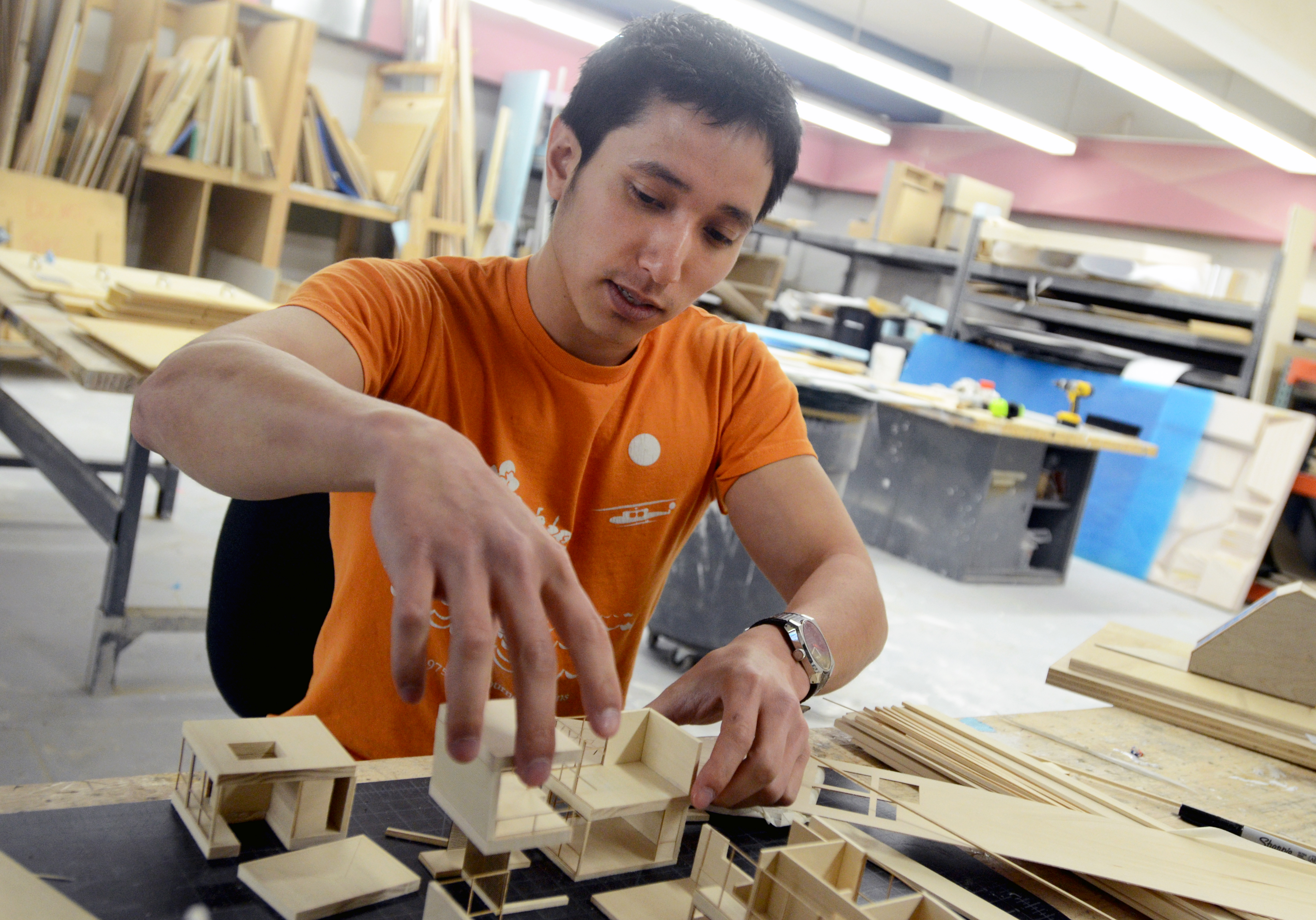 Chinh Nguyen, a graduate student in architecture, works on a model of a modern Venice, Calif. home he constructed using a laser cutter. This is one of several innovations that have changed the workflow of architecture students in the past years.
Chinh Nguyen arranges wooden blocks, each in the shape of a miniaturized living space: doors, staircases, walls that are barely an inch long.
Nguyen, a graduate student in architecture, used the laser cutters in the architecture shop at UCLA to sculpt the dozens of small pieces that make up his model of a home in Venice, Calif.
A couple of decades ago, Nguyen would have made his model by hand, using an X-ACTO knife and a bandsaw, but now, with the laser-cutting machines, there's no need.
Throughout the UCLA School of the Arts and Architecture, there is a constant push to stay innovative and up-to-date with technology. Over the past few decades, the explosion of the Internet and overall growth in technology have gradually changed how designers and artists approach and produce their craft.
The architecture shop in the basement of Perloff Hall is a map of that change "" alongside traditional woodworking tools are machines purchased over the last five years, including a device called a thermoformer, which heats up plastic and shapes it into a particular mold.
The UCLA architecture program emphasizes using the new technology to build models, giving students hands-on experience in 3-D construction rather than simply sketching in 2-D, Nguyen said.
"You're familiar with (construction), so you don't draw something silly," he said.
Having technical skills is becoming the new standard in a number of art fields, said Casey Reas, a professor of Design | Media Arts. In this digitally focused department, one goal is to encourage students to use computers at a more fundamental level.
In the course Desma 28 "" which was made mandatory several years ago "" undergraduates learn how to use programming to produce interactive media.
Students learn Processing, a Java-based language that Reas co-created specifically to make coding easy for visual artists and designers.
"The idea is for our students in Design | Media Arts to invent or imagine their own ways of using computers for what they want to do, rather than using computers as tools that exist right now," Reas said.
Instead of drawing lines by hand, students can write a piece of code to draw thousands of lines on the computer or have something on the screen follow the user's mouse "" the possibilities are wide-ranging.
Reas compared the coursework to lower-division classes offered under computer science or the programming in computing departments, but he explained that the approach is completely different.
"In Java, you're writing a program so other people can use it. Here, we're writing programs so we can produce (art)," said Tyla Va'ai-Letourneau, a second-year Design | Media Arts student in the class.
In the fine arts, though, technology plays less of a role, said Hirsch Perlman, an art professor who heads the sculpture area.
The reason for this is twofold, he said. It's still essential that students understand the basics of their art "" making a sculpture by hand, for example "" and the department doesn't have the budget to purchase many new programs or machines.
Still, the department did buy a CNC router, a machine that takes a block of material and sculpts away pieces until an object remains.
All these changes have created a nexus of technology, art and design where students can mix different media tools, said Willem Henri Lucas, chair of Design | Media Arts.
"It's an experimental playground," he said.